Los Topos de México (español)
by
Leslie de Sultana
……Estaba oscuro. La única luz que era visible era la del casco. Ellos podían oír ecos, viniendo de una distancia, pidiendo ayuda. A medida que seguían el sonido, iban empujando escombros para todos lados. A medida que caminaban, miraron una luz que no era de sus cascos. Creció más y más a medida que se acercaban hasta que finalmente, lograron salir del edificio caído con las victimas en sus brazos. Así sería si fueras parte de Los Topos.
Los Topos de México son nombrados el equipo de rescate de terremotos más élite en el mundo. Desde 1995, Los Topos han asistido en esfuerzos de rescate y recuperación en más de 22 países. Fue formalmente organizado en febrero de 1996 y tiene un promedio de 40 miembros más aparte perros de búsqueda y rescate, los cuales son entrenados por ellos mismos. Hasta el día de hoy, ningún voluntario ha perdido la vida en el servicio. Ellos son, lo que mucha gente considera, héroes verdaderos, arriesgando todo lo que tienen por ayudar a los necesitados.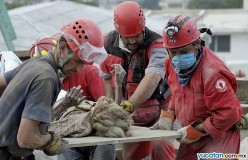 Yo considero a Los Topos mis héroes porque ellos me enseñaron el verdadero significado de la valentía al rescatar desconocidos que nunca han visto antes. Ellos dejan sus trabajos en cualquier momento para viajar al otro lado del mundo, usando su propio dinero o con donaciones privadas, intentando rescatar sus semejantes seres humanos. Han rescatado cientos de miles de personas atrapadas bajo toneladas de escombros, dándoles comida, e intentando salvar vidas de la manera que puedan, arriesgando la misma en el proceso.
Los Topos han influido a muchas personas alrededor del mundo. Ellos nos han enseñado a no ser egoístas; a cuidar a los demás también. El intentar salvar una vida que apenas ha comenzado, aunque signifique perder la suya es, para mi, lo que hace un héroe.
Page created on 8/13/2014 3:37:08 PM
Last edited 8/13/2014 3:37:08 PM
The beliefs, viewpoints and opinions expressed in this hero submission on the website are those of the author and do not necessarily reflect the beliefs, viewpoints and opinions of The MY HERO Project and its staff.
Extra Info
Traducido por Daniel Chávez