My hero happens to be extremely special to me. She has had one of the biggest impacts on my life for the last six years. Her name is Cool Misty Twilight, or Twilight for short. Twilight is a six year old pinto horse born at my house on April 28, 2001. This talented, beautiful mare has been with me through thick and thin. Together, we have accomplished things I had only dreamed about, but with her they became a reality. She is like a sister to me, and I could never sell her. Even if I could barely afford to live on my own I would find a place to keep her. She means so much to me; she keeps my secrets, and knows all my dreams and fears, and I know she will never tell a soul.
Twilight and I have attempted many new feats together. We learned to show, barrel race, team pen, and jump together, and the longer we are together, the more we learn. Twilight lives with my family and me, on our little farm in Hart, Michigan. Wherever I go, Twilight and her stable-mate Shadow will go with me. Because I will probably be attending a local college and living at home, they will get to stay where they are for now. One thing I know is that she will give her all for me, even if that means sacrificing herself. We know each other inside out. For instance, she knows that I sometimes forget that I am just along for the ride, and she reminds me. As for her, I know that she will eat just about anything, as long as it doesn't contain meat, and that she loves to be scratched right on her withers.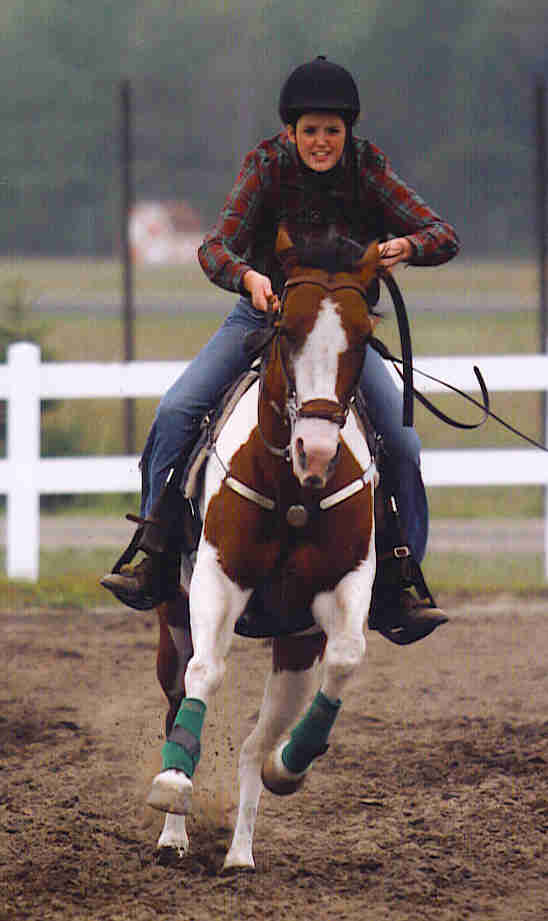 Twlight takes care of me unlike any animal I have ever had. There are a few incidents I can remember in which she has done her best to keep me out of harm. I have asked her to do some really stupid things, and she has protested. But if I kept asking, she will do them, and at the same time, do her best to keep me from killing myself. She has also helped me with my self confidence. When I first attempted to ride her bareback, I was feeling ambitiou,s and I wanted to canter. However, when we were cantering, I started to lose my balance, and so she shifted underneath me to keep me from falling. On the equestrian team, Twilight and I were put into a jumping class, but we had been jumping for less than one month. During practice the night before, she would take some jumps, but not take others. I became very frustrated, but the lady that was helping me, Kim, she told me what was really going on. She told me Twilight would jump only when she was sure I was ready for it, and she wasn't refusing just to be a brat. That made me look at my partner in a whole new light, and understand that she really cared about me.
Time and time again, Twilight has been there for me when I really need her. When life becomes too stressful, or I just need a good cry, she is there for me. We just take off for a trail ride, or I wrap my arms around her neck and she listens to my every want and worry. She has never let me down, and I never want to let her down. For as long as she is with me, I know she will always be there for me, and that is why she is my hero.
Page created on 1/27/2007 12:00:00 AM
Last edited 1/27/2007 12:00:00 AM