"I found a LPFM licensee that was struggling with a decent signal, moved the transmitter 5.6km to the beach, and followed a dream."
Born in Tucson, Tyler Russell always knew he was interested in journalism, but little did he know that radio would be his calling. He first got into radio when he interned at 94.9 MIX FM in Tucson with Bobby Rich's morning show. Bobby was someone who encouraged him to pursue radio and has remained an advisor to Tyler to this day. It was in 2007 that he moved to California to begin a broadcast career as he decided to major in Multi-Media Journalism at Chapman University in Orange.


While in college, Tyler not only focused on his studies but also played Division III tennis at Chapman, a sport that he still enjoys and tries to go out and play when he can. Also during school, Tyler was the web editor for "The Panther" (Chapman's Weekly Newspaper), was an Intern for various radio stations and television networks including K-EARTH 101, HOT 92.3, 102.7 KIIS FM, and CBS among others, and was also a host for various events including the Cecil Awards and the Beckstrand Charity.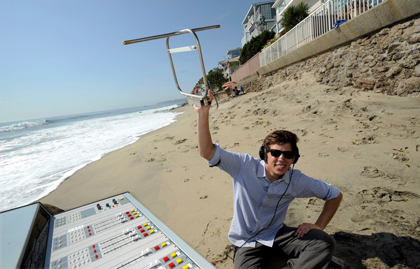 Tyler graduated from Chapman University in 2011 and accepted a job as a night personality on 93.7 KCLB in Palm Springs. Later, he moved to afternoons on Crush 103.9 and could also been seen on a recurring segment called "Weekly Buzz" on the CBS Local 2 morning show in Palm Springs.

Nowadays, Tyler resides in Laguna Beach, CA where he wakes up before sunrise to bring the local Laguna residents a community, grassroots morning program on KX 93.5 FM, which is a radio station that he founded and manages in Laguna Beach. He is also the host of a web series and has his own podcast which can be found on the radio station's website. Tyler's unique style makes him a community favorite not to mention, he goes out of his way to find, promote, and interview indie artists that don't get commercial recognition.

Tyler mentions that he is so appreciative of the welcome KX 93.5 has received in Laguna. He says the residents have been extremely enthusiastic and supportive. He is loved by everyone in the community because of his outgoing, fun-loving personality and his radio station gets everyone involved, which is why the community has welcomed it open handed. Not to mention, he allows the community to host volunteer shows at night and on weekend mornings.
Tyler is certainly a hero to many and at the young age of 24, he has already accomplished more than many will accomplish in a lifetime. Tyler will receive the Community Hero Award at the 6th Annual Laguna Hero Fest coming up on May 23rd. Through his work with the community, he has most definitely earned the recognition and deserves to be honored in front of the Laguna Beach community.
The MY HERO Project reached out to Tyler via an email interview. See the interview below:
How does public radio support local not for profits and leaders?
Our duty as a public radio station is not to promote one business or cause over another but to do our best to give every person and organization doing good in this community a voice. We often broadcast free-of-charge from fundraisers or awareness events to draw a larger crowd out and in turn raise more money for an organization. We have featured dozens of interviews with local non-profit leaders, finally giving them a forum to get their mission statement heard by guaranteed listeners.

What is special to you about Laguna Beach?
Laguna Beach is such a special place because it is such a TIGHT community. There is nowhere else in Orange County where you can so clearly tell a local from an out-of-towner! We've been so pleased at the warm welcome we've received in town considering we were also "tourists" just 8 months ago!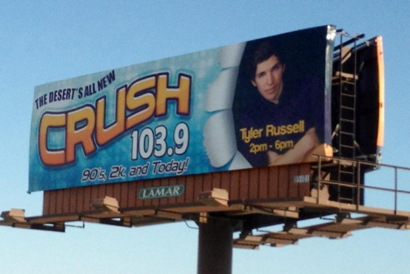 How can people get involved with your project?
We already have over 35 volunteers that host shows simply for the love of music and public radio, but I get inquiries all the time for new shows and ideas. I wish I could accommodate everyone, but spots will open up, and I'll continue a waitlist of locals interested in having shows.

What is the power of leadership to effect positive change?
My attitude is simple: I am no better than anyone who works for me. I do not know any more, I am not any wiser, I do not have all the "secrets;" we are all on the same playing field. I think it's very important to listen and take into account everyone's opinions and ideas, and I try not to micromanage. When people are felt appreciated paid-attention to, I feel they will be more effective workers and it will reflect well upon the station.

Why radio? And why Laguna Beach?
At this point, is almost an ancient art form. I'm amazed that with TV, the Internet, Netflix, iPods, you name it, radio STILL survives and is still an important part of most Americans' days. However, it needs to change. It's gone in a backwards direction by being more syndicated, more corporate, playing the same 40 songs. We started KX 93.5 with the idea that Laguna Beach can be a catalyst for that change to return radio to its roots: local, music-driven, and AVOIDING the same songs you hear everywhere. Also, Laguna is such a creative, eccentric community that would couldn't resist giving locals another medium to express themselves with.
Page created on 5/2/2013 5:56:36 PM
Last edited 1/5/2017 8:48:38 PM