Have you ever danced for six hours straight?

Have you ever danced that long, then realized there were 20 more hours to go?

You have if you've participated in Dance Marathon at UCLA.
Dance Marathon is in its 12th year of busting moves for pediatric AIDS – 26 hours of moves.
On Feb. 16 at 11 a.m., the dancing will commence for hundreds of students in Ackerman Grand Ballroom, and it won't stop until 1 p.m. the next day.

It's been an annual UCLA tradition for thousands of students, backed by pledges of cash from friends and family, who have powered through the pain and exhaustion in support of finding a cure. The event has raised more than $3 million so far - $450,000 last year alone. While other dance marathons around the country benefit different causes, UCLA's is the largest benefiting pediatric HIV/AIDS, and the largest student fundraising event on this campus. Even Oscar-nominated actor and alum James Franco got involved this year, calling students to action via a PSA on YouTube.

"It's very doable," said Andrew Ho, a third-year psychobiology major and president of the Pediatric AIDS Coalition at UCLA, which runs the event. "People don't necessarily train for it. We just tell everyone to eat healthy and hydrate, and don't do energy drinks at all."

While cases of extreme exhaustion and dehydration are rare, emergency medical technicians (EMTs) are on site throughout the event.

The 26 hours - one for every mile in a marathon - are broken up into eight three-hour "theme shifts," where participants change into different costumes. Changing into costumes, along with eating meals and using the restroom, are the only opportunities dancers have to press pause on the boogey. They take this seriously, but not too seriously - each shift even ends with a costume contest.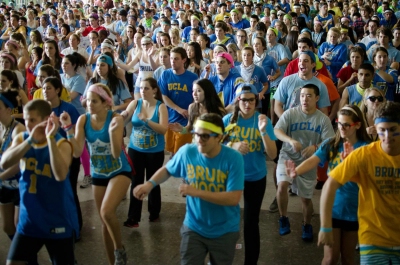 "Last year a girl dressed up as a huge jellyfish for our underwater theme," said Ho. "Another girl brought a super-realistic Wall-E costume, and she was waddling around for three hours."

Every hour and a half, dancers do a choreographed dance to a theme song — this year it's "Good Vibrations" by Marky Mark & the Funky Bunch.

The event also includes plenty of stage performers. UCLA's biggest performance groups show up with a capella jams and taiko drums. Dancers also get to see everything from contortionists to magicians to the West Hollywood Cheerleaders — whatever surprises the committee can think up. Last year, celebrity gossip maven Perez Hilton brought his boy band.

Additional students, called "moralers," pledge to raise $30 and show up for three-hour shifts to reenergize the dancers with enthusiasm and treats. Sometimes as many as 600 show up at a time.

The most-prized treat they can bring?

"Ice cream," said Ho. "Every dancer gets five meals, and they pack their own snacks, but there are no refrigerators. Bringing ice cream bars or your favorite candy is something really nice that moralers have done."

After 3 a.m., most moralers have left the dance floor, and the gravity of dancing for 10 more hours starts to set in. "Six to nine a.m. is the roughest," said Ho.

But at 9 a.m. the ballroom's curtains, kept closed throughout the event up until now, finally open, and a live gospel choir shows up to welcome the sun.

"At that point, there's a renewed energy, you're almost done," Ho said.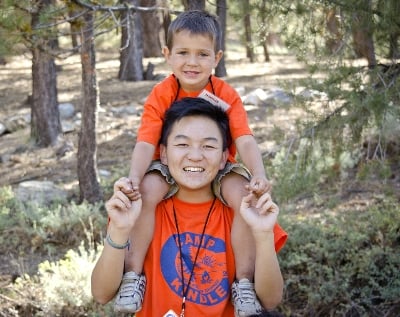 What keeps the dancers going most of all is a series of visits from children impacted by HIV/AIDS. The event, after all, is for them. The kids show up to dance a little or play in the activity room.

The event benefits three organizations. The Elizabeth Glaser Pediatric AIDS Foundation (EGPAF), which helped the student group found the event, gets 70% of the money raised. Project Kindle, a Santa Clarita camp for children infected or affected by HIV, gets 20%. Four years ago, Dance Marathon began dedicating 10% of its proceeds toward funding a seed grant with the UCLA AIDS Institute.

It's a three-pronged approach to addressing the disease.
"We want to tackle social implications of the disease, so we support the camp," Ho said. "We want to fund programs that go into the field and work, so that's EGPAF. And we want to fund research to hopefully find a cure for the next generation, so that's the UCLA AIDS Institute."

Although staff advisers and event managers from ASUCLA are there to offer advice, there are a lot of decisions the students must make.

"We do a lot of cost-cutting," said Ho. "But you need people as early as Thursday to set up the stage, the sound system, do sound checks. ... There's security, police officers, EMTs, ASUCLA employees. ... Then we have to pay overtime for labor 26 hours in a row, over a holiday weekend. It adds up."

While those up-front costs are paid for by sponsors and grants, 100% of what students raise by dancing goes to the cause. Committee members are asked to raise at least $500 each, while participating dancers are asked to raise $250.

"People send out fundraising letters to friends and family, but they also get creative," said Ho. "One guy said that for any donation over $10, he would make up a dance to a song of their choice. Now he has to make up 50 different dances to all these songs," said Ho, laughing.

You don't have to be a student to dance. This year, four parents of committee members have pledged to dance for the first time. "They're marathon runners," Ho added.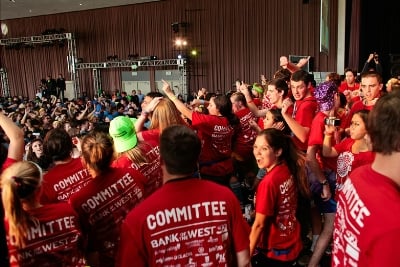 Ultimately, it seems like dancing is the least of the organizing committee's worries.

"There are so many hard parts," Ho said, laughing. "It's hard to approach companies and explain how much work goes into the event. They just think we open the ballroom, play music and people show up. ... This is such a big event; it's like its own business."

And priority No. 1 with committee members is their studies. "Sometimes there are so many things to get done, but I can't make anyone do them over school."

After the last song has played and exhausted dancers have made their way home, the marathon takes on an afterlife through UCLA Dance Marathon Alumn. The group is made up of graduates who want to stay involved by participating in AIDS awareness events around the country and serving as advisers to students.

Kristin Richter, a 2004 participant who serves as co-president of the group, didn't foresee the marathon becoming a long-term commitment.

"As a student, I was first attracted to Dance Marathon because it seemed totally ridiculous," said Richter.
"But when I finally got there, I was incredibly impressed by the organization and passion of the students. ... Over the next 26 hours, I learned not only about the importance of getting involved in the fight against HIV/AIDS, but the power that a collective group of UCLA students can have."

Richter went on to direct the event in 2006. She now works in business development for Chegg, a company offering dynamic tools for college success. Having professional experience puts her and other alumni in a great position for dispensing useful advice.
"They have done Dance Marathon, been on the committee and know how it works," said Ho. "But then they go into the real world, turn around and continue to help."
Page created on 8/5/2014 10:40:24 AM
Last edited 6/30/2020 3:37:40 AM