Evgen Nikiforov writes:
Lion is my hero.
There is a great deal of fairy tales about lions. Every person has its dream or fantasy. Very often I awake ant think, "What will there be if I change into a lion, a nice deer, a great oak?" May be it is impossible, but if it hap pened I would like to be a lion, the king of animals. How nice is the lion! Great, strong! It likes to eat, to rest, a lion is able to defend his family from any enemy. Noble and proud! I like all these peculiarities. I would like to run as a lion across the savanna either to find some food or to drink water. How fast can the lion run! I enjoy the movements of his body! And it is so nice to rest lying in the sun together with other lions and watch the lionesses. A fantastic mane strong paws, beautiful colour, wise and cleverness – all these features make my hero unsurpassed. I always take a great interest in the life and habits of this great animal.
The King of the country has a crown
Every King wears a crown
like the King of animals – lion.
He is vigilant and worthy,
so lively, quick and busy.

Evgen Fedorenko writes:

My hero is Father Frost or Santa Claus. My favourite fantastic hero is Father Frost or Santa Claus. He always arrives at night of Christmas day, when all children fell asleep. My hero is very generous and good-hearted, he gives many presents. It is so nice to get a present from the stocking or from under the pillow. It looks like a miracle, a present which I wanted for so long and so much. Father Frost is liberal and kind not only for children, but for the adults too. All people all over the world like him, love him and wait for him.
Julia Krisheminska writes:
My Hero is the little Mermaid.
You know, it is the little Mermaid, because She never leaves people in trouble and has a good heart. But there are not so many good people. I think when all people are like my little Mermaid, there will not be burglars and lie in the world and all people will live in peace. Little Mermaid will be the best friend, she will always understand you, help you when you have a problem. Little Mermaid is my hero!
Viola Lisniak writes:
My favorite hero is of course it is Jane Lo.

She is a dancer. I enjoy very much the way she dances. She if fond of ice-cream, but it is not allowed because she can get fat. And I know that she prefers eating potatoes, it is her favourite vegetable. I am greatly interested in her dances and I wish I danced too. I want Jane to come from Paris to Kyiv (it is my native city, the capital of Ukraine) and make friends with me. Lo is very pretty and I want to look like she.

Ivan Chernenko writes:
Pokemon. This is the true Hero!

My hero is Esh Ketchun. I like all pokemons, but best of all Dragonit. Dragonite and Drating. But my special love I present to Pikach, who is together with his best friend Esh. I would like to resemble Esh because he is always brave, never steps aside in any bad situation. He is not alone, his friend Brok and Misty help him. Brok wants to become aware of pokemons, and Misty wants to be the best trainer for water pokemons. Esh has different pokemons, e.g. Skwirty is a water pokemon, Charmander is a fire pokemon, Bulbasavr is a grass pokemon, Pijeoto – is a windy one and Pikach is an electrical pokemon. Isn't it a fine collection of good friends!?

Alisa Nyamukapa writes:
Lobo – the owner of Kurumpo is MY HERO:

Lobo is my favourite hero, he is from the story "Lobo – the owner of Kurumpo" Lobo is a wise, peaceful wolf. Lobo is a good and brave leader. I thing he is a good a nd strong wolf I believe that he is the best.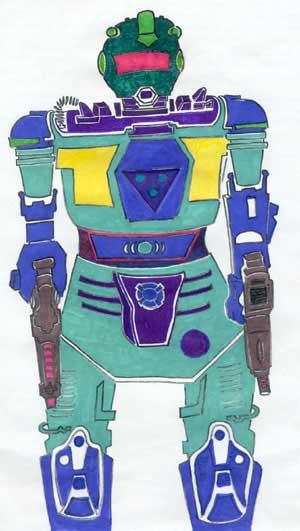 illustration by Stanislav Silenko

Stanislav Silenko writes:
Robokop is a hero of mine

My favorite hero is Robokop. He is made of iron. His profession is a policeman and every day, he looks after the streets of his native city Delta and defends the population against the enemies. This person is very brave, coura geous and is afraid of nobody. A lot of strong robots were made to win Robokop but he was the winner of all battles. He has a powerful gun which he uses to fight with the enemies. Instead of eyes he has a camera that records everything it watches. With the help of this camera Robokop remembers everything, analyses all the events. I would like to look Robokop – strong, fair. I wish the truth always won and people, who are not guilty, nevr suffered.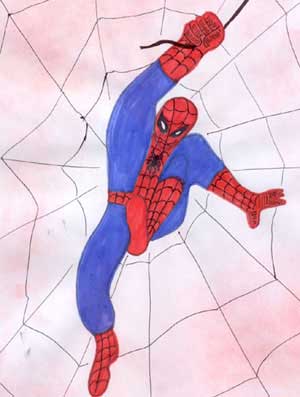 illistration by Michael Pashko

Michael Pashko writes: Spider-Man is my favourite hero.

Spider-Man is my favourite hero. First I learned about him form the films and I enjoyed it at once. Spider-Man is a fantastic hero, a lot of interesting stories are made up about his adventures. I know that there are many cartoons and films abo ut this superhero. I found out some information about him through Internet. Spider-Man is an excellent sportsman His appearance is not usual, he has abilities which usual human being does not have. Spider Man is able to get to any place and can make a huge net for enemies and prisoners. My hero is always in a mask, a very tight costume which is coloured like a net. I am fond not only of his appearance but also of his courage, strength and cleverness. I would like to have the same abilities and look like my favourite super-hero.
Page created on 2/7/2003 7:30:47 AM
Last edited 2/7/2003 7:30:47 AM
Extra Info
special thanks to teacher, Swetlana Ryabyh and the School children of the 5A Grade of Specialized School 267 in Kyiv, Ukraine for taking part in the MY HERO Project.