Maya Universe Academy was born in 2011 out of the creative altruism of Karki and six other young people from all over the world.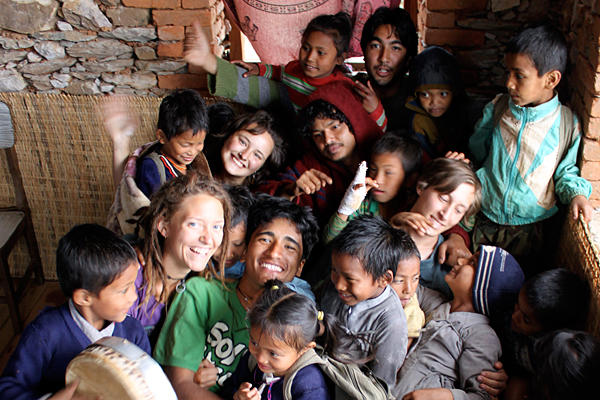 Joseph D. Layden/Maya Universe Academy
Some parents walked for six hours to find out about a radically new kind of school forming in rural Nepal, where children would receive education free of charge – in exchange for parents volunteering two days a month to help operate the school and the farm that sustains it.
Surya Karki could relate to the long walk those parents took to the school he cofounded, Maya Universe Academy, the first free private school in Nepal. At 8 years old, he had trekked seven hours from his village to a bus that took him to the capital, Katmandu, where he wore shoes for the first time and studied on scholarships for the next eight years.

Mr. Karki's educational journey eventually took him as far away as Venezuela and the United States. But his heart stayed in his Himalayan homeland. His mother, whose poverty prevented her from receiving an education, raised her son to always think beyond himself.

When his father left his mother, "She wanted to show ... that even without a husband, she could do so much. She set out on a path to educate me," says Karki, now 21 and attending College of the Atlantic in Bar Harbor, Maine. "When I left home, my mom told me, 'You are not the only one who has got to be educated....' The drive to show that my mom was right probably led me to this path, to serve those people that really need."

Maya Universe Academy was born in 2011 out of the creative altruism of Karki and six other young people from all over the world who met in Katmandu.

They knew that public education for rural children in Nepal was dismal – only about 46 percent of public school students go on to secondary school. They had seen fellow university students seek wealth and leave some of their values behind. And they had seen the flip side – the difference that passionate volunteers can make in people's lives.

So they decided to experiment with a school based not on money, but on love – one meaning of the word "maya." Could they support a school by drawing people together who loved it?

They started with 10 seats for students in Udhin Dhunga, a village eight hours west of Katmandu. But when more than 200 parents from the region showed up, the school's founders spontaneously decided to take 42 children. The interest spurred them to launch two more schools in the country.

Today about 120 students are enrolled in the year-round schools, and there are plans to expand.

Local teachers cover the main subjects, including math, science, history, Nepali language, and English. Foreign volunteers teach extracurricular subjects and help students become fluent in English.

Karki, who studied at the Simón Bolívar United World College of Agriculture in Ciudad Bolívar, Venezuela (learning Spanish in his first three weeks there), envisioned that local farming could help support a school. "In Nepal, people cultivate the land but they don't get the most out of it," Karki says.

Maya students learn about agriculture from local farmers, and the farmers learn new methods from international volunteers. The schools have helped at least 600 farmers learn to grow food and raise animals without using chemicals and with more efficient irrigation. Karki will go to Nepal this summer to help establish an organic coffee and fruit farm.

The hope is that farms and other ventures (such as a planned eco-hostel) will make all three schools self-sustaining by 2015. Currently, farm income is supplemented by individual sponsors who support scholarships and by international volunteers who pay about $200 a month to cover their living expenses and contribute to the schools.

While studying in the US, Karki has made the rounds of international conferences, raising money for his Maya "movement" and gaining valuable mentors. "I've been trying to take this model out into the world," Karki says during an interview in Boston, where he is picking up a visa for a conference in Germany. "[I want people to] know how important it is that education be free for everyone, that there is a model which can alleviate hunger, alleviate poverty,... and that education doesn't have to be only for kids; it can also be for farmers. It can be for anyone from any race, from any caste."

Hearing about how children and parents from different castes worked together in a school that values the culture of Nepal has inspired Karki's US classmate Sarah Inskeep to volunteer with him in Nepal this summer.

She has studied in Nepal before and has seen how poorly managed the government schools can be and how lower-caste children often have to drop out. Unlike some Western nongovernmental organizations that suggest students mimic their Western peers, Maya teaches children to value local skills and traditions and shows them "they don't have to be like other places to be successful," Ms. Inskeep says.

The schools serve children from ages 4 to 13. Karki recalls a 7-year-old, "a kid who didn't know any alphabet the first night, and the second morning he comes out and says, 'You know what? I just learned the alphabet [in English].' " He chose to learn it, rather than having it imposed on him, Karki says.

Maya Universe Academy was recognized as one of the 25 most promising projects from around the world in the Dell Social Innovation Challenge this year, and Dell matched the $4,262 Karki raised in just 33 days for a computer lab at the first school site.

To fund his work this summer to set up the third school's farm, Karki won a $10,000 Kathryn W. Davis Projects for Peace prize.

"One of the skills that makes Surya successful in this work is his ability to impress people with what he's been able to do and then ... make sure the cause that he's started back in Nepal benefits from those relationships," says Doreen Stabinsky, a professor of global environmental politics at College of the Atlantic.

In April, Karki traveled to St. Louis to attend the Clinton Global Initiative University, a weekend conference for students and experts to develop solutions to pressing world challenges. There he met one of his three role models, Muhammad Yunus, who launched the microlending movement in the 1980s and went on to win the Nobel Peace Prize. (Karki's other role models are Gandhi and his mother.)

Karki says he believes he crossed paths with Mr. Yunus, who offered to mentor him, because he has set ambitious goals.

"I've always been told that I aim too high. But isn't that what we should be doing?" he says.

When he met Yunus, rather than being star-struck, "I myself told him, 'I want to be better than you.' And he said, 'You can do it.' "

People who know Karki say he is not a braggart, simply passionate.

"He knows that in the real world, you need to be a dreamer, but at the same time you need to be a doer," says Christopher Dekki, the advocacy team coordinator at the United Nations for Pax Romana, a youth and social justice NGO.

The scope of the Maya Universe Academy concept is "massive," says Mr. Dekki, who met Karki at a United Nations conference. "It's trying to instill in these kids that they are part of something greater than just the tiny village in which they live. And the example it sets can be replicated all over the world because it's such a grass-roots, holistic approach to education."

After Karki's mother sent him off on that long walk to the bus to Katmandu, the two could not communicate by mail or phone. For eight years she waited to see what had become of him, all the while striving to piece together an education for her daughter.

"She had just finished cleaning the cowshed and was sitting down, and then I suddenly show up with my backpack," Karki says of seeing his mother on the day he arrived back home. "I was trying to touch her toes, because it's a tradition. And suddenly she stands up and says, 'Are you my son?'... Then I hugged her."

Now, he says, his goal is simple: "I want to inspire the youths that have ideas in their head to go out there into the world and put them into actions."
Page created on 7/11/2013 12:00:00 AM
Last edited 1/5/2017 8:55:47 PM
Extra Info
How to help children in Nepal
UniversalGiving helps people give to and volunteer for top-performing charitable organizations worldwide. Projects are vetted by Universal Giving; 100 percent of each donation goes directly to the listed cause.
Below are three groups selected by UniversalGiving that help children in Nepal:
•The Nepal Youth Foundation is devoted to bringing hope to the most destitute children in the beautiful but impoverished kingdom of Nepal. Project: Give a scholarship to a child in Nepal.
•Nepal Orphans Home helps children in Nepal who are orphaned, abandoned, or not supported by their parents. Project: Give $50 to provide fruit for the children of Papa's House.
•The GVN Foundation supports the charitable and educational work of local community organizations. Project: Volunteer with community and education programs in Nepal.