"The reasonable man adapts himself to the world; the unreasonable one persists in trying to adapt the world to himself. Therefore, all progress depends on the unreasonable man [and woman]." - George Bernard Shaw
The Unreasonable At Sea inaugural 100 day accelerator voyage is the realized dream of Daniel Epstein, (Founder, Unreasonable Institute) and George Kembel (co-founder, Stanford's d.school). They partnered with Semester at Sea to launch Unreasonable at Sea, that they describe as: " A radical experiment in global entrepreneurship to combat the greatest challenges of our time. 20 Mentors. 100 days. 1 ship. 13 countries. 11 ventures. 1 belief that entrepreneurship will change the world." After checking out the 20 Mentors, people like Nobel Peace Laureate, Archbishop Desmond Tutu, Google VP Megan Smith, Matt Mullenwegg, Founder, Wordpress and Dr. Neal Baer, author, documentarian, Executive Producer, Law and Order & ER and HRH Prince Fahad Al Saud, to name a few, it looks like they have a pretty good chance of this grand experiment working.
So how did something so amazing come into being? In 2007, Daniel Epstein, was just a student who decided to take a Semester At Sea, an organization started in 1963 giving students shipboard classes, while introducing them to cultures and countries around the world, they may otherwise, never experience. Its impact on this young man was profound. Check out an excerpt from a letter he wrote after his experience at sea.
"So having a quick glimpse of this world, after tasting the foods, meeting the peoples, observing their practices, exploring places beyond the beauty of words, studying new disciples and meeting new friends, I have to say that I have realized one thing if nothing more. We have the capacity to make this world a great place for everyone to live in, and we have the capacity to continue exploitation, abuse, environmental degradation and to forget the lessons of our shared past and the predictions of our shared futures.
Most notably, on this trip I have realized that the only way we will transcend our current underpinnings will be not as individuals, not as nations, and not as states; but as people bound together in humanity. Our solutions will transcend borders and cultures. There is a common thread woven throughout all of us that binds us all together in this world. Whatever tomorrow has in store for us will inevitably be share amongst us all. Tomorrow is today's mystery. I kind of like that."
With that kind of wisdom at such a young age is it any wonder that when Luke Jones, Chief of Staff of Semester at Sea wanted to brainstorm something new and big with Daniel and Co-Conspirator, George Kembel, and that this is what they birthed? The focus of this voyage is not to create the next social media darling, but to make the world better for all, by mentoring and expanding the global reach of this awesome group of innovative entrepreneurs, all with the goal of changing the world.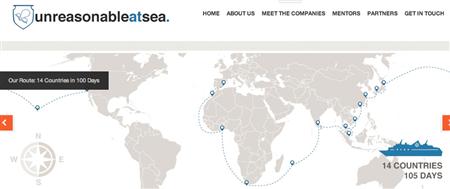 George Kembel said, "we couldn't be more different, except for our shared values. And that makes working together enjoyable." George envisioned the d.school at Stanford from a manifesto created on a napkin. At the time he had already been a very successful entrepreneur and venture capitalist who now set his sites on innovative education. From such humble beginnings the d.school morphed into the new way of educating, helping to "usher in a larger global design thinking movement", impacting millions of lives.
According to his co-conspirator bio on the d.school site: "He prioritizes learning over expertise, experimentation over planning and collaboration over individual excellence. His personal missions include: fundamentally transforming how we educate our children, how we lead our organizations, and how we tackle some of the most significant challenges of our times.
In an interview when launching this challenge, Epstein said, "The program is an accelerator for technology companies looking to scale internationally and experimenting in transnational entrepreneurship. Over the course of 100 days we will sail more than 25,000 nautical miles and port in 14 countries. We will have 25 mentors on board and our entrepreneurs, looking to scale their technologies into new markets, will also serve as mentors to the 600 Semester At Sea students who will also be on board."
There were 1,000 applicants from 80 countries with 11 being chosen. Who are some of these lucky 11? http://unreasonableatsea.com/companies22/
Evolving Technologies (Peter Ueda, Founder) created an endoscopy system for the needs of developing markets for less than 4% of the market price. ($120) Their main product today is a light, portable endoscopy system for women's health, the EvoCam.
I Owe You project was started by the beautiful, young Kavita Parma, who is introducing the world to artisans, online, who create their own clothes, one piece at a time. Definitely the way to have awesome clothes made for a green sustainable world. A win win.
Damascus Fortune, started by 3 twenty somethings, Vivak Nair, Venkateswara Rao and Venky offers nanotechnology that transforms carbon emissions into material for spaceships.
Launched by BITS Pilani grads in India, Vita Beans has created products that help teachers engage with students via games and simulations. Amruth BR, the 25 year old CEO says, "train a teacher and you will and you will transform the lives of hundreds of students."
What will they get other than the time of their lives? According to their 2 minute pitch video, in each country the entrepreneurs will be connected to top government officials, pitch in front of 100's of investors, meet with each countries most acclaimed entrepreneurs and innovators, and learn first hand what it means to move their technologies into new international markets.
Cesar Harada is a young French-Japanese inventor, environmentalist and entrepreneur, who started Protei with a crowdfunding campaign, to create a durable, wind-powered, shape-shifting sailing robot to clean our oceans.
The MV Explorer set off from San Diego, California, USA on January 9th and will dock for the last time 100 days later in Barcelona, Spain. Oh the stories they will tell. And speaking of stories, we can all follow this journey on their website where there will be videos, blogs, pictures, shipboard wisdom and who knows what innovative discoveries. Check it out here: http://unreasonable.is/atsea/
In closing, Daniel said, "We are not looking for typical Silicon Valley startups, but companies leveraging technologies to address massive social and environmental challenges. We are hedging our bets on the Black Swans." I for one can't wait to see where this grand experiment goes.
Related Links
Unreasonable At Sea
- A radical experiment in global entrepreneurship to combat the greatest challenges of our time. 20 Mentors. 100 days. 1 ship. 13 countries. 11 ventures. 1 belief that entrepreneurship will change the world.
Stanford's d.school
- Check out Co-Conspirator George Kembel's brain child, Stanford's d.school.The d.school is a hub for innovators at Stanford. Students and faculty in engineering, medicine, business, law, the humanities, sciences, and education find their way here to take on the worlds messy problems together. Human values are at the heart of our collaborative approach. We focus on creating spectacularly transformative learning experiences, and inevitably the innovations follow. Along the way, our students develop a process for reliably producing creative solutions to nearly any challenge. This is the core of what we do.
Semester At Sea
- Vision. To be the leader in comparative global education. Mission. To educate students with the global understanding necessary to address the challenges of our interdependent world. With the world as our classroom, our unique shipboard program integrates multiple-country study, interdisciplinary coursework, and hands-on field experiences for meaningful engagement in the global community.
Unreasonable Institute
- Giving high impact entrepreneurs wings. We accelerate the world's most unreasonable ventures.
Follow Their Unreasonable Journey at Sea
- Check out their route, blogs, videos, interviews and awesomeness at sea.
Extra Info
WHY WE ARE DOING THIS
In a world where communication technologies are nearly ubiquitous, where innovations in healthcare have doubled life-expectancy in just a century, and where dictatorships are being toppled by bottom-up revolutions propelled by social networks, it is hard not to be an optimist. That said, at Unreasonable, although we are optimistic about these trends, we consider ourselves "impatient optimists". We are guided by a belief that although technology is rapidly solving some of the greatest challenges of our time, it's not doing so fast enough and its benefits have yet to reach the most marginalized amongst us. Even with amazing advances in inclusive technologies, 2 billion people still live on less than $2 a day, another billion don't have access to clean drinking water, and climate change is accelerating at exponential speeds. It's our optimistic belief that entrepreneurs leveraging technology will help solve these grand challenges and it is our impatience that leads to a belief we cannot help them do so fast enough.
WHAT WE ARE DOING
Unreasonable at Sea is a radical experiment in global entrepreneurship, design-thinking, and education, designed to scale-up effective technological solutions to the greatest challenges of our time. We do this by hedging our bets on the most thrifty, resourceful, creative, and disruptive class amongst us: entrepreneurs. We are a mentor-driven accelerator for tech-entrepreneurs who desire to take their ventures into new international markets, and we choose to work exclusively with companies working on "intractable" social and environmental challenges. We could think of no better way to accelerate our portfolio companies˜ ability to scale across borders than to put them all on one ship, align them with some of the world's greatest mentors, and set sail more than 25,000 nautical miles while visiting 13 countries over the course of 100 days. Click here to watch our video that explains everything in 2 minutes!
WHY THIS IS UNREASONABLE
"The reasonable man adapts himself to the world; the unreasonable one persists in trying to adapt the world to himself. Therefore, all progress depends on the unreasonable man [and woman]." - George Bernard Shaw
If George Bernard Shaw is right, if all progress depends on the unreasonable person, than we cannot afford to not bet on unreasonable people. We exist today to support and accelerate the growth of the world's most unreasonable tech-entrepreneurs (i.e. those hellbent on solving the hardest problem-sets of the 21st century and who will settle for nothing less than global scale). This was the same guiding intention that led our founder to create the Unreasonable Institute and Unreasonable at Sea is our way of experimenting with a new approach. Instead of uniting startups in the entrepreneurial-hub of Boulder (as Unreasonable Institute does) we have partnered with Semester at Sea and Stanford's d.school to launch this accelerator on a ship as it sets sail nearly circumnavigating the globe. We hypothesize that the outcomes of such an unlikely mix of elements: uniting some of the world's greatest thinkers and doers, in an international context, over an extended period of time, exposing them to 13 international markets, and restricting them to the close quarters of a ship, will yield uncommon and incredibly powerful results - the type that can have a positive dent on history.
WHY IT'S VALUABLE FOR OUR COMPANIES,
Over the course of the 100 day accelerator, the 11 companies we are working with will have the chance to: explore the local economies of 13 countries where they will experiment in taking their technology to market and will bridge connections with top government officials, foundations, venture capitalists, and serial entrepreneurs, bring 2-3 core members of their founding team for the entirety of the program be mentored by 20 world-class serial entrepreneurs and innovators who will join us on the ship, be connected to and form relationships with top-tier globally focused venture capital funds and foundations, go through an intensive accelerator led by the founder of the Unreasonable Institute and the co-founder of Stanford's d-school, live, travel, and work with 10 other extraordinary companies and their teams,live, mentor, and learn from the over 600 undergraduates who will be studying abroad on Semester at Sea throughout the entire voyage, and circumnavigate the globe on Semester at Sea's MV Explorer (fastest cruise-liner in the world). Learn first hand what it takes to remain on the bleeding edge of technology, trends, innovation, and international business in a rapidly changing world.