Since I was young I have always dreamt of becoming a professional ballerina. I remember reading a book which helped inspire me and my dance dreams. The book was called "On Stage, Please" which told the story of a young determined dancer. It was not until years later I realized that the author was Veronica Tennant. She is my inspiration and hero.
Veronica Tennant is not only a prima ballerina but a filmmaker, speaker, writer, and choreographer whose determination let her accomplish anything she set her mind to. Veronica Tennant was born on January 15, 1946 in London, England. At the age of nine, she and her family moved to Canada, a country unknown to Veronica. This courageous nine-year-old started ballet classes within a few days of her arrival even though she did not have any friends, or a home to live in. To her, "Dancing is the way I can express the things that cannot be said." She began intensive training with Betty Oliphant, the co-founder of the National Ballet School. Here she remained at the top of her class in ballet as well as achieving the highest academic marks in school. To Veronica, "Dancing wasn't something extra; it was a part of everything." In Veronica's last year she suffered a major back injury which left her unable to dance for almost a year. Even though she had spent the majority of this time recovering, her determination to succeed allowed her to triumph and become the National Ballet's youngest Principal Dancer at the age of eighteen. In 1964 Veronica debuted in her first leading role in Romeo and Juliet.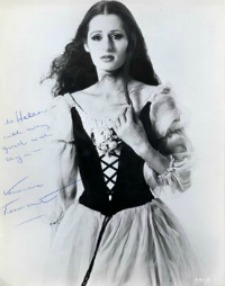 In the following years Veronica Tennant helped the National Ballet become a world-renowned company. She wanted to share dance with regular Canadians and was able to do this through many television broadcasts through the CBC. Children watched her on TV and began dreaming of one day becoming ballerinas. Veronica Tennant was the first dancer to be appointed as an Officer to the Order of Canada in 1975.
At the height of Veronica's career, she had a devastating knee injury; the same type that ended Bobby Orr's hockey career. Everyone thought that her life as a ballet dancer was finished, but she remained positive. Veronica agreed to have an experimental operation on her leg. Her leg took over a year to heal which in the ballet world is a lifetime. During that time, Veronica did not pity herself, but approached it with open arms. She wrote her first novel "On Stage, Please" which was a partial autobiography for children, and also had a child with her husband John Wright.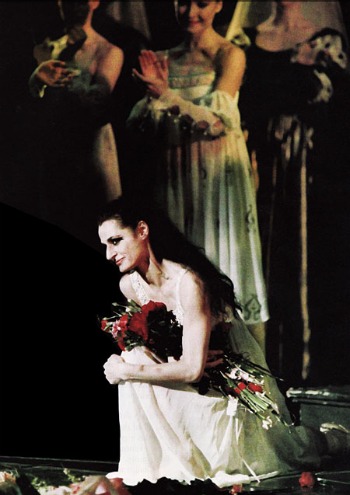 Once fully recovered, Veronica returned to the ballet world. Critics were shocked that she was even stronger than before. Veronica remained as Principal Dancer and was the lead in many other ballets including Swan Lake, Giselle, The Nutcracker, Cinderella and Sleeping Beauty. After twenty-five years, Veronica ended her career February 12, 1989 finishing with the role Juliet. Although she was no longer dancing, she was still determined to make a difference.
Veronica began to direct and produce films. In 1999 she won an Emmy for her documentary about her close friend and fellow dancer entitled "Karen Kain: Dancing in the Moment". She also hosted many CBC documentaries devoted to the arts in Canada. Her intelligence and natural speaking abilities makes her a sought after inspirational speaker at local and federal events. This even included a Gala for Queen Elizabeth II. She has also received honorary degrees from four Canadian Universities. She has been the spokesperson for the March of Dimes for disabled Canadians and is now Canada's National Ambassador and Spokesperson for UNICEF. She was inducted into Canada's Walk of Fame for her contributions to the arts and humanitarian deeds and was also promoted to Companion in the Order of Canada which is the country's highest honour. In 2008 Veronica's book "On Stage, Please" was made into a permanent gallery at the Montreal Children's Hospital, and in May of 2011 it was also added to the BC's Children's Hospital. Her inspirational story brings hope to many ill children.
Veronica Tennant is my hero because of her determination to follow her dreams. She has proven that dancers can be intelligent contributors to society. Her words "Keep reminding yourself why you are dancing, and it is important to keep re-deciding to do it." help me to stay positive throughout the ups and downs of dance. Veronica Tennant's devotion to the arts, and the less fortunate is astounding. She is truly a remarkable individual.
Page created on 6/21/2012 12:00:00 AM
Last edited 1/4/2017 9:17:53 PM