"I firmly believe that any man's finest hour, the greatest fulfillment of all that he holds dear, is that moment when he has worked his heart out in a good cause and lies exhausted on the field of battle - victorious." This quote by Vince Lombardi, former NFL coach of the Green Bay Packers, perfectly describes his attitude toward life. Although deceased, Lombardi still pushes people to do their best by his example. "His penchant for winning and doing one's best left a strong imprint on the game, as well as on players and fans" ("Lombardi, Vince (1913-1970)"). He never gave up on a single team or a single person because he wanted to show that he took the initiative to help them grow not only in their skills, but also their character. Vince Lombardi is considered one of the best coaches of all-time and an inspiration not only because of his commitment and attitude toward his teams, but also his sense of confidence in his beliefs.
Vince Lombardi's obligation of time and effort made him realize he needed to work for the team, not just himself. Focusing mostly on the offensive line, he: ".....soon established himself as an enthusiastic workaholic, putting in as much as 16 or 17 hours daily. His hard work and commitment paid off when he was hired "...in 1954 as an assistant to Jim Lee Howell of the New York Giants" ("Lombardi, Vince (1913-1970).") Lombardi worked hard for the team he was coaching and he realized the more he worked, the better they would become. He did not coach to get better players, but rather to have his players become incomparable. Being hired for the New York Giants was an unexpected reward for him. "Lombardi never had a losing season, and he led the Packers to six NFL championships, including the first two Super Bowls. These achievements, coinciding with the NFL's rising popularity, turned Lombardi and the Packers into national celebrities" ("Lombardi."). Instead of decreasing the load of work, he continued coaching vigorously so his team wouldn't get weaker, but rather stronger for the next game. His commitment to the success he wanted eventually paid off. He started as a normal college student, became a football player, became a football coach, coached the the Green Bay Packers, and finally saw his team win the Super Bowl. He lived a life of hard work and success.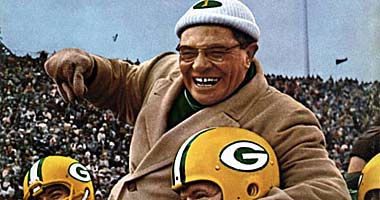 Vince Lombardi's behavior towards his team was strict but reasonable, wanting the best for his team. Lombardi, a former coach of the New York Giants, took over the Green Bay Packers: "...But the new head coached awakened the Packers instantly when, at his first team meeting, he announced that anyone unwilling to work hard enough to win should leave the team. Talented players who were once either too timid (like Bart Starr) or temperamental (like Paul Hornung) thrived under Lombardi's unchallenged authority, and in Lombardi's first season the Packers finished 7-5" ("Vince Lombardi."). He wanted the best of the best, the ones that worked hard, and the ones that took the game seriously. By obtaining the players that cared about learning from him, Lombardi was able to coach efficiently and set them in the right direction. While assuming the role of a coach: "...Vince changed from a coach who was quite openly friendly with the players to more of an aloof leader whose violent temper soon became his trademark along with his supposed passion for winning" ("Lombardi, Vince (1913-1970)"). He changed his personality to fit the role of a coach, not a teammate. With this "new" personality he had the respect he needed to control his team and become a respected leader. His expectations towards his team showed that he cared for the teammates that stayed and respected him. Lombardi's role of leader showed that he was ready to take charge and demand respect.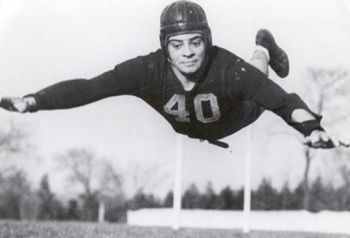 Vince Lombardi's confidence made him do what he wanted to do and not fear others' opinions. He wanted to become a priest when he left high school but: "...changed his mind and transferred to St. Francis Preparatory where he starred as fullback. Upon high school graduation he majored in business at Fordham University and starred on the football team at guard, where he was a member of Fordham's famous Seven Blocks of Granite" ("Lombardi, Vince (1913-1970)"). After preparing for two years, he quit being a priest because he didn't have a strong interest in it anymore. He gave up two years of payment and education to go to a different school to study business and play football. "At St. Cecilia's, he coached both basketball and baseball, while teaching Latin, algebra, physics and chemistry for a salary of $1,700 per year. Lombardi stayed at St. Cecilia's until 1947. He turned down job offers in construction that paid $15,000 per year in order to stay at St. Cecilia's where he was making a yearly salary of $3,500 per year" ("Bucco, Michael. Vince Lombardi."). Even though he was offered jobs that may have been better in many ways, he turned them down because of his passion for his current job. He was not afraid to turn them down and continued to teach Latin, Algebra, physics and Chemistry while coaching basketball and baseball. He wanted to teach and coach, even though it paid less. He sacrificed a life of luxury for a life that he enjoyed. Although it was a major time consuming job, he enjoyed it.
Self-confidence, idealism, and commitment are three of the numerous traits that make Vince Lombardi recognized not only as one of the best coaches of all time, but also as an inspiration to all. Lombardi demonstrated these heroic traits by living the way he wanted to. His commitment and idealism toward his team made him a powerful leader, gaining full control over the "reigns." The people at the other end of the reigns learned and grew from somebody who taught from that position. He was "...a spokesperson for values which many felt were being discarded during the permissive 1960s. Businessmen, politicians, and church leaders looked to him for direction. Earl Warren, retired Chief Justice of the Supreme Court, noted, "He had the ability to build the kind of character we need in these times'" ("Lombardi."). He realized the little things that went wrong, and he addressed them. That is what made the difference. Lombardi inspires me because he really paid attention to every sparse detail and gave everything his best, even when he wasn't outstanding at it. He also is one of my role models because he didn't care for what other people thought of him. Lombardi, at the hour of his death, lay upon the battlefield of his life, victorious.
Works Cited
Bucco, Michael. "Vince Lombardi." Great Athletes Of Our Times (2011): 27. Biography Reference Center. Web. 28 Mar. 2012
Lombardi, Vince (1913-1970)." Encyclopedia of World Biography. Detroit: Gale, 1998. Gale Biography In Context. Web. 21 Mar. 2012
"Vince Lombardi." St. James Encyclopedia of Popular Culture. Ed. Sara Pendergast and Tom Pendergast. Detroit: St. James Press, 2000. Gale Biography In Context. Web. 24 Mar. 2012
Page created on 4/21/2012 12:00:00 AM
Last edited 4/21/2012 12:00:00 AM