Valerie Weisler takes on bullying with The Validation Project
by Taylor Zansberg
Talking GOOD

The Validation Project aims to put a worldwide end to bullying. The project, founded by 15-year-old Valerie Weisler, helps youths 13 to 25 change the world one person at a time.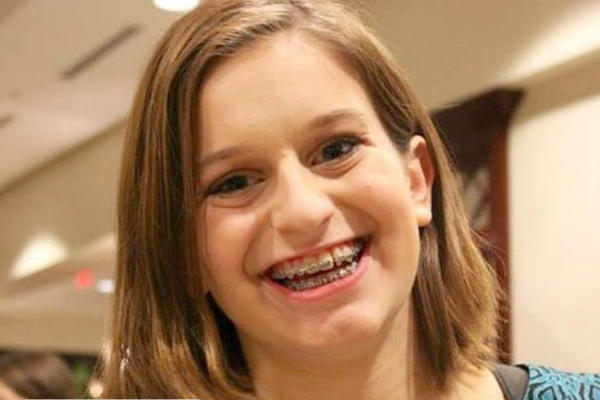 Courtesy of Talking GOOD
Valerie Weisler's story begins like this: "I grew up thinking I had no worth. My peers bullied me every day for making friends with the odd ones out – the new kid [at school], the deaf janitor, the nine-year-old boy who skipped two grades."
If there's one thing you should know about Valerie, it's that the only thing she loves more than smiling is being the reason behind someone else's smile.

This, along with her experiences being bullied, is what inspired Valerie to start the Validation Project, an initiative to spread validation and proactively put a worldwide end to bullying. The project equips youth, ages 13-25, with the tools to change the world one validation at a time.

As Valerie describes so eloquently, "Everyone should be validating others; it should be as normal as brushing your teeth or combing your hair. Because deep down, everyone is fighting their own battle and even a simple smile or compliment can give them the push they need to get through it."

Today, the Validation Project has branches in each of the 50 states and has international branches in Germany, Israel, Africa, Australia, Korea, England, Chile, Pakistan, France, Belgium, and India. Oh, did I mention Valerie is only 15 years old, and that she launched this initiative just last year at the age of 14?

Along with providing validating words to others, the Validation Project's mission also involves validating others through action. Last year, from spring break to summer break – the time of year when many youth stay in hotels with their families on vacations – the Validation Project collected 10,000 toiletries that otherwise would have been thrown out for their "Teens for Clean" campaign and donated them to homeless shelters.

To date, the Validation Project has 5,000 teens involved with its projects.

It only makes sense that the inspiration behind this initiative would be someone as remarkable, talented, and driven as Valerie. She is wise beyond her years and carries herself in a sophisticated and professional manner. She exudes positive energy and kindness through her spoken words, written words, films, and actions.

She is also able to let loose and be silly. Valerie is the kind of girl who will chop off nine inches of her hair with safety scissors, a Ziploc bag, and no ruler, to donate it to cancer patients.

Valerie juggles all the responsibilities of being a regular everyday 15-year-old with the responsibilities of being the CEO of the Validation Project. One minute she is on the phone being interviewed by Seventeen Magazine about how feminism has influenced her path; the next she is emailing with Nickelodeon about her nomination for the Halo Effect awards; and the next, her mom is reminding her to study for her next day's Spanish quiz.

Poignantly, Valerie attributes her strength and direction to having been bullied: "I felt alone, I could tell when other people were also feeling down. I found that the more I made it my responsibility to make others know they matter, the more I felt I mattered too."

The 10 questions

IN JUST ONE SENTENCE, WHAT IS YOUR PURPOSE IN LIFE?

To show the world that this generation is the best one yet.

HOW HAS THIS WORK CHANGED YOU?

It's made me realize how good things come to those who take action, and that every person has something incredible inside them.

WHAT DO YOU GET FROM GIVING?

Since I was little, I've been making friends with the odd ones out, and I've been bullied for it. I'm thankful for the tormentors because facing them each day is what gave me the guts to do what I do. Because I have lived in the moment where validation was so crucial to me, I know that there are people out there that need it now.

WHO IS A LIVING HERO AND WHAT WOULD YOU ASK THEM IF GIVEN THE CHANCE?

Ellen DeGeneres, my home girl! I love how she uses comedy as a resource for kindness, and her pride is incredibly inspiring. I'd ask how she got to where she is, and how being gay has positively affected her view on life. I'd also ask her if we could grab coffee sometime.

WHAT EVERYDAY RESOURCES COULD HELP YOU ACHIEVE YOUR PHILANTHROPIC GOALS?

Money, publicity, and more cups of tea.

WHAT IS A BURNING QUESTION THAT YOU HAVE FOR THIS COMMUNITY?

Why are we so afraid of accepting people?

WHAT WOULD THE TITLE OF YOUR BOOK BE?

"Being Young, Weird, and Successful In America" As a 15-year- old philanthropist, it's taken a lot to learn that my young age is not a disadvantage. We live in a world that tells you to hold on to your dreams until you're 18; that you have to wait to make a difference....

TELL US SOMETHING YOU RARELY SHARE IN PUBLIC?

I have a very detailed idea of heaven. I think that everyone gets a room that has pictures of who they were in past lives, and that at night they all listen to a radio where they can hear messages from loved ones who are alive.

They also have events like "Rockin' With Rosa & Roosevelt," where Rosa Parks and Eleanor Roosevelt perform, and "World Wednesdays," where people get chosen as angels to help out the world below.

WHAT ADVICE DO YOU HAVE FOR OTHERS WHO ASPIRE TO BE CITIZEN PHILANTHROPISTS?

Use your energy to fuel your passion. Make volunteering your "money" that you give back to the world. If you're young, use that to your ability! It is NOT a disadvantage. Most importantly, step outside your comfort zone. Being outside the box is true freedom. BE an outsider.

WHAT QUESTION DO YOU WISH I HAD ASKED, AND WHAT IS THE ANSWER?

QUESTION: What is your casual weekend plan? (Listen up people, this is golden.) ANSWER: "Full House" marathon, Double-Stuffed Oreos, too many cups of tea, and pictures of pandas sneezing.
Page created on 2/21/2014 1:44:38 PM
Last edited 8/19/2018 6:24:12 PM
The beliefs, viewpoints and opinions expressed in this hero submission on the website are those of the author and do not necessarily reflect the beliefs, viewpoints and opinions of The MY HERO Project and its staff.