It's been said that Gospel music rattles the windows and unshackles the soul. Vy Higginsen's mission is to save that music, through teenagers. Each Saturday she gathers her 46 carefully chosen African American kids between the ages of 13 and 19, in a Harlem brownstone to boisterously vibrate the glass with a blend that is the history, harmony and hope of Gospel. She calls her program Gospel for Teens. She selects a new group each year. The 2010 Choir was followed for the full year by the television news program 60 Minutes. Each young singer first had to muster the courage to audition.
Higgensen said, "They just have to carry a tune. They don't have to be great, they're teenagers [but] Young people were coming to audition that couldn't sing a Gospel song all the way through."
The audition brought a variety of kids. Most were nervous and eager. 15 year old David Moses was a shoe-in. He had a strong voice, experience from his church choir, and parents so involved they listened to him audition through his cell phone. Then there was 16 year old Gabby Francoise. Gabby almost didn't make the cut. She came alone. When it was her turn, Gabby slouched at the microphone, looked at the floor, stopped stone cold in the middle of the song, and sat down. Higginsen admitted later she thought "this one could be trouble", but let her stay.
"When they learn Gospel, it's something about the music, the lyrics, that affects them on a deeper spiritual level. We can't discard, musically, who we are and where we come from."
Gospel is the original American Soul music. Born of the deep, dismissed pain of slaves forbidden to talk, read or write, Higginsen says the first right of African Americans was to sing. Gospel survived as songs of jubilation and sorrow passed down through generations. Though Higginsen figured some of her own students had seen their share of tough times, she saw Gospel for Teens as a haven. She told her kids to check their problems at the door. She was certain she was providing a safe place where they could lose themselves in song. But some hard verses from her students would end up teaching the teacher.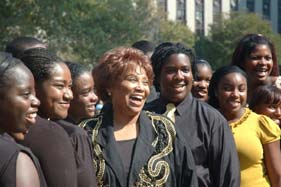 She thought this group had a "spark". They were quick to learn, winning Gospel for Teen's first contest ever within the first four months. Then one Saturday morning, David Moses came to practice too shook up to sing. Vy Higginsen broke her own rule. She asked what was wrong. Moses was overcome, he said, because his 15 year old cousin had been shot to death. Higginsen, visibly shaken, addressed the group, asking how many had had similar experiences. A majority of the teens raised their hands
"Oh my God", said Higginsen, tears escaping down her cheeks. "It's a big lesson for me. They are struggling. We live in a violent society. So now what do you do with all that? How do you get it off you? You have to go to a sacred place, where there is life, where there is hope, where there is possibility."
Higginsen used the music. Moses stood before the choir and belted out "You Have Been So Good To Me". He sang it for all of them. As he sang, he cried, the choir cried, and yes, the teacher cried, too. Higgenson ventured
"I guess I'm thinking the music will make it better. It will make life better. It's victorious and it grabs you. These kids are survivors. Stand up, stand up and let people see you. Be proud of the fact that you are survivors".
A turning point each year in Gospel for Teens is when each student learns to introduce themselves on stage. They don't just say their names, Higginsen demands they shout it out. But months into the program, some kids were still having a hard time owning their own names. Once again, alone with the microphone, Gabby was unintelligible. Few could hear her whisper, never mind understand a name. Higginsen found it distressing." Mumbling under [her] breath like she is ashamed of where she comes from..."
Then, not long before the Teen's final performance, Higginsen got an e-mail from Gabby. She realized through the Teens many performances everybody had somebody who came to see them. Nobody had come to see Gabby. It's hard to be a "somebody" when you've been a "nobody" all your life. The e-mail read:
"I may seem quiet in class but that's cause I save up my pain so I can sing it out. My mother doesn't appreciate the fact that I sing. And that's why you don't see her around, or my dad. But Vy, you believed in me when no one else did."
Surprised, and deeply moved, Higginsen had to pick a soloist for the final performance to sing Higgensen's favorite song, "How could anyone ever tell you" by Libby Roderick. She chose Gabby.
How could anyone ever tell you
You were anything less than beautiful?

How could anyone ever tell you
You were less than whole?

How could anyone fail to notice
That your loving is a miracle?

How deeply you're connected to my soul?
After the 60 Minutes story aired, the phones at Vy Higginsen's Mama Foundation rang off the hook with offers of donation. By the end of the year, the Teens had performed everywhere from the United Nations to the Seventh Inning Stretch at a New York Yankees baseball game.
Page created on 8/14/2014 1:59:01 PM
Last edited 10/2/2020 9:16:46 PM
Bibliography
Higginsen, Vy. "http://www.mamafoundation.org/wordpress/." [Online] Available http://www.mamafoundation.org/index.html.
Master, Web. "www.idvl.org/thehistorymake." [Online] Available http://www.idvl.org/thehistorymakers/Home.html.
Stahl, Leslie. ""Gospel for Teens" Part 1. "60 Minutes. New York: CBS News, 2011. 35 minutes
Stahl, Leslie. "Gospel for Teens Part 2." [Online] Available http://www.cbsnews.com/. 201111.
Kemp, Ken. "The Gift of Voice LeaderFocus Weblog." [Online] Available http://leaderfocus.wordpress.com/2011/04/05/the-gift-of-voice/. 2011.