Maxine Waters
by Michelle from Hidden Hills
My hero or heroine is Maxine Waters. Maxine represents every black woman in the country by being in the U.S. House of Representatives. She has also served as chair of the Congressional Black Caucus, an organization of African-American members of Congress that promotes the interests of blacks. I believe that Maxine is an important part of the black community, a testament to all black women. She instills the belief that you can achieve whatever you wish as long as you really strive to do so.
Maxine was born in St.Louis, Missouri, and was one of thirteen children. In her twenties, she moved to Los Angeles where she found work in a garment factory and as a telephone operator. She then decided to attend college and earn a sociology degree at California State University, Los Angeles. While in school, Waters was involved in a program called Head Start. She became a spokesperson for frustrated Head Start parents, dealing with issues such as federal budgets and funding. Her passion for these issues prompted her to become involved in local politics. From there, she went on to work as Chief Deputy to City Councilman, David Cunningham. Waters quit her job and successfully ran for election to the California State Assembly. After serving fourteen years in the assembly, she ran for a seat in the 29th Congressional District of California in 1990. Two years later, she ran in the much larger 35th District and won 83 percent of the vote. Waters still continues to represent this district and deals with issues such as affirmative action, community development, women's health and welfare reform.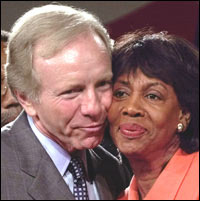 Waters is a woman who is passionate about improving her community. For me, that is a big deal. Conditions in the inner city are not what they should be and I hope that Maxine will continue to try and promote change. As a close family friend of my mother, she has also taught me the value of life on the inside, rather than the value of life from the outside. This basically means that people need to understand what their life really means to them and stop living vicariously through other people's dreams. Through her words and actions I have learned how to put her philosophy into perspective for my own personal life.
Page created on 1/12/2010 8:02:25 PM
Last edited 1/5/2017 7:07:18 PM