William Henry Gates, III
by
Jeff from Superior, Wisconsin
"If you show people the problems and you show people the solutions they will be moved to act."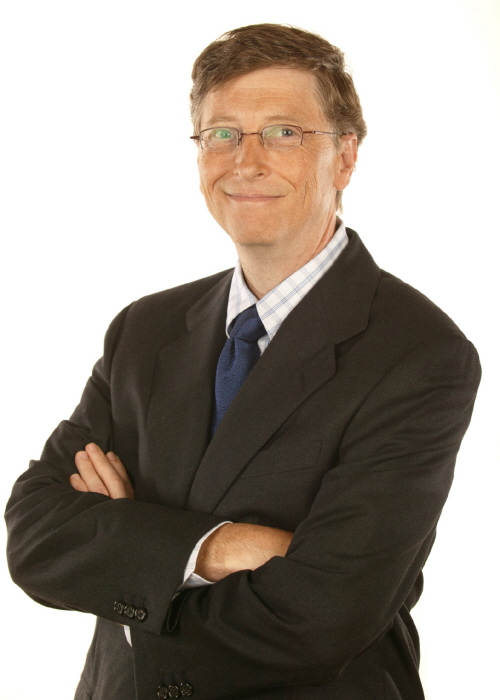 William Henry Gates, III was born on October 28, 1955 in Seattle, Washington. His father was a lawyer and his mother was a schoolteacher. He also grew up with two sisters. In school, he was especially good at math and science, and at the young age of thirteen, he discovered his interest in computers and started programming. In 1973, he found himself at Harvard University. While there, he started working on his first major invention, a version of the programming language BASIC for perhaps the first computer as we know it today. However, in 1975 during his junior year, he left and co-founded the company called "Micro-Soft." Later on, this was changed to Microsoft. Before long, Gates had another success, the computer concept known as DOS (Disk Operating System). Soon, a deal was made with IBM, and DOS was the main operating system for all computers worldwide. In 1990, Windows 3.0 was released and naturally became the standard operating system on computers manufactured by major companies. In the years to follow, many more versions would be released, insuring that Microsoft remained in the number one spot.
Since 1995, Bill Gates has remained one of the world's richest persons, and as of 2007, his estimated net worth was $56 billion dollars. In 2006, he stepped down from his daily job at Microsoft to focus more on his philanthropy efforts around the world. However, he remains as the Chairman of his company, which includes a salary of just under one million dollars. In the year 2000, he and his wife founded the Bill and Melinda Gates Foundation with the philosophy that "every life has equal value" and should therefore be granted the same opportunities. With over $28.8 billion dollars, they have succeeded in providing support to global organizations that improve health and education. Also, they make sure that all Americans have access to education and that libraries have adequate technology. To close, a quote from an interview from A&E Television Networks, "The world's wealthiest man is putting his money to work to help eradicate disease and improve schools." I just have to add, "How cool is that?"
In the most obvious aspect, Bill Gates is admired by all as the man with the most money. He has the true American dream, all the money he could ever want, and a loving family – a wife and three kids. I admire him, because he was a pioneer of his time. While he may not have actually "invented" what he used, he put different technologies together, and struck gold. With his business attitude, his company quickly rose to the number one spot for computer operating systems. To this day, Microsoft remains number one.
However, as successful as Bill Gates is in the business world, I believe he is even more so in his philanthropic efforts. Philanthropy is the act of giving your time or money to charitable organizations. As mentioned above, the Bill and Melinda Gates Foundation has received over $28.8 billion dollars directly from them. I believe that there is no better way to use your power, in his case money, than to better the world. While my dream is to be rich someday, I want to be rich because I want to use it to help the world. Why have all that power and not put it to good use? Bill Gates has given billions of dollars of his money away to charities, and for that reason, he is my hero.
Page created on 9/15/2010 12:00:00 AM
Last edited 9/15/2010 12:00:00 AM
The beliefs, viewpoints and opinions expressed in this hero submission on the website are those of the author and do not necessarily reflect the beliefs, viewpoints and opinions of The MY HERO Project and its staff.

Related Links
Bill and Melinda Gates Foundation
- Guided by the belief that every life has equal value, the Bill & Melinda Gates Foundation works to help all people lead healthy, productive lives.
Microsoft
- Read more about William Henry Gates, III.