William Adams
by
Alex from Essex Junction
"Volunteers are not paid... Not because they are worthless but because they are priceless"
William Adams is a father, a husband, a grandpa, a brother, and much more. He grew up in Burlington, Vermont with his two brothers and their mom and dad. As a child he played baseball and basketball. The coaches that helped out with the teams were always volunteers. He had always thought that they did a good job and someday hoped that he could help people the same way that they had helped him when he was younger. After graduating college, he started his long teaching career at EHS where he would often make time for students before and after school to help them out. Little did he know, this was just the start of his journey in volunteering.
Mr. Adams continued his volunteer work with Essex Youth Hockey and Essex Little League. For Essex Youth Hockey, he was the treasurer. He would attend meetings and handle anything that had to do with money. He put a good amount of time into this job. He had always known that he enjoyed helping people out. For the Essex baseball, he helped coach these teams. He would work with the players during practice and games. Although they didn't win all of their games, he recalls that they always had fun. He found that doing this made him feel good about himself. He said, "When you help out people, they will appreciate it. It is that appreciation that makes you feel good." That is the sole cause of his 35 years of volunteer work.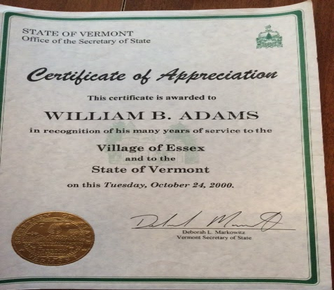 From sports teams and smaller, less time consuming volunteer work, Mr. Adams moved on to bigger organizations. He started to work at the food shelf. He would stock the shelves, help people get the food, and help out with whatever needed to be done. He also helped out at the the First Congregational Church. There, he organized and planned church events. He even led groups to help out others in need. On these trips, he met many new people and got to experience many new things. Although these trips and events that he helped out with were important, he had yet to accomplish his biggest achievement in volunteering yet.
In 1979, William Adams ran to become the village trustee for Essex Junction. He was elected for a second term of two years after successfully serving the first two. He realized that he loved working in the village government. Mr. Adams wanted to know if there was anything more he could do to improve the community. That is when he realized that he would run for village president. He won the election for Village President twice and served for a total of 4 years (1983-1987). While president, he carried out budgets, campaigned, talked, and attended meeting. His daughter Christine Adams recalls that, "He was at meetings almost every night. He never complained about the constant work amount either." Some of Mr. Adam's biggest accomplishments consisted of making peace with the Town of Essex, stopping uncontrolled land development in the village, balancing budgets, not raising taxes, and building the sewer treatment plant. After his four years in office ended, he did not stop helping out the village. Now, at the elections, he sets up the booths and tables, and then takes them down when the voting is over. From all of this volunteer work, Mr. Adams has gained a lot of valuable experiences.
While working on volunteer projects, he has made some of his best friends. These are people that he met 35 years ago that he is still friends with today. Mr. Adams got to experience and do many new things that he would have never been able to do if he had not participated in all this volunteer work. Some challenges that he encountered along the way were people not wanting to get along. He had to overcome all theses challenges. "I've loved every bit of the volunteer work that I have done. The challenges are the best part, because once you overcome these challenges, it is a great feeling."
William Adams has received medals and awards for his years of volunteer work, some may be satisfied with what he has accomplished but not him! He hopes to continues volunteering for as long as he can. He volunteers where and whenever he can. When asked about what he has to say about his volunteer work, he replies, "I hope that this is just the beginning."
Page created on 5/8/2014 12:00:00 AM
Last edited 5/8/2014 12:00:00 AM
The beliefs, viewpoints and opinions expressed in this hero submission on the website are those of the author and do not necessarily reflect the beliefs, viewpoints and opinions of The MY HERO Project and its staff.
Related Links