"A man does what he must - in spite of personal consequences, in spite of obstacles and dangers and pressures - and that is the basis of all human morality." This quotation by Winston Churchill illustrates how he managed to live his entire life. Winston Churchill was a famous politician and war correspondent, born in Blenheim Palace, in Oxfordshire, on November 30, 1874. Between the years of 1895 and 1899 he served as a war correspondent, and shortly afterward he began his career in politics. He was an honorable man who put effort into both his political and his military career. Winston Churchill, the iconic leader and ambitious soldier, was a true hero because of his courageousness during combat and his dedication to his political career.
Winston Churchill always knew when he was defeated, but if he already devoted himself to a task, he never chose to give up. He was very committed to everything he did, but Churchill was especially committed to his political career: "He was determined to enter politics and left the army to unsuccessfully contest the seat of Oldham in 1899. Churchill began his political life as a Conservative. Yet when the Conservative Party began to move away from the policy of free trade toward one of tariff protection, Churchill refused to move with them and… (became) a Liberal. He rose rapidly within his new party…" (William A. Darity 537). Even after Churchill was unsuccessful in his first attempt to enter politics, he continued to try obtaining a leadership position. He showed his resourcefulness by switching political parties rather than have to abandon his ideals. Winston Churchill clearly wanted the best for his nation by learning about both sides of the political spectrum: "After a brief but eventful career in the army, he became a Conservative Member of Parliament in 1900… He held many high posts in Liberal and Conservative governments during the first three decades of the century." (Horst Frenz). By learning the viewpoints of both major political parties of his nation, Churchill persevered to earn the best he could not only for himself, but for his country as well. Because of Churchill's intensive experience with both political parties, he was able to achieve many high-ranking political positions and ultimately become the prime minister for the UK. Churchill was a dedicated man who knew that right and wrong were not determined by a political party.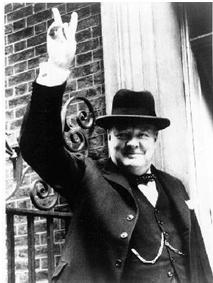 Churchill put the needs of others before his own in any situation he was given. Churchill led his nation in some of the most difficult crises: "The next few months saw him lead Britain during a period of crisis, when, following the collapse of France, Britain faced the threat of invasion and was subjected to the full onslaught of the German air force. Churchill's great achievement was to imbue his administration and, through the power of his oratory, the wider British public with the will to resist" (William A. Darity 537). Churchill courageously assumed the task of halting the advancement of Germany and he successfully coordinated the onslaught against the German air force. By halting Germany's advancement into Europe, he encouraged his nation with the will to resist defeat. Churchill explained how his courage led his nation to victory: "I have never accepted what many people have kindly said, namely that I have inspired the nation. It was the nation and the race dwelling all around the globe that had the lion heart. I had the luck to be called upon to give the roar" (Winston Churchill). Churchill doesn't treat his job as something that is mandatory for him to do; he treats his job as a task he was honored to do. By humbly accepting the daunting task of leading his nation in the race dwelling around the world, he is acting like a missionary, accepting any task he is given and treating it like it's charity work. Winston Churchill, one of the most honorable men of his time, knew work should not be treated as if it was his job to do it, work should be treated as if he was honored to do it.
Winston Churchill's true heroism held no bounds, whether it was his courageous wartime efforts or his honorable works as a politician. Churchill's outstanding dedication to his country, by serving several courageous years in his nations military and an outstanding 60 years in government, with a multitude of those years being spent commanding Great Britain through World War II, made him one of our world's greatest leaders. Churchill's determination serves as a model for leaders of all nations, even today. "I have no fear of the future," said Churchill. "Let us go forward into its mysteries, let us tear aside the veils which hide it from our eyes, and let us move onward with confidence and courage."
Works Consulted
"Churchill, Winston." International Encyclopedia of the Social Sciences. Ed. William A. Darity, Jr. 2nd ed. Vol. 1. Detroit: Macmillan Reference USA, 2008. 537-538. Gale Virtual Reference Library. Web. 7 May 2010.
Frenz, Horst. "Winston Churchill the Nobel Prize in Literature 1953." Nobel Prize. Nobel foundation, n.d. Web. 7 May 2010. .

"The Life of Churchill." The Churchill centre and museum at the cabinet war rooms, London. The Churchill centre and museum at the cabinet war rooms, London, n.d. Web. 7 May 2010. .

Thompson, Carol L. "Churchill, Sir Winston Leonard Spencer." World Book Student. World Book, 2010. Web. 7 May 2010.

Yeo, Eileen. "Churchill, Sir Winston Leonard Spencer (1874-1965)." Encyclopedia of World Biography. Ed. Suzanne M. Bourgoin. 2nd ed. Detroit: Gale Research, 1998. 17 vols.Student Resource Center - Gold. Gale. DEL NORTE HIGH SCHOOL. 19 May. 2010 .
Page created on 5/26/2010 12:00:00 AM
Last edited 5/26/2010 12:00:00 AM
Related Links
Nobel prize
- Nobel prize gives information about nobel prize winners like Winston Churchill
Biography
- Biography has essays about many famous people and gives a very detailed essay about Winston Churchill.