Winston Churchill
by
Anthony from Springfield
Plenty of heroes do things that changed the world and plenty have done little things that changed a person's life. There are heroes who are right in the action and save people right there and then there are heroes who make big decisions that affect everybody and save lives. One person that I know made a lot of important decisions, and is my hero, is Winston Churchill.
These decisions didn't just affect some people; these decisions that he made affected a whole nation and its future. If you don't know who Winston Churchill was, he was the prime minister of England during World War II. As we all know, World War II was a troubled time when Europe was all mixed up in war. Every decision that was made would affect a nation and its people, and maybe even all of Europe. That was a lot of responsibility on one man. To do that job had to take a lot of courage.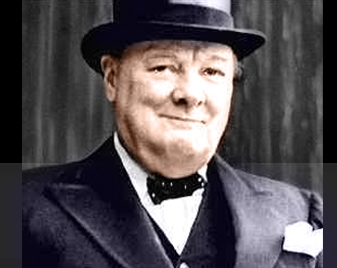 Before he became Prime Minister, he had a hard time because people did not listen to him. It was difficult for Winston because he tried to warn the people about Hitler before the war broke out and Hitler was making his preparations. Nobody believed there was going to be a war. Winston warned and warned there was going to be a war. Nobody believed that Hitler wanted world domination. I can't imagine how frustrating that must have been for Winston. They kept Winston out of power for as long as they could, but they couldn't keep him out forever.
Winston finally became Prime Minister after years of warning to check their defenses. When he became Prime Minister he instantly made sure Britain's defenses were up. Something that amazed me was that after nobody believed him and his enemies tried to keep him from gaining power, he still found in his heart to lead Britain. During World War II Britain began to crumble and be dissolved by the Germans, but Winston did not stop believing. I think that he's a hero within because he did not stop after all that time. All those years and he got through it.
Bibliography: MyHero.com
http://www.time.com/time/time100/leaders/profile/Churchill.html
Link: www.winstonchurchill.org
Page created on 7/17/2008 12:00:00 AM
Last edited 7/17/2008 12:00:00 AM
The beliefs, viewpoints and opinions expressed in this hero submission on the website are those of the author and do not necessarily reflect the beliefs, viewpoints and opinions of The MY HERO Project and its staff.