Walt Disney
by
Spencer from Saskatchewan
Born December 5th, 1901 in Chicago Illinois, my hero is Walt Disney. I chose Walt Disney as my hero for many reasons but the most intriguing being his ability to follow his dreams and turn them into a reality. He built an empire out of his drawings and characters which turned into movies, books, plays, and even parks we all know as Disneyland and Disney World. He was an expert when it came to creativity and he paved the way for many upcoming artists. He has since passed away but can you can find him in the California Hall of Fame.
Walt Disney was born December 5th, 1901 and passed away on December 15th, 1966. He was raised on a farm in Missouri and began selling sketches to his neighbors at the young age of 7. Disney drove an ambulance during the war and when it concluded he moved to Kansas City where he started his career which was short lived and he left to live with his brother Roy O. Disney in Hollywood where his dreams began to take off with the success of his "Alice Comedies" (Alice in Wonderland).
Walt Disney didn't just sail through his life and stumble upon creating one of the biggest empires in the world; he had to work for what he had. Early in his working career he started a company called Laugh-O-grams which focused on commercial art. His company went bankrupt but this didn't stop him, he decided to move to Hollywood and start a new route. This is just one of his traits that I respect and strive for the ability to get back up after being knocked down.
Walt Disney is an extremely inspiring figure; he has given hope to many upcoming writers and artists through his work and his words with such quotes as "All our dreams can come true, if we have the courage to pursue them." Or "if you can dream it, you can do it." These are just a few of the many inspirational quotes he had. Walt Disney has impacted millions of people worldwide in a positive way all because of a simple dream he had which turned into something magical through hard work and never giving up.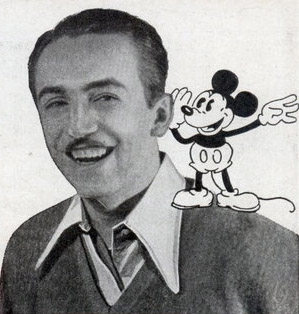 There is no doubt that Walt Disney is a hero, he paved the way for creative minds and gave hope to people worldwide looking into art as a future. Walt Disney found what he loved to do at a very young age and never looked back on his dream overcoming some of the toughest obstacles, which leaves me with the quote "All the adversity I've had in my life, all my troubles and obstacles, have strengthened me. You may not realize it when it happens, but a kick in the teeth may be the best thing in the world for you." Walt Disney
Page created on 1/9/2012 12:00:00 AM
Last edited 1/9/2012 12:00:00 AM
The beliefs, viewpoints and opinions expressed in this hero submission on the website are those of the author and do not necessarily reflect the beliefs, viewpoints and opinions of The MY HERO Project and its staff.