"As we look ahead into the next century, leaders will be those who empower others."-Bill Gates
When Bill Gates wrote an early version of the Windows Operation System in 1980 he never expected to sell over 100 million copies in only ten years. Additionally he never expected to set an all time record for software sales. "The king of software" recently out did his Microsoft achievements and deserves the distinguished title of a hero. Bill Gates, a billionaire at age 31, sacrifices billions of dollars to benefit the less fortunate. His altruistic and compassionate attitude inspires others to work hard and to follow in his footsteps.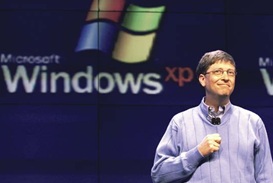 William Henry Gates was born on October 27, 1955, in Seattle, Washington to William and Mary Gates. He attended private school at Seattle's Lakeside. There he meet Paul Allen, a teenager who, like Gates, had interest in early technology. At Lakeside, with the help of Allen, Gates wrote some of his first pieces of software; included was a program designed to schedule classes at Lakeside. While still in school, Gates and Allen founded Traf-O-Data, a company that earned them $20,000 for analyzing traffic patterns in the immediate area. After Gates graduated from Lakeside, he attended Harvard in 1973 but dropped out a year and half later to co-found Microsoft with Paul Allen in 1975. Although Microsoft stumbled at first, causing their first five clients to go bankrupt, Gates got a break when approached by IBM in 1980. With their help, Gates wrote an early version of Windows named MS-DOS which stands for Microsoft Disk Operating System. It was also at Microsoft where Gates met his future wife Melinda. Together, they have two children: Jennifer and Rory John. During the years, as his family was growing, so was his wallet. By the mid 1990s, Gates had an estimated $60 billion under his belt, which earned him the title of wealthiest person in the world. In December of 2005, Time Magazine honored Bill Gates as one of the top three persons of the year for his charitable work toward reducing poverty and disease.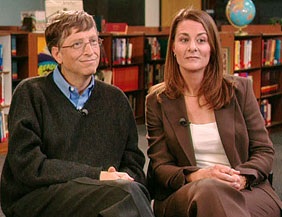 By donating money to different causes and even creating a charity of his own, Bill Gates has affected many lives around the world in a positive way. "Mr. Gates initiated the new golden age of giving in 1994 when he set up the Bill and Melinda Gates Foundation. The world's biggest charitable organization, it specializes in combating extreme poverty in the developing world… [Throughout the years] he has handed the foundation $31 billion of his fortune …and intends to give over most of the rest" ("Take my billions, please."). By donating a large percentage of his money to people in need, he made a sacrifice that many of us wouldn't. Managing the largest charity in the world, Gates proves just how much he cares for the underprivileged; he could be spending his money for his own personal gain instead of choosing to selflessly donate to those in need. However, his generosity does not stop at his foundation. "British Prime Minister Tony Blair announced that Gates would help to fund a panel of international dignitaries who will monitor aid to Africa" ("Gates, William Henry, III (1955)."). From this funding, many people in Africa will get the help they need to overcome disease and starvation. Without Gates's openhandedness, this panel wouldn't exist. The significant amount of money Gates donated has resulted in many people living better lives.
Not only is Bill Gates generous with his money, he is also generous with his time. While he was working at Microsoft as CEO of the company, his schedule involved extensive work weeks. But "in June of 2008, Gates was ready to devote his full-time energy to matters of philanthropy. He stepped down as a full-time employee of Microsoft in order to devote more time to managing the Bill and Melinda Gates Foundation" (Rosen). Choosing to use his time to benefit others instead of increasing his own fortune, Gates proves his selfless and caring work is his top priority. Many people take what they have for granted and assume all will continue to be fine with the world. Gates however, rises above what is excepted and identifies there are people in need of his help. Gates "wanted to focus on the Foundation's work in the areas of education and health. He found this work intensely rewarding" (Rosen). He proves his caring spirit as he chooses to spend his time benefiting others rather than himself. For him and many others, writing a check is easily done, but taking the time to actually aid those in need, he demonstrates his ability to care and share with others. While it seems our lives are hectic, Bill Gates continues to find time for others in need.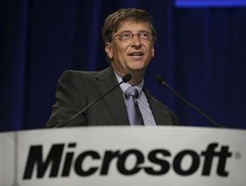 In addition to Gates being a thoughtful and altruistic person, he also inspires others to achieve new heights through his enthusiasm and great leadership. This was evident while he was still at Microsoft. He encouraged, "brilliant minds and creative thinking. Gates does not mind being told he is wrong by his subordinates, and he thinks nothing of engaging in shouting matches during meetings" (Gates, William Henry, III (1955)."). Unlike most leaders, he allows people in meetings to yell as he believes this is how brilliant ideas are discovered. He also set an example by accepting his mistakes as he knows they will only make him a better person. Bill Gates also inspires others as he "has already set a trend by getting involved in charitable giving at a fairly young age (he is still only 50). More and more wealthy people are following suit" ("Take my billions, please."). Gates has led by example and as a result, he has inspired many others to follow in his footsteps; showing the importance of caring and giving, the world could only become a better place to live.
While Gates continues to accomplish amazing feats earning him the title of a hero, a primary reason why he can achieve what he does is because of the country he lives in. Americans support courageous acts such as Bill's. Through public education and freedom of the press, many of us, like Bill, are able to understand there are people in our country and around the world who need our aid daily. Bill Gates once said, "I can do anything if I put my mind to it" ("Gates, William Henry III (1955)."). He has accomplished just that. He helps and inspires people around the globe, making him a true American hero.
Page created on 5/17/2010 12:00:00 AM
Last edited 5/17/2010 12:00:00 AM