Whitney Houston was born on August 9, 1963 in Newark located in New Jersey. Whitney Houston almost seemed destined from birth to become a singer. Whitney's mother "Kissy Houston ", cousin " Dionne Warwick " and godmother "Aretha Franklin " were all legendary figures in American gospel and soul music. In the year of 1977, Whitney became the lead singer of a band at only 14 years old. That year, when they offered her a contract, Kissy Houston declined it because studies were considered to be a priority back then. Two years later, in 1979, she sang the background vocals for the Chaka Khan Hit -I'm Every Woman...
1973: Whitney grew up as the youngest of three in Newark, New Jersey. Here, at the age of 10, Whitney was already performing in the junior gospel choir.
By the time Houston turned 15 years old, she was performing very often with her mother. She was trying to get a record deal of her own. Around that time, she was discovered by a photographer who was awed by her natural beauty. 1980, Whitney had her own tryst with modeling during the early 1980s. Houston was spotted by a photographer at the Carnegie Hall. When she did this, it led her to a modeling offer, which propelled Whitney on the covers of Vogue magazine. This year, she also appeared in a soft drink commercial. Then at the age of 19, Whitney Houston was discovered in a nightclub by the renowned Clive Davis of Aristae Records; who signed her immediately and took the helm of her career.
1979: Whitney spent her teen years accompanying mum Cissy on nightclub tours, occasionally joining her on stage.
In the year of 1983, Houston gave an impressive performance with her mother in a New York City nightclub. The performance impressed Gerry Griffith. Later, she won the heart of Clive Davis (head of Aristae Records). Whitney later released her self-titled debut album. It was released on February 14, 1985. She almost became a smash pop sensation. The next year in 1986 her hit single "Saving all my love for you" and "How will I know" helped her album reach to the top of the charts. The year of 1987 came along and Whitney Houston scaled new heights of popularity and stardom. June 1987, they also saw the release of her second album. She received a second Grammy award for the best female pop vocal performance for the track "I want to dance with somebody ".
Whitney Houston, standing with her daughter with a big smile on their faces.
Years went by and Whitney released more and more albums. In 2001, she signed one of the biggest deals of the year. In the month of August, Whitney Houston signed a record deal. 2002-2003, she released one wish: The holiday album. Whitney then had a tour in 2004. She went on an international tour along with other artists. She also performed at the World Music Awards where she received a standing ovation. In 2007, Houston divorced Bobby Brown, then she also went through a rough patch, which was connected by the media. Whitney Houston also performed in Kuala Lumpur in December 2007.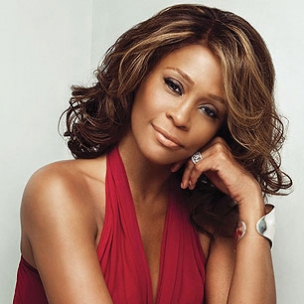 Whitney kept releasing albums and performing. In August 2009, Houston released her new album "I look to you ". Later this year, Whitney Houston appeared on Oprah Winfrey's season premiere. The same year Whitney Houston announced that she would be touring the world. In 2010 she was nominated for two NAACP image awards. The single song "I look to you" won the best music video award. She was then honored with the BET award for entertainer with the BET honors award for entertainer recognizing her at 25 glorious years in the industry.
Even when she became a global superstar, Whitney would continually use her success to bring joy and aid to those much less fortunate in life. Most of the humanitarian work she did was out of the spotlight and away from the ever-watching cameras that followed her due to her enormous fame. Whitney would regularly visit children in hospitals, and send personal notes to the series of charities that she helped that worked for causes close to her heart.
Sadly, in the year 2012 on February 12, Whitney Houston died. Following this, Whitney Houston's album sales soared. That spoke a lot about her undying popularity among her fans all over the world.
Page created on 4/13/2012 12:00:00 AM
Last edited 8/16/2022 11:11:28 PM
Extra Info
Sadly, in the year 2012 on February 12, Whitney Houston died. She was found in her bathtub in the Beverly Hilton, California. February 13, her body was sent her her home state New Jersey. Following this, Whitney Houston's album sales soared. That spoke a lot about her undying popularity among her fans all over the world.