My definition of a hero is someone who is an inspiration to others. William Kamkwamba is an inspiration to me, because he wasn't discouraged by growing up in poverty in Malawi, Africa. William, who made a windmill from scrap, also started the Moving Windmills Project to stop deforestation in Malawi, built windmills to power his village, and supplied books and soccer balls to the library and school he went to as a kid. We are going to start from the beginning, the drought and famine of 2002.
In 2002 a drought and famine was started due to deforestation, because the fertile soil blew away. The main crop in Malawi is maize which is made into dough called nismah. Due to all the crops dying, William was forced to drop out of school, but this wasn't his biggest problem. William's family was forced to eat one serving of nismah a day. The effect on other families was devastating. Starving people walked day and night through every road begging for food. Sickness also struck Malawi; they couldn't make graves fast enough, so they just threw bodies into a massive whole in the ground. People even tried to sell their children to bystanders. The government didn't realize there was a problem until it was too late, and they beat people who tried to tell them what was happening.
Due to the famine William was forced to drop out of school, so he tried to catch up in a library. One day he saw a book with a picture of a windmill on it, and then he realized that it didn't just fall from the sky, so some man had to have made it. A couple days later he made a few prototypes with a friend, and they were made out of a plastic bottle and a cassette player's motor. When he plugged in his invention, he heard his radio play. This gave him the idea to make a bigger one, but he had to drop the project due to a lack of food.
When he had mustered up enough energy he went to a junkyard by a tobacco estate. He had melted PVC pipes from an old toilet into the wings or propeller of his windmill. After he made enough money from unloading trucks, he bought a bicycle dynamo, which powers a light on a bike. He first assembled it on a small pole, but its weight was too much, so he made a permanent spot for it with a few trees. To test his new windmill, he plugged it into a light bulb, then his dad's radio. The radio caught fire, but William continued to improve his device by means of circuit breakers, transformers, and batteries.
In 2008 and 2009 William's story became famous all around the world. It all started in 2006 when officials from The Malawi Teacher Training Association were inspecting the public library, the one William used. While there, they noticed a windmill William had made and inquired about it. The official was so impressed that he called the head office of MTTA, Dr. Mchazime. He drove for five hours to see William. The following week he came again, but with journalists from Radio One (Popular in Malawi). After a week or so they talked about William on Radio One. After constant interviews William was to talk at TED: Africa.
When William arrived at TED he stayed in his first hotel room, and saw the internet for the first time. When he went on stage in front of 400 people he got so nervous he couldn't talk. They sent out Chris Anderson to ask him questions. After the conference many people gave money to William to make more windmills. After the success at TED he decided to write his own book called The Boy Who Harnessed the Wind: Creating Currents of Electricity and Hope. This book told all about William's struggle in life. The Boy Who Harnessed the Wind made Amazon's top 10 books of the year. When his book became a success he was invited back to TED 2009, but this time he didn't need any help.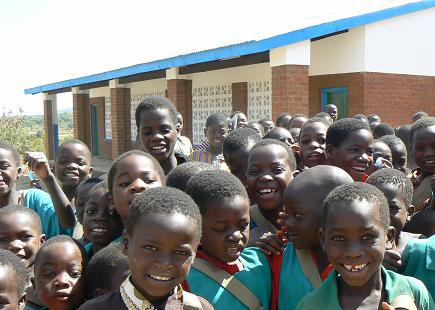 The Moving Windmills Project was started by William Kamkwamba in 2007, after receiving all the money from the people at TED. The Moving Windmills Project mostly takes donations from over the internet. You can donate to a specific cause of your choice like soccer balls for schools, soccer uniforms, windmills, or even completely new schools. A work in progress - a feature length documentary - is being shot at William's home in Malawi. William Kamkwamba has inspired many with his determination and ability to see light even in the darkest times.
Page created on 2/17/2010 12:00:00 AM
Last edited 2/17/2010 12:00:00 AM