Wilma Rudolph
by
Jen A. from Sycamore Jr. High, Ohio
Olympics Hero Wilma Rudolph:
"Believe me, the reward is not so great without struggle."
Wilma Rudolph. A name that may sound simple to some, but to others, it is a name that glows with inspiration. At the age of four, Wilma, was diagnosed with a disease called polio. The effects of this disease can be life crushing. Yet somehow, Wilma overcame her disabilities and became one of the greatest athletes in history.
Born on June 23, 1940,Wilma Rudolph was the twentieth child in a poor family of twenty-two children. She was raised in the segregated town of Clarksville, Tennessee where her father worked as a railroad porter and her mother was a maid. At the young age of four, Wilma was diagnosed with a disease called polio, which caused her to become crippled and unable to walk. Doctors told Rudolph that she would never be able to walk again. But this did not stop the ambitious girl. With the help of her mother she decided to do everything in her power to once again be able to walk. Every week Wilma and her mother took the long bus ride to the hospital for therapy. Although the doctors claimed the therapy didn't help, Wilma and her family never gave up. The Rudolph's worked together; her siblings would help by rubbing her legs four times a day as therapy. Hard work pays off and by the time Wilma was eight she could walk with the help of a leg brace. After that Wilma used a high top shoe to support her feet, this helped her to play basketball. But Wilma still wanted to walk without help. Three years later when she was eleven, her mother came home and discovered to her surprise Wilma was playing basketball, shoeless, with no help or support!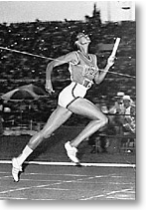 A coach at her school encouraged Wilma to run track. Wilma took up the sport and wasn't only good, she was amazing. She ran so well that during her senior year of high school Wilma qualified for the 1956 Olympics in Melbourne, Australia where she won a bronze medal in the woman's 400-meter relay. Wilma stuck with the sport and in 1959 she qualified for the 1960 Olympic Games in Rome, Italy. After her first two events Wilma sprained her ankle, but she pushed through the pain and helped her team to win the gold in the woman's 400-meter relay. That year Wilma won three gold medals. One for the 100-meter dash, a second for the 200-meter dash, which she broke the world record for, and a third for the 400-meter relay. Shortly after, Wilma retired from running track at the age of 22 but went on in life as a track coach and a role model for many. In 1973 she was inducted into the Black Athletes Hall of Fame, and the following year in 1974 Wilma was named into the National Track and Field Hall of Fame. On November 12, 1994, Wilma died from brain cancer. She was an amazing athlete who can never be replaced.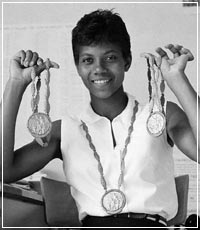 Wilma Rudolph is an excellent example of a Hero within, described in the book The Heroes Trail by T. A. Barron, for many reasons. She has not only overcome her physical disabilities, but has also overcome her own fears. She was always confident in herself and had a positive attitude and spirit. In the book, T. A. Barron said that the crucial qualities to a hero within are, "faith in itself, faith in themselves, and faith in their own strength." All of these qualities have applied to Wilma many times throughout her life. She focused more so on her "possibilities rather than her disabilities," and that is what has given her the will to never give up. Wilma Rudolph is a very inspirational woman who has broken many barriers of disbelief and overcame many unreachable obstacles. She is a woman who many can look up to and use as the strength to go on when times get tough.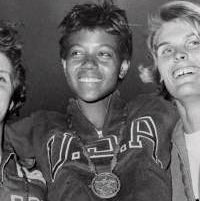 Wilma Rudolph has made many great accomplishments throughout her life. Since she was four she has had it tougher than most can imagine. She proved all the doctors wrong and walked again, by herself! She then began to run track and not only succeed in it; she mastered the sport! During her senior year of high school, Wilma ran in the 1956 Olympics, achieving a goal many people only dream of. Her running career didn't stop there; she trained for the next four years and got to partake in the 1960 Olympics. That year Wilma broke several world records and won 3 gold medals! Although her track career ended after that, Wilma went on coaching and giving motivating speeches. She later wrote an inspiring biography that tells her amazing story. She is a woman who will never be forgotten. Wilma Rudolph, the little girl who had polio and would never walk again, overcoming the disease and becoming the fastest woman in the world!
Page created on 8/7/2008 10:29:57 AM
Last edited 8/7/2008 10:29:57 AM
The beliefs, viewpoints and opinions expressed in this hero submission on the website are those of the author and do not necessarily reflect the beliefs, viewpoints and opinions of The MY HERO Project and its staff.