Wilma Rudolph
by
Sydney from Roseville
"The triumph can't be had without the struggle." Wilma Rudolph
Although there are many great athletes in the world, Wilma Rudolph has distinguished herself as one of the best because she wasn't just born naturally great. Through her story of determination and hope, many people look up to her as both a hero and a role model. Not only is she inspiring, Wilma Rudolph had a unique life. She had a great career as a track star and overcame many obstacles to get to what she is remembered for today.
As a child, Wilma Rudolph probably never believed that she would be called "The Fastest Woman on Earth." When she was born in Clarksville, Tennessee on June 23, 1940, Wilma Rudolph weighed 4.5 pounds and soon after being born caught polio. She recovered from the virus, but her left leg became twisted causing her to have to wear a leg brace on her left leg and foot. When doctors said she would never walk again, Wilma proved them wrong and was able to walk by age 12, which was amazing for her condition. From junior high to high school, Wilma joined the basketball team like her sister, even though she was mostly on the bench. Between seasons, she played track, unknowingly preparing her for the years to come. As a sophomore during the basketball season, she was spotted by Edward Temple, coach of the Tennessee State University track team, who invited her to a track summer camp. By age 16, Wilma had made the US Olympic track team for Melbourne, Australia, and came back with a bronze medal for the 4x100m relay team.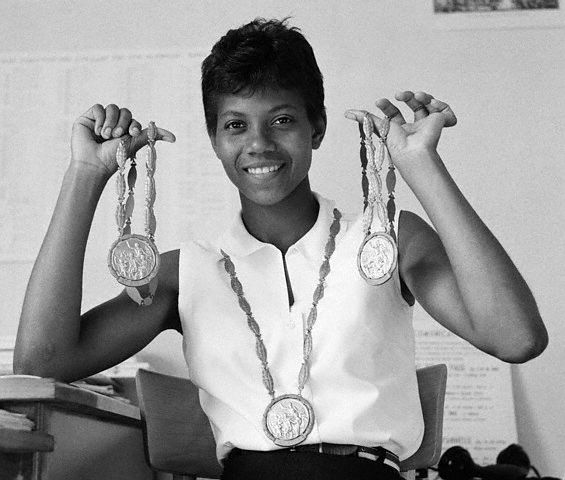 From then on, Wilma Rudolph's track career took off. In 1960, she won the United Press Athlete of the Year award and from 1960-1961 she was chosen as the Associated Press Woman Athlete of the Year. She even won the James E. Sullivan Award for the top amateur athlete in the year 1961 for the United States. Wilma ended up retiring from track in 1962. She received a full scholarship to Tennessee State to become a teacher. In 1973, Wilma was entered into the Black Sports and Entertainment Hall of Fame and the National Track and Field Hall of Fame in 1974. The U.S. Olympic Hall of Fame soon followed in 1983 as well as the National Women's Hall of Fame in 1994. However, her highest honor was meeting President John F. Kennedy in 1961 proving that "The triumph couldn't be had without the struggle." Unfortunately, brain cancer took her life on November 12, 1994.
Finally, Wilma Rudolph had many gigantic obstacles that many people wouldn't have been able to overcome making her my hero and someone I admire. She endured not being able to walk at a normal age, went through over 30 operations to fix her leg, couldn't attend normal school until age 12, and faced tremendous internal issues while watching other children run, jump, and play in the summer sun. Instead of giving up when the going got tough, she pushed herself to be a runner, to be normal, and to prove to the numerous doctors and others that Wilma Rudolph could and would walk, run, and work like other people.
As you can see, Wilma Rudolph wasn't just an athlete, a black woman, or a person with problems in her childhood. She was an amazing woman many people look up to today for many reasons, not just the obvious one of winning gold medals in the Olympics. Wilma Rudolph is remembered as a determined woman, a great track superstar, and a person who overcame so many obstacles. She is my hero and role model, Wilma Rudolph, the "Fastest Woman on Earth."
Page created on 9/3/2009 12:00:00 AM
Last edited 9/3/2009 12:00:00 AM
The beliefs, viewpoints and opinions expressed in this hero submission on the website are those of the author and do not necessarily reflect the beliefs, viewpoints and opinions of The MY HERO Project and its staff.