by
Briannah from San Francisco
Wilma Glodean Rudolph was born on June 23, 1940 in Clarksville, Tennessee. She was born into a great big family with her being the twentieth of twenty-two children. Her parents, Ed and Blanche Rudolph, were very poor. Weighing only 4.5 pounds, Wilma faced many diseases as a child. Because of segregation, Wilma's mother could not go to a fancy hospital, and could not afford the only black doctor in town. She had to take care of all Wilma's diseases, one after another. From suffering through measles, mumps, scarlet fever, chicken pox, and double pneumonia, the worst was yet to come.

When she was finally taken to the doctor, she was pronounced to have polio, a crippling disease that was incurable. She was told that she could never walk again. Wilma's family and doctors all pitched in to help with physical therapy, until she could fully walk on her own. By age twelve, when she could walk normally again, she got in to the business of an athlete. Wilma played a few sports. In high school in the 1900's she decided to try out for basketball, after her sister Yolanda joined the team too. Although the coach, Clinton Gray, was hesitant to play her, she became an automatic star scoring over the amount of baskets anyone has had for her team. After basketball, she decided to try out for track.

In 1956, she had already gone to her first Olympics only at the age of 16! Winning bronze in the woman's 4x4 relay, Wilma did not quit. She went on to her next Olympics in 1960 in Rome. This time, she won 3 gold medals, becoming the first American woman to ever to accomplish that many medals in one Olympics. One amazing accomplish of Wilma was that she won the James E. Sullivan award for best new athlete in the US. Unfortunately, she died at the age of 54 on November 12, 1994. She died after she was diagnosed with brain cancer, in her Nashville home. With all of her practice, and dedication, she became one of the most remarkable women in my, and others, lives.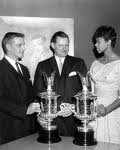 Throughout life, Wilma had won many awards, and accomplished many outstanding records in track. Other than the amazing accomplishment of Wilma when she won the James E. Sullivan award for best new athlete in the US she also, in 1960, held the world record in the 200 meter dash, 100 meter dash, and ended up with a total of three Olympic gold medals in one year. In 1962 she received the Babe Didrikson Zaharias Award, and the year before that, the Sullivan Award. She was in the Hall of Fame of National Track and Field (1974), Black Athletes Hall of Fame (1973), Women's Sports Foundation (1980), U.S Olympic Hall of Fame (198), and the list goes on.
My hero, Wilma Glodean Rudolph, was, and still is, one of my idols. Because of her, I have gotten more into track and field. My goal, just like her, is to be in the Olympics, and have my very own gold medal to show. Wilma shows that you have to want it in order to succeed. even with the fact that she wasn't supposed to ever be able to run again, she never gave up hope. With her determination and lots of training, she succeeded in most of what she did. She has put a strong influence on my life, and I hope she does the same to yours.
Page created on 6/16/2010 12:00:00 AM
Last edited 6/16/2010 12:00:00 AM