Walt Whitman
by
Austin from Boca Raton
Even at a young age Walt Whitman wanted to learn more and more about words. Walt Whitman had a love for words and knowledge. At only the age of twelve Walt Whitman was working as a printer's apprentice. While working as a printer's apprentice, Walt learned how to type and print newspaper articles. While working with the newspaper and printers Walt was very interested with the boxes containing letters covered in ink. With these Walt would take them out and see what kinds of words he could make. These are one of the ways he learned how to read and spell. At the end of the day for Walt he would normally have an ink stained apron and the fingers to match.
Walt was a self taught child with no real schooling or education. This made it harder for him to read and also write. But he learned everything in his work. To Walt his work was like his school except he was the teacher. After two years of working behind the printer Walt was writing his own articles in the newspaper. Even when Walt wasn't working he would still find ways to read or ways to learn such as listening to famous speakers or going to plays. Walt loved to share his knowledge of words just as much as he loved to read or learn them. With his craving of reading and knowledge Walt Whitman joined a debating society.
At the age of 19 Mr. Whitman started his own newspaper business known as the Long Islander. His paper had articles on just about everything from local news all the way to politics or even the birth of a three legged cow. He delivered the papers with help from his brother George Whitman.
There is one quote by Walt Whitman that I enjoy the most which is "The genius of the United States is in the common people," which means that we the people no matter what job you have or how smart you are is what the United States is all about. Walt Whitman was a marvelous poet and he would love to share his poetry with the world. That's mainly the reason he wrote poetry. Most people could relate to his poetry. Walt wanted to bring joy and happiness to his country so he wrote poems and would keep them in his back pocket and share them with people everywhere. Then Walt wrote his first book in 1855. It was called "Leaves of Grass." He wrote this book so that everyone could enjoy his work anytime.

Walt Whitman is my hero because of how dedicated he was to his work and how he loved to read and write. Also Walt Whitman would find ways to bring his poetry and knowledge to common people. I would say that Walt Whitman made a significant impact on my life in ways such as books, poems and, my main reason, my camp, which is called Camp Walt Whitman.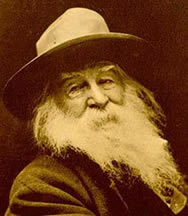 Page created on 10/26/2010 12:00:00 AM
Last edited 5/13/2020 5:00:36 AM
The beliefs, viewpoints and opinions expressed in this hero submission on the website are those of the author and do not necessarily reflect the beliefs, viewpoints and opinions of The MY HERO Project and its staff.

Related Links