First of all, I want everyone to know how I feel. But in reality, it's very hard for me to reflect upon the journey that is the past sixteen years of my life. Because of that, I find it difficult when I want to describe who my hero is; the person who has inspired me throughout those sixteen years. I believe everyone, all over the world has their own hero - a hero who lives in their own heart. Heroes inspire the people who admire him or her as a hero.
After trying so hard to find "my real hero," I finally realized who my hero really is. My hero is a person who has given me so many things, who has taught me about everything, who has shown me how beautiful life is, and gradually as I get older and I become more mature, my hero has opened my eyes to the fact that life is not always beautiful and happy like a fairytale, but life is much more than that. My hero has explained to me that life can be very cruel. Everyone must struggle hard to make all their dreams come true and to be a successful person.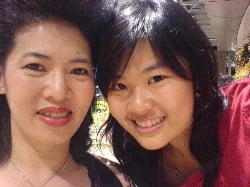 Maybe, because my hero lives so close to me, I hadn't realized that this person had inspired me so. My only true hero is my mother. Her name is Mrs. Wati Herlina Bolga Hasli. She was born in Jakarta, on the 1st of July. My mother is the youngest child in her family. She was born to her father, Arifin Bolga, and her mother, Yap Kim Yean. She has two sisters, who always love and take care of her. Maybe, because of that, she became a cheerful, kind, friendly, and loveable person. She wants everybody to feel comfortable when they are around her.
My mother likes to study and to read everything, from books to newspapers. Because of that, she has become a knowledgeable person, who always is up to date about everything. Everyone really likes to talk and chat with her, so she has many friends. My mother admits that she is not necessarily a clever person, but she believes that naturally clever people, even if they have super IQs, if they do not want to study, it means nothing. All you need is to be a hardworking person who always wants to study hard, so that you can be a successful person. She says that many people around her have succeeded because they have studied and worked hard.
When my mother was 20 years old, my father, Herman Sugiarto, married her, and they have five "super" children, including me. Even though she already had five children, she still wanted to continue her studies at the university. So, she took accounting as her focus at the university. It meant that she had double roles; as a housewife and, of course, as a college student. I think it must have been very difficult. But, she did it. She succeeded, and did both jobs well. She was still a good wife for my father, still a good mother for her children, and a good college student, too. After three years, she completed her studies and graduated. Then, she became a full–time housewife again. But, she didn't want to waste what she had studied at the university, so she helps my father to manage the office. After she comes back from the office, she becomes a housewife again.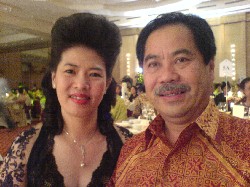 What I have written above is only the short story about my hero, Wati Herlina Bolga Hasli. I wrote the short story to describe my hero, so people who read my story have a little more knowledge about her. I know everyone who reads this story will have big questions in their minds, like why I chose her as my hero. Actually, my mother is not a popular hero, and maybe she is not a hero for everyone, but one thing I know for sure, my mother will always be the hero in my heart.
Like I said before, my mother always showers me with her love and her patience. Maybe this is because I am the youngest girl in my family, so I am very close to her. I always tell her everything, like what happened in school, about my friends, everything. I always tell her what I feel. She is the only person who really knows and understands me. I remember one small thing she said to me, that makes me have faith in her. I believe every child in this world will be afraid, if they get a bad score. And, most of their parents will be angry, so to avoid that, a child will hide their test and lie to their parents. But my mother always tells me that if I get a bad mark, she will not be angry with me. She just wants me to show her the test and she will analyze it. She just wants me to study harder for the next time. She teaches me to be honest. It was the beginning of why I am so "transparent" in front of her.
My mother always supports me to be a better person, one who is always confident and has many friends, and makes other people feel comfortable. Before she advised me, I used to lose confidence in myself. I never believed in my capabilities. I always felt that what I had done was not good and needed other people to correct it. But my mother wants me to have confidence in myself, because she sees that I CAN do things well. So my mother always said to me, "You can do it, girl. I believe in you." What she said opened my eyes to see inside myself, to see that I have the capacity to do it, and I realized that I have nothing to worry about if I do my best and work hard. From that moment on, I became more confident with each day. She always pushes me to do many positive activities, so I can develop myself and meet many new friends. She also says to me, that after I have done my best, don't forget to pray. And, if I succeed, I must still keep myself low-profile. Now I know, because of my mother and other people who always love and support me, I can be who I am now, an individual who always wants to be a better person. Thank you, Mom, for everything. I love you.
Page created on 6/6/2006 12:00:00 AM
Last edited 1/5/2017 11:21:32 PM