It is because of Winnifred, Mason Huck, and others like her, that the life experience of American women has totally transformed in just three generations.
Winnifred Sprague Mason Huck
Born: September 14, 1882 in Chicago, IL
Died: August 24, 1936 in Chicago, IL
Married: Robert Huck 1904
While researching my husband's family history, I came across a number of interesting characters; pilgrims, revolutionary and civil war soldiers, early settlers, even an associate of Abraham Lincoln. Each time I excitedly described a newfound ancestor to my teenage daughters, I was met with obligatory mild interest. That is, until I discovered Winnifred Mason Huck. Born in 1882, before women even had the right to vote, she was the third woman to serve in the United States Congress. This got the girls' attention.
Winnifred was raised in Chicago, in a socially progressive household. Her father, William Ernest Mason, was a colorful attorney, U.S. Representative (1887 – 1891) and Senator (1897 – 1903)(i), who was outspoken in his views on political issues of the day. He championed independent rule for the people of Cuba, the Philippines, and Ireland, establishment of food purity laws, abolition of contracting out prisoners to provide labor, and elimination of the executive power to declare war. William Ernest Mason was a great story teller and was often in the newspapers acting as the Ringmaster when the circus was in town(ii) or traveling to Yellowstone not long after it became a national park(iii). Winnifred's mother, Edith White Mason, was a retired school teacher who supported Susan B. Anthony's campaign for suffrage. In an 1899 letter, Ms. Anthony urges Mrs. Mason to "Tell your senator I want him to be ready to make the speech of his life when the … Bill comes before the Senate, …. to strike "male" out of its voting and office holding clauses."(iv)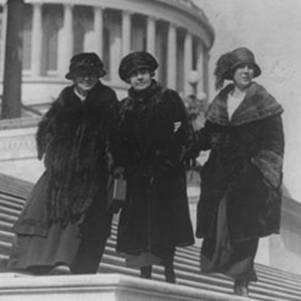 When William Ernest Mason died in 1921, he was in the middle of a term as U.S. Representative from Illinois. Winnifred immediately announced plans to assume her father's position. But, she had a difficult road ahead of her. While Winnifred had, for years, been working in her father's office as one of William Mason's "ablest aides and advisors"(v), she was a woman. The Nineteenth Amendment, allowing women to vote and hold office, had only been ratified one year earlier. Nevertheless, on November 7, 1922, Winnifred Mason Huck won a special election to be seated in the 67th session of the U.S. House of Representatives.(vi) During her tenure, she supported world peace and the abolition of child labor. She served on the Committees for Civil Service Reform, Woman Suffrage and Expenditures in the Department of Commerce.(vii) Perhaps her boldest act in office was on January 16, 1923 when she "appealed to her colleagues to support a constitutional amendment to hold a direct popular vote for future United States' involvement in any war requiring the armed forces to be sent overseas".(viii)
After her term in the House of Representatives, Winnifred Mason Huck continued her dedication to working for social change. She served as Chair of the Political Council of the National Women's Party and wrote for newspapers, including the Chicago Evening Post, as an investigative reporter.(ix) While working on one such article, she had herself committed to an Ohio prison, anonymously, to experience inmate conditions first-hand. Once released from prison, she continued incognito as an ex-convict, working her way from Virginia, to Pennsylvania and New York, taking a variety of menial jobs to determine the ability of a former inmate to make a life for herself.(x) At the time of this investigation, Winnifred was a 40 year old mother of four.
My daughters are very proud to claim this woman as their ancestor. Yet, I realized, as we discussed her, that they were putting her in a category with all the other accomplished women they see every day. They have only ever known a world in which women rise to the top of the corporate ladder, participate in NASA missions or become Speaker of the House. My girls have the innate sense that they can pursue and achieve whatever they want in their lives. It's hard for them to imagine the world view of Winnifred Mason Huck as a young woman, before the passage of Suffrage. She lived at a time of the advent of opportunities for women and had the courage to take full advantage. It is because of Winnifred, and others like her, that the life experience of American women has totally transformed in just three generations.
Citations
(i) "William Ernest Mason (1850 - 1921)." Biographical Directory of the United States Congress, 1774 - Present. Web. 17 Mar. 2010. .

(ii) "William Mason to Appear as Ringmaster Tomorrow Evening." The Daily Inter Ocean [Chicago, IL] 8 Feb. 1895, Issue 321, p. 8.

(iii) "Adventures of Hon. W. E. Mason in the Yellowstone Country." The Daily Inter Ocean [Chicago, IL] 24 Aug. 1895, Issue 153 ed.: 16.

(iv) Anthony, Susan B. Letter to Edith White Mason. 12 Feb. 1899. MS. Private Collection, Branford, CT.

(v) Pence, Henry. "Does the Office Belong to the Widow?" Dearborn Independent Magazine 7 Nov. 1925: 5.

(vi) Amer, Mildred L. Women in the United States Congress: 1917 - 2008. Rep. no. RL30261. Washington, D.C.: GPO, 2006. < http://www.senate.gov/reference/resources/pdf/RL30261.pdf>

(vii) James, Edward T., Janet W. James, and Paul S. Boyer. Notable American Women, 1607 - 1950, a Biographical Dictionary. Vol. 2. Radcliffe College, 1971. Print. P. 232

(viii) Office of History and Preservation, Office of the Clerk, Women in Congress, 1917–2006. Washington, D.C.: U.S. Government Printing Office, 2007ix.< http://womenincongress.house.gov> (March 15, 2010).

(ix) Braden, Maria. Women Politicians and the Media. Lexington: University of Kentucky, 1996. p. 28

(x) "Women: Huck's Experiments." Time Magazine 13 July 1925.
Page created on 3/27/2010 9:48:35 AM
Last edited 1/9/2017 6:30:48 PM