What makes a hero? To me, a hero is someone loving, helpful, compassionate, and selfless. This perfectly describes my hero. My heroes are the people who work at World Vision. World Vision is a non-profit organization who works to makes the lives of children better. They are doing this by Child Sponsorship, the 30 Hour Famine, Gift Catalog, "Hoops of Hope", and other amazing ways to help children in desperate need.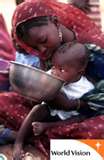 To help children around the world, World Vision has given people the option of sponsoring a child. Child sponsorship is when you pay for a child's food, water, and medical care. You can find someone that has the same birthday as you, or select one at random. For only a dollar a day, you can provide many things for some little boy or girl. If you think you want to help out more than that, you can sponsor a Hope Child, which for only 35 dollars a month; you are sponsoring a child in an AIDS infected area/village. When you sponsor a Hope Child, you are providing food, water, and medical care, along with AIDS treatments and medicine. This is one of the many amazing ways that World Vision is building a better world for children.
Another way that World Vision is helping children, more directly in Africa, this time, is the 30 hour famine, designed to end world hunger. 30 hour famine is a 30 hour fast that teens and adults participate in to earn money towards the world hunger effort. People sponsor amounts of money, such as 20 dollars, 30 dollars, or maybe even 100 dollars. Some people choose to do this in big groups and have huge events; others do it alone without the big production. The 30 hour famine is also available in Australia and New Zealand, but is called the 40 hour famine there. This is another way that World Vision is helping the children and families in Africa and other starving places in the world.
World Vision also is helping the children of the world is by putting out a catalog for people who sponsor someone. People who do not sponsor someone can also contribute to the gift catalog. Through the gift catalog, you can donate to causes such as school supplies for children in Africa, the Orphan and Widows fund, and many others that will go to some child that will need care and help. The catalog offers animals to those special children, such as goats, chicks, and sheep. Gift catalog buyers frequently buy around Christmas or birthdays, and is a huge deal to the children who receive the money and gifts from this little magazine.
"Hoops of hope" is a new way that is helping children infected with HIV/AIDS. "Hoops of hope" was created by Austin Gutwein. Like many people, Austin wants a better world for children, but unlike many, Austin Gutwein is a 12 year old boy. When Austin was nine years old, he started using his favorite sport to help kids orphaned from AIDS. Every time you shoot a basket in the Hoops of Hope fundraiser, you are earning money towards those children in AIDS infected areas.
World Vision is constantly working around the clock to make the lives of children and families better by child sponsorship, 30 Hour famine, and the Gift Catalog. They are selfless, humble, and they are a hero in my eyes. World Vision has put world hunger, the wars in Africa, and the poverty all over the world into a different perspective. World Vision inspired me to participate in all of their activities such as the 30 Hour Famine and child sponsorship. World Vision is influencing people to lend a hand to those unfortunate people in need, and that is just an amazing thing to me. I am so thankful for World Vision, and to me, they are real heroes.
Page created on 2/12/2009 12:00:00 AM
Last edited 2/12/2009 12:00:00 AM