Young Heroes Organization
by
Amanda Molinaro from Irvine
"Swaziland has the world's highest rate of HIV/AIDS infection. According to the 2008 Sentinel Survey, 42% of adults have HIV. Because of that, nearly 125,000 Swazi children have lost at least one parent to the epidemic."
The devastation of AIDS is creating a generation of orphans in Swaziland, where the average life expectancy is 33 years. There's an old saying that "there are no orphans in Africa," because there is always someone available to take in and care for a child: an uncle, cousin, or neighbor. Because AIDS most commonly kills young adults, children are left with grandparents, most of whom are at the age where their own children should be helping them.
Unfortunately, with the growing number of AIDS victims, there are fewer and fewer adults left to care for the orphans that are left behind and many have to fend for themselves. More than 15,000 households in Swaziland are being headed by children who have lost both parents to AIDS and the number is growing daily. These young, brave heroes struggle each day for the bare necessities and many are trying to raise their brothers and sisters by themselves. If they have food, it is most often a single bowl of porridge per day. Many do not have clothes, or wear hand-me-downs that do not fit. While their friends go off to school in the morning, they remain behind to work on their homesteads, cleaning, cooking, washing and tending their gardens and cattle.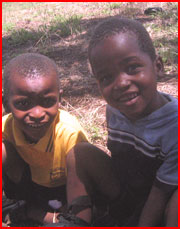 The Swaziland government is working to help these children by setting up Neighborhood Care Points, where children can receive one meal of porridge every day and where HIV positive children can receive treatment. Unfortunately, the resources are too few and the needs are great. The Young Heroes Organization is working to change this. The Young Heroes Organization collects donations from sponsors to give to young AIDS orphans under the age of 18. Because the goal of the organization is to keep families together and on their homesteads, the contribution goes towards the whole family to help them meet their basic needs.
100% of the donations go to support the families, providing them with much-needed food, clothing, and education. With their basic needs met, the children can attend school without worrying where their next meal will come from. The Young Heroes Organization allows donors to choose a family to sponsor, or to sponsor the family that is in greatest need. It takes only $360 to feed and clothe a child for an entire year. Donations are delivered to the families each month, and representatives from the Young Heroes Organization regularly visit to ensure that the children are well and the donations are well spent. You can help the AIDS orphans of Swaziland by making a donation or becoming a sponsor. Each donation that is passed on by the Young Heroes Organization gives the brave orphans of Swaziland a chance for a brighter future.
Page created on 10/25/2010 12:00:00 AM
Last edited 6/10/2018 7:12:39 PM
The beliefs, viewpoints and opinions expressed in this hero submission on the website are those of the author and do not necessarily reflect the beliefs, viewpoints and opinions of The MY HERO Project and its staff.

Related Links