Ying-Man Liao
by
Yu Xuan from PingTung, Taiwan
I. Introduction:
I want to introduce my hero to you. She is our attendant of the canteen, and she just is like our aunt or good friend.
I want to introduce her because she has patience, love, and care about the students in PTGSH. Every time, when I go to the canteen, I can see her smile. It lets me have good mood.
She likes to talk to students, and we love to chat with her, too. I am sure that if she didn't work in the canteen any more, the canteen would not be complete, because she has been a part of our living.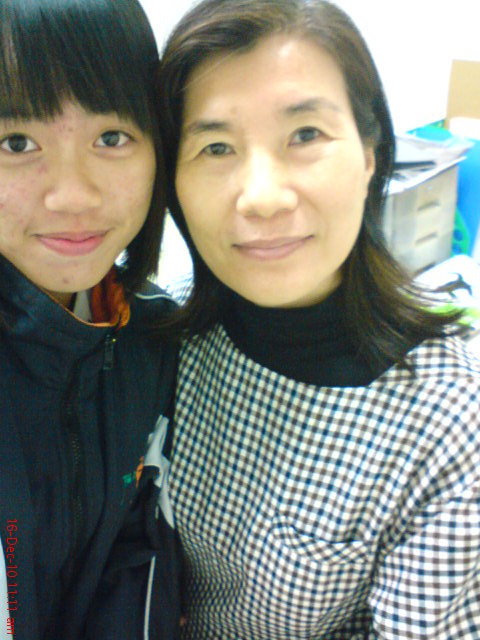 II. Interview:
Q1. What's your name?
Ying-Man Liao
Q2. What did you do before coming to PTGSH?
 I was an attendant of a cram school. After a few years, I sold books in some places.
Q3. Have you ever changed the wrong money?
 Yes, I did it one time. But thanks for our students' honesty, they told me at once. So I didn't have any loss. There is one thing I always believe: If you were honest to people, everyone would also be honest to you.
Q4. Have you ever received false money?
 Yes, when I went to a bank to change money one day, I found one hundred false dollars in the bag. But I still believed it wasn't the students' error. My students even didn't know they took a false bill to me.
Q5. How long have you been at PTGSH, and how you feel about the students of here?
 I've been here for three years. And I like the students. They are innocent、simple, and as enthusiastic as the weather here.
Q6. What do you want do tell to these students?
I really like all of you. You are not only my friends but also my children. I hope you can achieve the goals you want, and keep being enthusiastic to do everything.
III. Conclusion:
I really like Aunt Liao. She has her special voice. Sometimes we even imitate it to her, and she feels funny and happy with us. She always smiles as a beautiful flower. Perhaps there once was something bad to her; she has also faced it bravely. At anytime, she has a kind heart and optimistic mood. I never see her lose her temper. There are many things I can learn from her, such as kind heart, attitude. We see her as a part of us. If she were not in our school, we would lose a good friend, a hero.
Page created on 1/4/2011 12:00:00 AM
Last edited 1/4/2011 12:00:00 AM
The beliefs, viewpoints and opinions expressed in this hero submission on the website are those of the author and do not necessarily reflect the beliefs, viewpoints and opinions of The MY HERO Project and its staff.