Yitzhak Rabin
by
Nadav from Lod
Today, almost everyone knows about the superheroes from movies, comics and TV shows, who use the kindness of their hearts and their unnatural superpowers to save the day. But what about the people who don't have superpowers to aid us, and still are considered heroes? How do we know who to call a hero, and what character traits must the hero have? In my opinion, a hero is a man (or a woman) who is trying to help his or her community. The hero must have the determination and willpower to keep fighting for his community, even if he receives negative comments.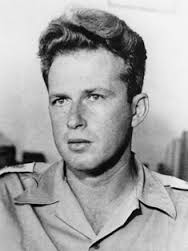 Yitshak Rabin - military man
Unknown authorUnknown author, Public domain, via Wikimedia Commons
My hero, Yitzhak Rabin, was born on 1/3/1922 in Jerusalem, the capital of Israel. At age 19, he joined the Palmach (the name of the Israeli army before the State of Israel was established). After years of fighting for Israel and rising in ranks, in 1963 he became the head of the Israeli army by the prime minister of Israel, a position he held for four years. In 1967, Israel fought a bitter war for its survival. Yitzchak Rabin is considered a hero for his quick thinking and great leadership in ending the war in six days. One of the characteristics I like about Rabin can be read in a speech he gave about this war: "The men in the front lines saw with their own eyes not only the glory of victory, but also its cost, their comrades fallen beside them soaked in blood. And I know that the terrible price the enemy paid has also deeply moved many of our men." As you can see, Rabin spoke about the high price that both Israel and its opponents had paid, without bragging and with sympathy towards either side. After he retired from his job as head of the army, he went into politics. He was appointed the Israeli ambassador to the United States for five years. After he returned to Israel, Rabin began a long political career which included being elected as the Prime Minister of the State of Israel twice. While being Prime Minister, Rabin signed peace agreements with Egypt and Jordan. Even though many citizens disagreed with these peace agreements, he continued. These agreements still hold today. Tragically in 1995, when Rabin was at a rally about his plans for making peace. he got shot three times in the stomach, and collapsed. The murderer, a citizen in Israel who disagreed completely with Rabin, was arrested for his crime. Even though Rabin couldn't make all the peace agreements he planned to, what he did do is remembered today.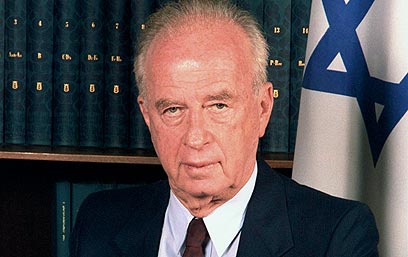 Yitshak Rabin - Prime Minister
Yaakov Saar / CC BY-SA 3.0 via Wikimedia Commons
In my opinion, Rabin was a hero because he only wanted to help his community, which was very hated in the Middle East. He wanted Israel to be a country of peace, and not a country of hatred and war. He had the determination to continue, even if he got negative responses from his community. He was a good politician and military man, and our symbol of peace, and it is a real shame he got murdered by someone he was trying to protect. Rabin is truly a man I would call my hero.
Page created on 4/19/2017 11:36:20 AM
Last edited 3/4/2021 12:12:39 AM
The beliefs, viewpoints and opinions expressed in this hero submission on the website are those of the author and do not necessarily reflect the beliefs, viewpoints and opinions of The MY HERO Project and its staff.
Related Links