Yitzhak Rabin
by
Robert from Boca Raton
"Give peace a chance"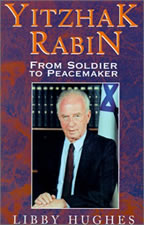 The desire for world peace has been a wish of many human beings for centuries. This goal has not yet been achieved; wars are still common throughout the world and hatred among people and nations still exists. Leaders around the world have worked very hard to stop hatred and to make peace. One of the great leaders who did an exemplary job of this was Yitzhak Rabin. He can be considered a hero for all that he accomplished in his lifetime. One of Rabin's famous quotes was "Give peace a chance," something he sought to do throughout his entire life. (Brainy Quote 1). This quote truly represents Rabin because he believed in peace and wanted to help make peace throughout the world. Rabin made a name for himself. From a very young age, he worked hard to make a difference. Yitzhak Rabin, the former Prime Minister of Israel, inspired many people in his country and around the world. He helped the nation of Israel become a stronger world power. His great leadership qualities can be seen through his service in the military, as Prime Minister, and as a peacemaker.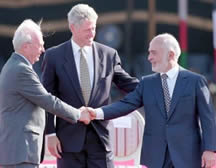 Rabin was born in Jerusalem on March 1, 1922. He moved to Tel-Aviv with his parents when he was very young. Rabin attended Elementary School at Beit Hinuch Leyaldei Ovdim (Worker's Children School). At the age of 15, he entered Kiadoorie Agricultural College and graduated with honors. At the age of 18, he joined the military as a soldier, but he quickly moved up in ranking; he became a Commander, then a Deputy in Chief, and finally Chief of Staff of the IDF (Israeli Defense Force). After he retired from the military, Rabin became an ambassador to the United States. As ambassador, he helped Israel and the United States become stronger allies. In 1974, the Knesset (Israel's Legislature) chose Rabin to lead the government as Prime Minister. Rabin became the youngest Prime Minister in the history of Israel. In 1984, he served as Israel's Defense Minister and was chosen as leader of the Labor Party. Rabin's service to his country was amazing.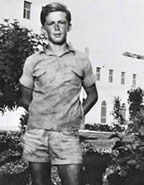 While serving in the military, Rabin accomplished many great things. As commander of the Harel Brigade, Rabin helped to defend Jerusalem in operation Nachshon which helped to lift a blockade and save many lives. When he was promoted to Chief of Staff of the IDF, he was very organized and had everything planned out in his mind ahead of time. One of the great victories he is known for is the Six Day War. As Chief of Staff, he planned his battles carefully, made sure his troops had the right ammunition, and inspired his soldiers. He was very valuable to the Israeli military.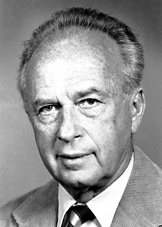 As Prime Minister of Israel, Rabin earned the respect of his people because of all he did to help solve social issues within his country. He helped to strengthen Israel's economy by lowering unemployment and by increasing the GDP by 7%. He also helped to unite Jerusalem, and famously said, "Jerusalem is United, will never be divided again." (Brainy Quotes 2). Israel's security was very important to Rabin; he strengthened the army and worked hard to keep his country safe. He ran a successful rescue of Israeli hostages aboard an Air France plane hijacked by Palestinian terrorists and taken to Entebbe, Uganda. As Prime Minister, Rabin formed a new government in 1974 which helped to unify Israel. Rabin was a well-respected Prime Minister who did a great job protecting and leading his country.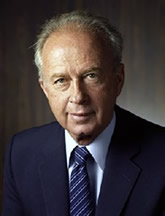 As a well-known peace maker, Rabin established peace with many countries around the world. At the Oslo Peace Agreement talks, he helped Israel forge a peace agreement with the Palestinians and Jordan. Rabin was recognized in numerous ways for his accomplishments. In 1993 he won the Felix Houphouet Boigny Peace Price for the peace agreement he made between Palestine and Israel. Then in 1994 he won the Nobel Peace Prize. In 1995 he won the National Freedom Award for signing a peace treaty with Jordan.
Yitzhak Rabin influenced many people with his great leadership abilities in the military, as Prime Minister, and as a peacemaker. He was chosen Prime Minister at such a young age because he was recognized as an effective leader. Rabin won many prizes and awards for his work to help promote peace in Israel and around the globe. On November 4, 1995, Rabin was assassinated by Yigal Amir, a fanatic who did not want peace. The world was devastated and shocked. Rabin's death inspired many other leaders around the world to work towards Rabin's goal of peace throughout the world. In Israel, Rabin is still remembered and honored for all that he did for his country. He should be remembered around the world for his great accomplishments in his life and his desire for peace for Israel.
Page created on 10/22/2010 12:00:00 AM
Last edited 10/22/2010 12:00:00 AM
The beliefs, viewpoints and opinions expressed in this hero submission on the website are those of the author and do not necessarily reflect the beliefs, viewpoints and opinions of The MY HERO Project and its staff.
Extra Info
Yitzhak Rabin helped many people when he was living. He made Israel a peace treaty with many different groups and he won three major awards. Yitzhak Rabin was a hero who made a big difference to Israel.