Emmanuel Ofosu Yeboah
by
Alyssa from Sycamore Junior High
Accept the things to which fate binds you, and love the people with whom fate brings you together, but do so with all your heart.
What defines a hero really? In my opinion, there are endless standards to being a hero. Being a hero doesn't necessarily mean the person is a big hot shot who always saves the day. A hero can be a person whom the community greatly admires, someone who shows compassion for life and has an unending supply of faith in themselves that helps them achieve their goal. The hero I discovered is named Emmanuel Ofosu Yeboah and he is a hero of faith and courage. Emmanuel struggled throughout his life to find some sort of thing he was good at, something he could do without being made fun of or discriminated against. He isn't the everyday comic book hero that saves the day, but all the same, he is a very honorable person.
Emmanuel Ofosu Yeboah was born in Ghana, Africa without a right tibia, the inner and usually larger of the two bones of the lower limb between the knee and ankle, which left him crippled. In a country where the crippled are viewed as cursed, Emmanuel was shunned. His father abandoned the family because of his son's deformity. His mother was advised to murder him or leave him in the forest to die.
Emmanuel earned about $2.00 a day shining shoes to provide a living for himself and his family. When he heard about a Challenged Athletes Foundation (CAF) grant program through a missionary in his town, he wrote a letter to America pleading for a bike to ride across the country. He did not know how much that letter would change his life. He received a bike through the CAF program. Supported by sponsors, he eagerly jumped on the bike and started the rough journey across the country to free himself from the discrimination he received because of his handicap. Even though he met with skepticism, the CAF program asked him to come to San Diego for its annual 56-mile bike ride in November 2002. Shortly after this in April 2003, Emmanuel was fitted with a prosthetic leg. The following year, in the same event, he shed three hours off his time. Recently, he received the Arthur Ashe Courage Award at the annual ESPY Awards in July 2005.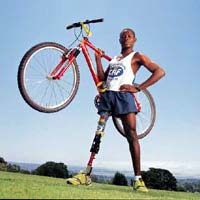 Emmanuel shows many of the praiseworthy qualities of being a hero. His qualities are mostly related to the "hero within" category of heroism according to T.A. Barron. I believe he is most related to the "hero within" category because he shows courage for not accepting the fate which he was condemned to. He had faith in himself that he could overcome the hatred which was shown towards him. Most of all, he adapted to the prosthetic leg which was fitted to him, even though in the beginning it was frustrating and awkward. That is why I believe Emmanuel Ofosu Yeboah fits the description of a "hero within."
In reading my essay I hope you have come to realize that there are different types of heroes and they are each defined with a special quality all their own. Emmanuel isn't the everyday hero, but that's what makes him unique. He had the courage to overcome his disability, and he did it with all the strength he could. Emmanuel set an example for me and he made me realize that I can overcome anything I set my mind to, even when the odds are against me. Most of all, he made me believe that no one should ever give up.
Page created on 7/9/2015 3:55:12 PM
Last edited 1/6/2017 11:46:16 PM
The beliefs, viewpoints and opinions expressed in this hero submission on the website are those of the author and do not necessarily reflect the beliefs, viewpoints and opinions of The MY HERO Project and its staff.
Related Links
National Geographic
- "Standing Tall: What a bike, Oprah, and mud can do" by Mary Anne Potts
Free Wheelchair Mission
- Transforms lives through the gift of mobility by distributing free wheelchairs to those in need, regardless of one's religious affiliation, if any.
Challenged Athletes Foundation (CAF)
- Established in 1997, the CAF is a unique organization that recognizes the athletic greatness inherent in all people with physical challenges and supports their athletic endeavors by providing grants for training, competition and equipment needs.
Extra Info
"The My Hero Project." MY HERO. 11 Aug. 2005 http://www.myhero.com/myhero/hero.asp?hero=ghana_triathalon_AP.