Yu Gwan Sun
by
SoJeong from Ellicott
My hero is Yu Kwan Sun. She was born on March 15, 1904 in Pyongchon. She was a student at Ewha Woman's University in Seoul at the age of twelve. Yu Kwan Sun was one of earliest woman to go to the college. She studied very hard, and she was different from the other children. However, the Japanese closed Yu Kwan Sun's school. She continued to rally Koreans in outlying areas to continue the resistance because of her young age and fervor. At this time, nationalism, a bitter feeling against the Japanese occupation of Korea, was rising. Yu Kwan Sun was a Korean independence fighter. Yu Kwan Sun was among the few women who were independence leaders in Korea. She was only 16 years old, but at that time, people believed that she contributed significantly to the independence movement against Japan. It shows that she helped Korea a lot as a hero, and she was brave even though she was a little girl.
Yu Kwan Sun was the organizer on March First Movement against the Japanese occupation of Korea in Seoul. She took the most memorable uprising, the Samil-Undong uprising. She was very angry by what had happened to her country during that time. She had very strong tenacity because she wanted to keep her country peaceful, and she encouraged others peacefully. Therefore, Yu Kwan Sun traveled from village to village to get special support. When Yu Kwan Sun and her friends got copies of the Declaration of Independence, they pledged that they would participate in a group demonstration in Pagoda Park in downtown Seoul. Yu Kwan Sun's great leadership helped encourage other people as well. She was very good supporter for other people. Yu Kwan Sun lit the fire herself. She waved the national flag, which was outlawed by the Japanese government. She sacrificed for her people and her country. She and her friends shouted "Daehan Dokrip Manse" for independence. Finally, the police arrested Yu Kwan Sun and many other people. Yu Kwan Sun was in pain for many years in jail. She had very difficult time during 1 year in jail. Therefore, she died on 12 October 1920.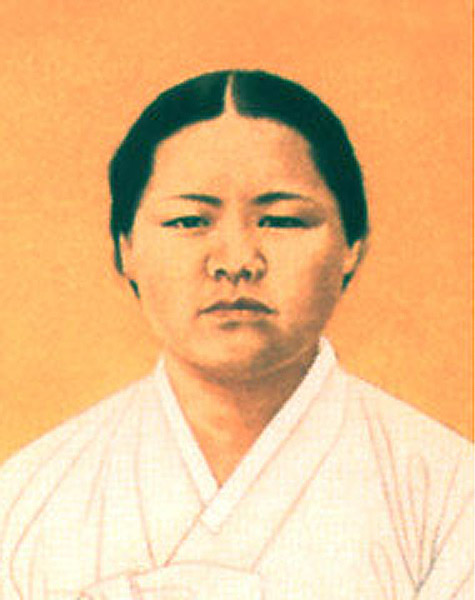 Consequently, I choose Yu Kwan Sun as my hero. She is my best hero because she sacrificed for people and her country even though she was at a very young age. When I heard what she did at that time, I was very ashamed of myself. If I was Yu Kwan Sun, I probably wouldn't care about my country and independence because I will be scared. Therefore, I am very proud of Yu Kwan Sun, and I am very happy that my great hero is Korean.
Page created on 5/7/2009 12:00:00 AM
Last edited 5/7/2009 12:00:00 AM
The beliefs, viewpoints and opinions expressed in this hero submission on the website are those of the author and do not necessarily reflect the beliefs, viewpoints and opinions of The MY HERO Project and its staff.