Zoya Kosmodemyanskaya
by
Irina from Tambov
In the history of our country there are many events, both sad and happy. One of the most famous is the Great Patriotic War of 1941-1945. All citizens, even if the Soviet Union existed, came to the defense of his homeland! Both men and women, and children, and boys and girls. Not everyone came back, but we remember them and appreciate all they did for the sake of victory and peace in the world! Let me tell you about a hero Zoya Kosmodemyanskaya.
Zoya Kosmodemyanskaya was born September 13, 1923 in the village of Osino Guy in the Tambov province, in a family of teachers and Anatoly Kosmodemyanskiy. October 31, 1941 Zoe was taken to the diversionary school, After the training, she transferred to the area of Volokolamsk, where she performed the task of mining roads. Zoe was often sent on a mission, but one of them was fatal for her.
As the evening on November 28 while trying to set fire to a barn SA Sviridov (one of the guards appointed by the Germans), Kosmodemyanskaya was caught by the Nazis. After her capture, the Nazis tortured her repeatedly. During the interrogation, she called a false name Tatiana and all questions asked by the Nazis, replied vaguely. Captured Zoya had been tortured for several hours, inspite of this, she remained silent and did not say anything to the Nazis. November 29, 1941 it is a terrible event took place. She said to the poor villagers Petrishcheva: "Farewell, comrades! Fight, do not be afraid ... ". Then a box was removed from under her feet, and she was hung.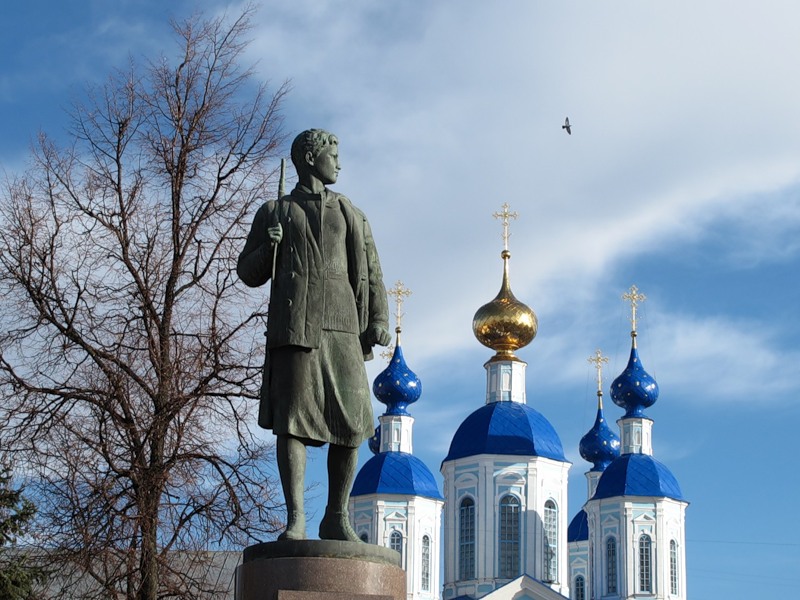 Zoya was assigned to the title Hero of the Soviet Union and 1947 in Tambov a monument to the young partisan was built. Why is she my hero? The answer to this question is very difficult to describe, but I'll try. Zoya Kosmodemyanskaya died not in vain. She made the feat for the sake of people, near and far. She died for people. She said nothing to the Nazis, though she could tell everything and stay alive, but that would be a betrayal of the Motherland, so she proudly met her death and went into immortality. At the end of his story to say that we need to remember our heroes and honor them, and most importantly, I wish the world would never be ta war, and we always lived under the clear, peaceful sky.
Page created on 11/27/2015 12:00:00 AM
Last edited 9/6/2018 12:33:18 AM
The beliefs, viewpoints and opinions expressed in this hero submission on the website are those of the author and do not necessarily reflect the beliefs, viewpoints and opinions of The MY HERO Project and its staff.