Alan Turing
by
Patrick Mullrooney

from

Cochrane Alberta in Canada

"We can only see a short distance ahead, but we can see plenty there that needs to be done" -Alan Turing, 1948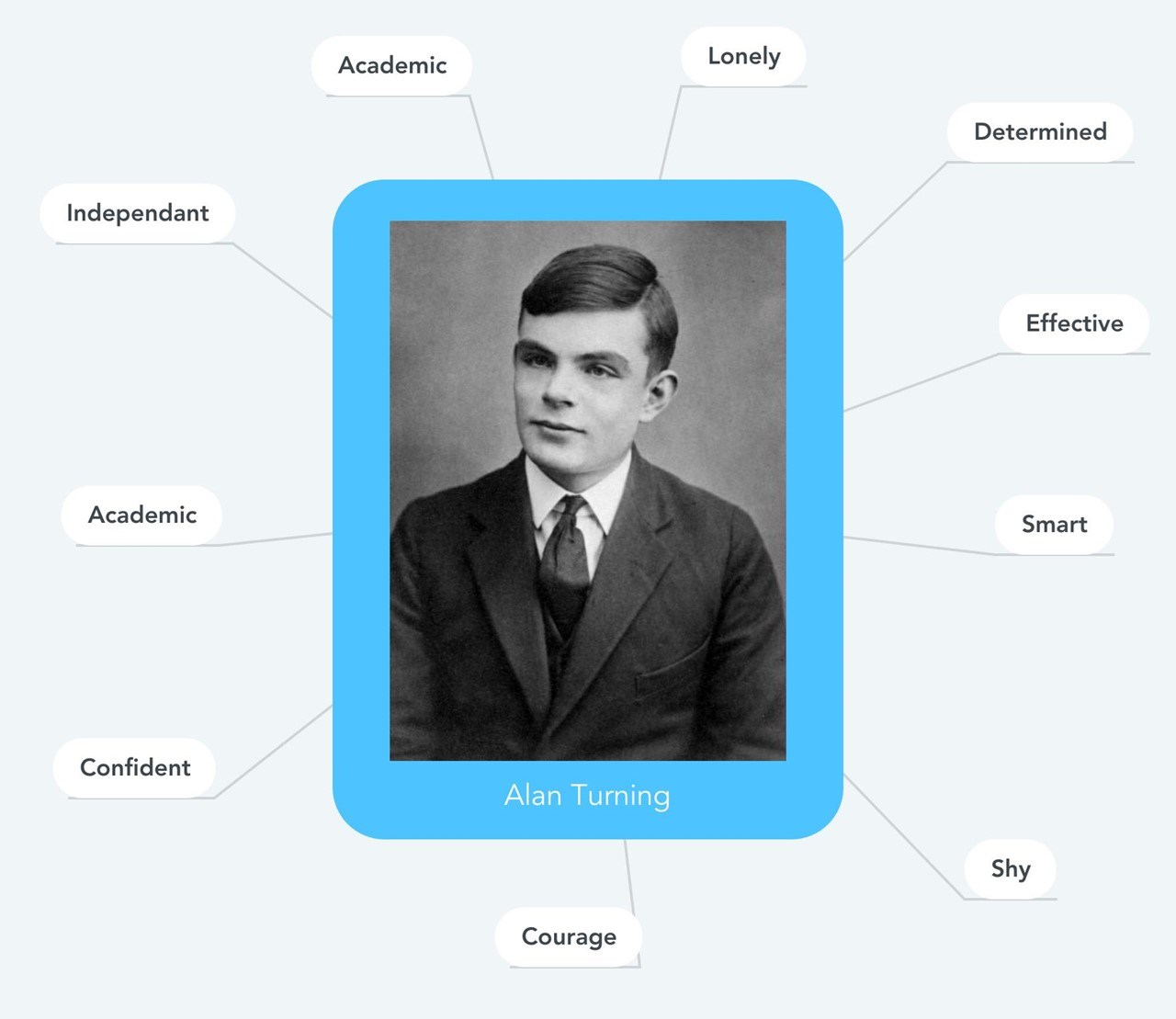 Alan Turing WebPaddy
Alan Turing is my hero because he was an amazing mathematician and I want to be a mathematician when I grow up. The book I read about Alan Turing is a biography titled, 'Alan Turing (Real Lives)'. It was written by Jim Eldridge and published by A&C Black on December 7, 2013. It is 59 pages long. It covers some of Alan Turing's childhood, but mostly takes place during his late-20s in World War II from 1939-1945. Here are some interesting facts about the author Jim Eldrige who was born in London in 1944. Eldridge left school at sixteen and did many different jobs until he found his true passion as a teacher. He had a remarkable career and has written over 100 books, some have even been turned into television shows in the United Kingdom. He is now 79 years old and lives with his wife in Kent, England.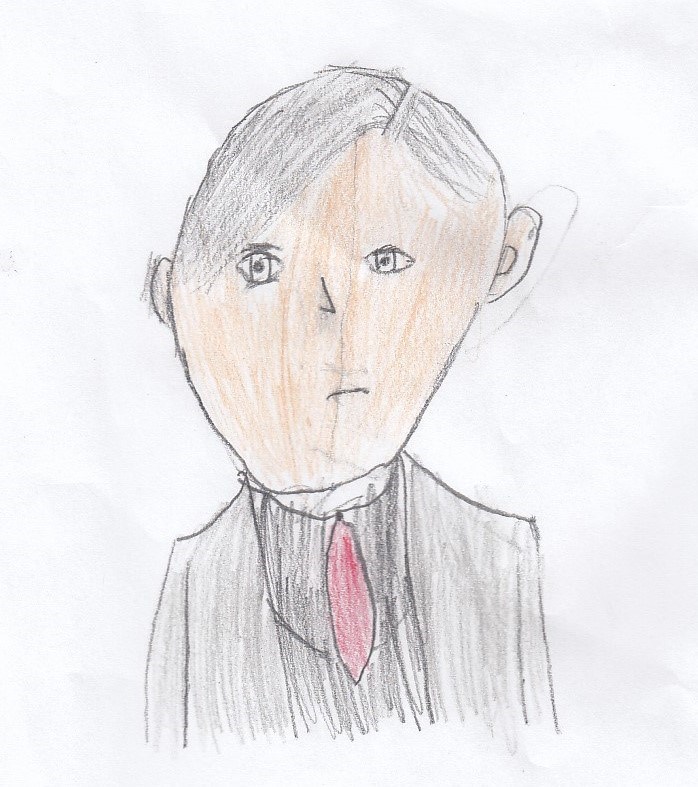 My hero Alan Turing drawingPatrick
Alan Turing was born on June 23, 1912, in Maida Vale, London, England. He was primarily raised and attended primary school in southern England. His parents were Julius Mathison Turing and Ethel Sara Stoney. He also had a brother named John Turing who was four years older than him. As a child, he attended a boarding school in Dorset, England that taught classics like ancient languages and literature which Alan Turing did not like. When he was not in school he liked logic and coding and he and his friend Christopher Morcom used to write secret messages to each other. Some interesting things that happened to Alan when he was growing up are that he and his brother would usually be left with family friends for long periods of time because his parents would go to India for his father's job and sadly would leave the children behind on these trips. India was a British colony and Alan's parents worked for the British government. He showed many signs of being a genius when he was young by solving complex chess problems and learning advanced science all by himself. Surprisingly few people influenced Alan Turing when he was growing up. He is truly a self-taught genius! The few people that did influence him were his best friend Christopher Morcom and some other people he met on the way like Alonzo Church and Max Newman. Alonzo Church influenced Alan when he studied under him for two years at Princeton University in New Jersey, USA. Max Newman was a professor at the University of Manchester in the United Kingdom where Alan was a student. When solving math problems Alan Turing would never do the recommended mathematical steps but instead would go straight to the correct answer. Teachers did not like this method and he was usually marked incorrectly which frustrated Alan. His dream was to build a machine that would skip all the little steps and just go to the correct answer. It was this idea that spawned the concept of the calculator and the modern-day computer. When Alan was young he never really knew what he wanted to be when he grew up, but after World War II broke out in 1939 Alan knew he wanted to be part of the British war effort. Alan's mathematical skills and coding knowledge foreshadowed his efforts in deciphering the Enigma code which was a top secret German communication device.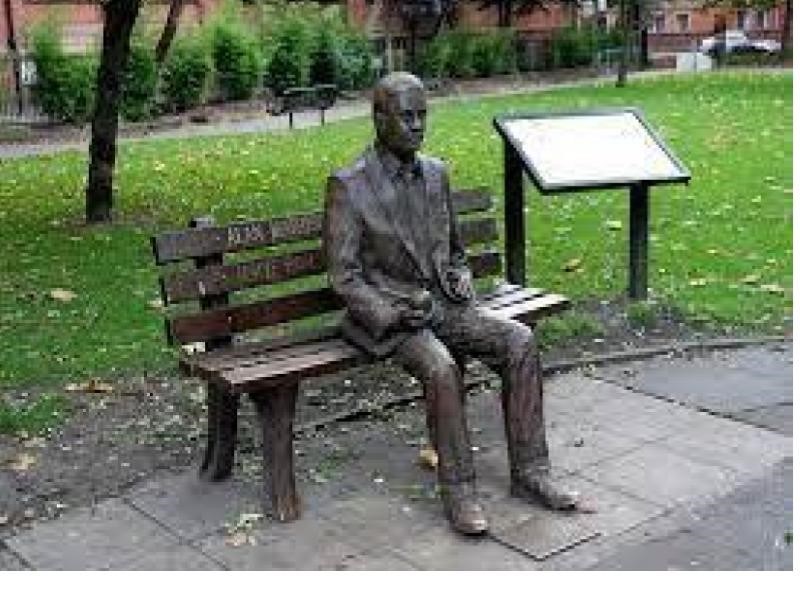 Alan Turing StatueGoogle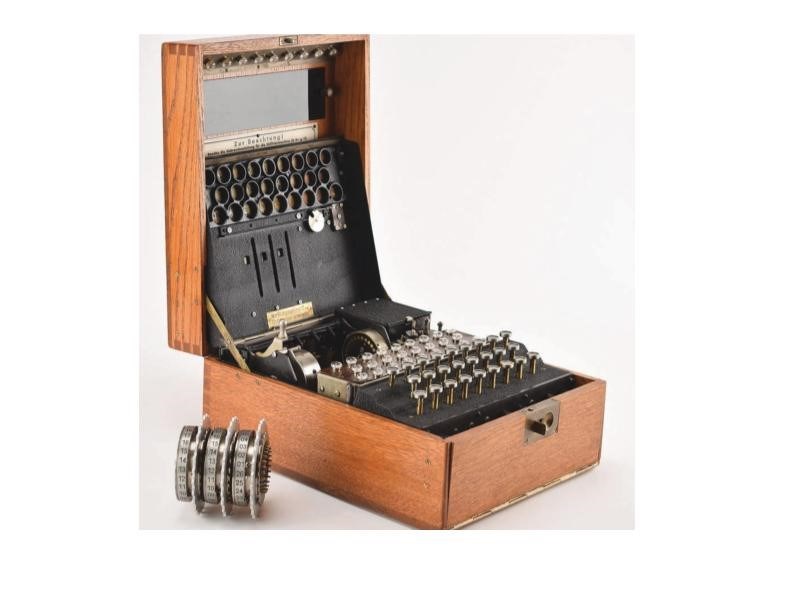 Enigma MachineGoogle
Winston Churchill was the person that contributed most of Alan Turing's success by encouraging him. Alan was trying to break the Enigma code with a machine instead of a manual process. Enigma is the code that Germany was using for secret communication between the Nazi army and its submarines known as U-Boats. The Enigma Machine was invented by Arthur Scherbius in 1918 and used by the German military at the start of World War II. The Enigma Machine was a major advantage for Germany to blow up America's boats that were sending supplies to France and England when Germany was invading them. The German army used simple Morse code to communicate throughout its military. The Allies could easily intercept those messages, but had no idea what the codes meant due to the Enigma code logic. German submarines sank over 4,000 Allied military and supply ships prior to Alan Turing Enigma code-breaking machine. Three qualities of Alan Turing were 'Determined' because even in dark times for him he didn't give up on his machine. He was also a 'Genius' and was so creative and did a bunch of studying to find the best way to break Enigma. He was 'Courageous'. Others wanted to break Enigma manually but he knew that it would take too long so he created a machine. Breaking Enigma manually would take a single person over 636 years! Alan quickly realized a manual process would not be possible. His invention is estimated to have saved over 14 million lives. Alan Turing's breaking of the Enigma code was the turning point of World War II and allowed the Allies to win the war. One of Alan Turing's weaknesses is that when he was explaining something his brain would work faster than his mouth could move and would stutter. One challenge that Alan Turing had to face was his sexual orientation being gay which was illegal in Britain up until 1967. The saddest thing about Alan Turing is that he was arrested in 1952 for being gay and later committed suicide in 1954, 16 days before his 42nd birthday. Instead of being celebrated, Turing died alone because British law did not accept his sexual orientation. Since his death British society now celebrates Alan Turing. He was pardoned for his crimes and now there is an award called the Turing Award for Computer Sciences. He is also featured on the 50-pound British note.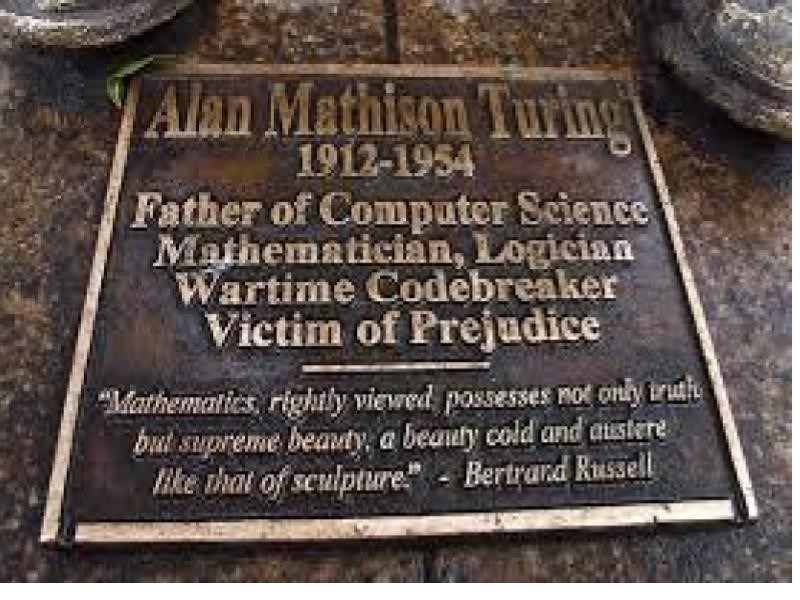 Alan Turing sign Google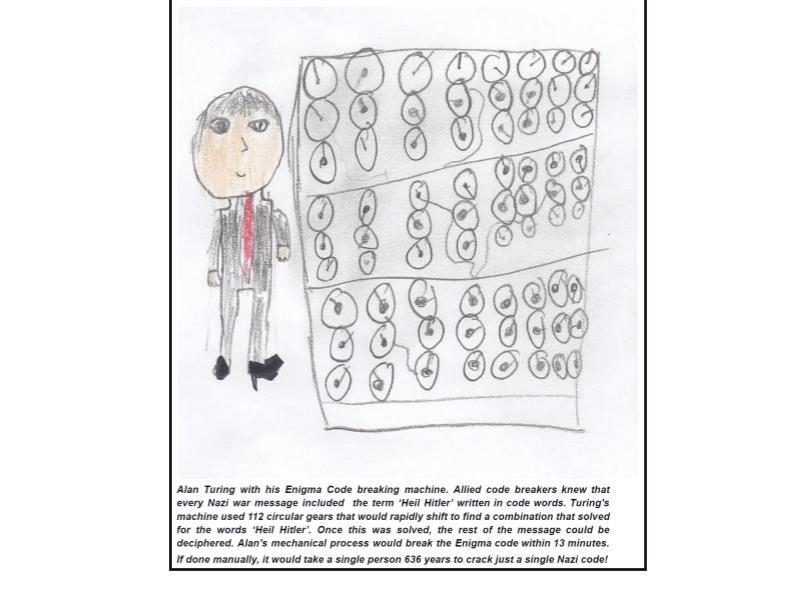 My hero Alan TuringPatrick
One thing that I learned about Alan Turing that disappointed me is that he wasn't celebrated after he broke Enigma. I thought he would become a celebrity instead he was arrested for being gay. Three questions that I would ask him are what was being arrested like and was it hard being locked up alone without family or friends? Another one is how hard was it breaking Enigma and how much stress were you going through? And my third question is what advice would you give to kids in 2023? I am so happy I chose Alan Turing as my hero because the more you learn about him the more amazing his life seems. I would recommend 'Alan Turing (Real Lives)' to anyone who wants to learn about this amazing person.
Page created on 3/1/2023 8:44:26 PM
Last edited 4/19/2023 6:46:48 PM
The beliefs, viewpoints and opinions expressed in this hero submission on the website are those of the author and do not necessarily reflect the beliefs, viewpoints and opinions of The MY HERO Project and its staff.