Albert Pujols
by
Matthew from Columbus
My hero is Albert Pujols. He is a very courageous man and is very strong. Some nicknames for Albert are, "Phat Albert," "Sir Albert," and "The Machine." I used to think of Albert as a great baseball player. I still think of him as that, but I also think of him as a great leader on his team, and a very helpful person off the field.
Jose Alberto Pujols was born on January 16, 1980 in Saint Domingo, the capital of the Dominican Republic. In his early life, his father was in and out of his life. Albert's grandmother was mostly responsible for raising him. His uncles and aunts seemed like brothers and sisters to him. The Pujols' family was very, very poor at the time. He came to love baseball from his relatives. Everyday he would go out to the baseball field across from his house and practice when he was six.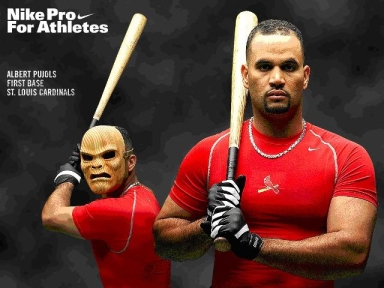 In the early 1990's, his family began migrating to the U.S. They settled in Independence, Missouri, Harry Truman's birthplace. The first Major League Baseball game he went to was the Kansas City Royals against the California Angels. He went to Maple Woods College and played baseball. His MLB debut was in 2001. Since then, he has won the National League Rookie of the Year, National League Hank Aaron Award, National League Championship Series MVP, two Player of the Year Awards, one Gold Glove award, and two MVP's. He has also been voted into seven all-star games. This past year he also the won the Roberto Clemente Award for charitable contributions and for excellence on the field.
Albert inspires me because he is a great baseball player, he does charitable work, and he grew up very poor. What I learned from him will help me become a better baseball player because he became a great baseball player and unlike most people, he was poor. He taught me that even if you're rich and may want the money, you should give it to charities.
I think Albert Pujols is a great person and a really good hero. His most popular nickname is most likely, "Phat Albert." I still think of Albert as a great baseball player but even more so as a charitable and giving person.
Page created on 12/29/2008 12:00:00 AM
Last edited 12/29/2008 12:00:00 AM
The beliefs, viewpoints and opinions expressed in this hero submission on the website are those of the author and do not necessarily reflect the beliefs, viewpoints and opinions of The MY HERO Project and its staff.