Alexander Graham Bell
by
Lilyanna VIcars

from

Cochrane, Alberta in Canada

¨When one door closes, another opens; but we often look so long and so regretfully upon the closed door that we do not see the one which has opened for us.¨
-Alexander Graham Bell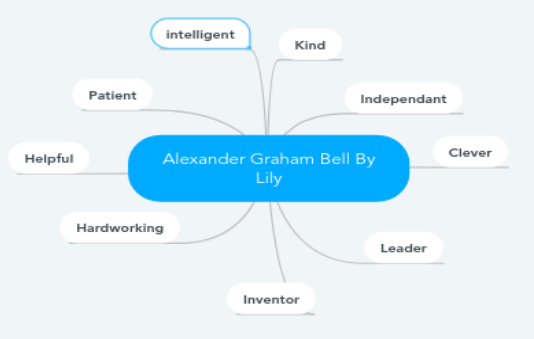 WebLily Vicars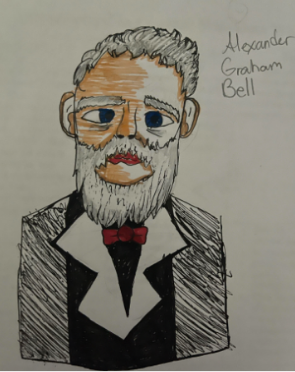 Alexander Graham BellLily VicarsI chose Alexander Graham Bell because he invented the telephone, which now is a part of our everyday lives. This book is called Who is Alexander Graham Bell? The book is a Biography, meaning it was written by a different person other than Alexander. This book has 105 pages. This book's span of time was between 1858 in his childhood to 1922 when he died. This book was made in 2013, the author's name was Bonnie Bade and she is the former Associate Publisher of Frederick Warne, There she oversaw the Peter Rabbit and Spot programs! She is also the former editor-in-chief of penguin young readers and early readers, where she headed up the leveled reader and 8-8 programs.
Alexander Graham BellLily VicarsThe subject of the biography mostly took place in London, where Alexander moved with his grandad. Alexander grew up on a corn farm near Canada, the name he grew up with was aleck. But he eventually changed it due to the fascinating name that his uncle had: Alexander Graham. His parents' names were Alexander Melville Bell and Eliza Grace Symonds. His siblings' names were Melville James Bell and Edward Charles Bell. His children's names were Marian Hubbard Bell, Edward Bell, Elsie Bell and Robert Bell. His spouse's name was Mable Gardiner Hubbard! At an early age, Alexander was enrolled at the Royal High School, in Edinburgh, Scotland! He left the school at 15, having completed the first four forms. When Alexander was not in school, he loved to experiment with sounds and vocal movements. When he was growing up, he had invented the first noise in the soon to be telephone. During Alexander's youth, he was strongly influenced by his family and his environs. His hometown of Edinburgh, Scotland, was known as the ¨Athens of the North¨ for its rich culture of arts and science. Alexander had a dream of becoming someone who could help the deaf and create things to help them, as he created sign language. It's true that he became what he wanted to be, the same for you if you put hard work into it like he did! Alexander moved to London at a young age, noting that the air was harder to breathe in, a couple years later his sibling passed from a disease named tuberculosis, Melville James Bell, (His brother) Died in 1870, and was born in 1845. Edward Charles Bell (His other brother) Died in 1867, and was born in 1848.
A challenge that Alexander had was as his sibling died due to Tuberculosis, and he was starting to get the symptoms a week later after his siblings passed. Alexander overcame his symptoms when his parents moved back to their home town Edinburgh, United Kingdom. His parents decided to move back to their hometown, to escape from London, where they moved after Alexander's grandfather wanted him to study at a school near there. Thankfully, Alexander did not have any diseases when he was young. But he died from diabetes at age 75 in Nova Scotia on August 2, 1922. A sad thing that happened to Alexander was, as I told you before, His sibling passed away from Tuberculosis Alexander had been given 5 awards! The names and the dates given of the awards were; The Albert medal (1902), The John Fritz medal (1907), Elliott Cresson medal (1912), Hughes medal (1913) and the IEEE Edison medal (1914).
Something that surprised me about Alexander Graham Bell was that he survived (or) escaped tuberculosis. The three questions I would ask Alexander are: 1. What is your favourite colour? 2. If you could do anything to go back in time, what would you do? 3. Is there anything that you wanted to build but didn't have enough time? I wouldn't want to be Alexander's kid because he would be too busy with studying that he wouldn't have enough time to be with me. I Enjoyed the book quite much because it had good descriptions and I could see the story clearly in my head; Some things I learned from this book is that Alexander struggles from many things, examples are: Tuberculosis, and diabetes that caused his death. An experience that I would apply to my own is to keep trying to do something that I'm already working on and don't stop doing it even if someone tells me to stop doing something I love. Some may not like this book because it has many boring things in it, and some may not be into inventing and history. I'm glad I chose this book because it's very interesting in many ways, and takes unexpected turns. I am personally glad that I chose Alexander Graham Bell because he is an influence to me cause he created sign language which is a big part of us today. I would indeed look up to this person as a role model because he never gave up.
Page created on 5/5/2022 3:21:26 PM
Last edited 5/5/2022 4:34:21 PM
The beliefs, viewpoints and opinions expressed in this hero submission on the website are those of the author and do not necessarily reflect the beliefs, viewpoints and opinions of The MY HERO Project and its staff.