"Our stories and our learning from [heroes] honors and respects our ancestors and us. They can awaken future generations to their potential" (Freed). Heroic stories transcend generations and connect history, using the past to light a path for the future. As the emblem of many stories that have become embedded into culture, heroes act as role models, teaching society the right things to do while revealing complex moral lessons. Everyday heroes, in particular, are people whom we can relate to and learn from in the same ways. Instead of harboring secret superpowers or fighting evil in a utopian world, everyday heroes teach us "smaller" actions that we can take to make our community a better place. Alexandra Scott is one everyday hero who, while not commonly known, is impactful and inspiring. Her extraordinary story began on January 18, 1996 in Manchester, Connecticut, when she was born seemingly healthy. She, however, would soon be diagnosed with neuroblastoma, a pediatric cancer, only one year later. Despite suffering through long hours of hospital treatment throughout her childhood, she decided to dedicate her spare time to creating a lemonade stand from which all of the proceeds would go to research for the underfunded field of pediatric cancer. Her story soon spread, and Scott raised over one million dollars by turning her stand into a foundation before passing away at only eight years of age. Alex's Lemonade Stand Foundation (ALSF) continues to raise money for the same cause while spreading her touching story. Alexandra Scott's short yet fruitful life story inspires many to overcome grueling obstacles, lead life with resilience and selflessness, and leave behind a legacy that influences generations.
Although Scott's life was riddled with rigorous challenges, she proved that, with enough persistence, anyone can overcome his or her biggest fears. Shortly after facing her cancer diagnosis, new challenges sprang for Scott when her parents noticed her behaving strangely. They took her to the emergency room where she underwent surgery on her first birthday. After several hours, the doctors told her parents, "There was a complication during the surgery and she is paralyzed from the chest down. She's never gonna walk again" ("The Original Alex Scott Documentary" 4:48-5:05). News of her severe childhood cancer already seemed detrimental enough, but her paralysis seemed to be the defining sign of her misfortune. Not only would she not live a long life, but she was predicted to be practically immobile the entire time. Despite this, she set out to disprove her diagnosis, instead of becoming defined by it. When she was told she would never walk again, against all odds and with extreme determination, she attempted to walk, stumbling and wailing as she went. Eventually, she did ("The Original Alex Scott Documentary" 5:38-5:50). Regardless of her understanding of her condition, her desire to walk carried her beyond the pain she experienced. Her determination to walk allowed her to disprove what doctors determined to be her fate. It is incredible how, given her age, she had such an innate tenacity that could weather pain and failure. Symbolically, walking would be her way of showing the world that she was determined to be a leader, paving her own path, and standing tall through whatever tried to knock her down. Scott's story encourages others to break seemingly impossible barriers of their very own. Overcoming physical challenges, however, would not be the end of her struggles. At the peak of her lemonade stand's fame, Scott lost her closest friend Teresa to cancer, shedding light on the consequences of her own cancer diagnosis. ("The Original Alex Scott Documentary" 8:45-8:52). Teresa's conditions mirrored hers exactly; both moved from Manchester to Philadelphia to receive treatment for neuroblastoma. Teresa's death served as a reminder to Scott of the unpredictability of the condition and what little time she had left. Yet, with the same determination she had to walk, Scott did not let her fears or grief prevent her from continuing the lemonade stand. While she was initially upset, she ultimately said, "I'm gonna do this lemonade stand and I'm gonna do it in memory of Teresa" ("The Original Alex Scott Documentary" 8:54-8:58). After overcoming obstacle after obstacle, she had developed maturity beyond her years in the face of grief. Her acceptance of loss is one that is scarcely found in children or adults. She teaches that one must not dwell in loss, but transform it into motivation to live better. The significance of Scott's story is in her remarkable capabilities of being able to conquer several adversities. Her story inspires others and encourage them to live life with the same tenacity and strength that she had.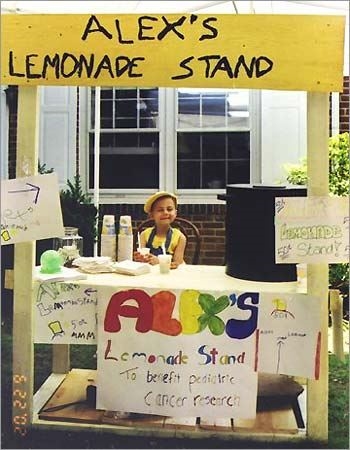 Alexandra Scott selling lemonade in front of her Philadelphia homehttps://commons.wikimedia.org/wiki/File:Alex_Scott_at_Lemonade_Stand.jpgAlexandra Scott's abilities to overcome these challenges stemmed from her heroic traits of resilience and selflessness. During her process of chemotherapy, Scott had to endure severe pain and sickness. Despite this, Scott's father recounts that "...during the worst of her chemotherapy treatments, she would be overwhelmingly sick at the hospital, then come home and ask for chips and salsa… She was resilient against all odds and never took her days for granted" (Glista). The direct account of Scott coming home from chemotherapy treatments, often known for being long and weakening, and simply asking for chips and salsa shows her wish to be treated in an ordinary manner despite her extraordinary battle with a crippling condition. Her desire for the same things as ordinary, healthy individuals not only emphasizes her humble nature, but also her ability to face challenges with resilience and without grievance. Her heroism lies in her rare "power" that she has to fight her own tough internal battles. This is the same power and strength she showed when she learned to walk, asking not for pity but for faith in her. She inspires individuals to have strength when it may seem hard to do so. However, Scott's resilience was fueled by a motivation that works on a much larger scale: her desire to help people. From the time she began her lemonade stand, her dedication to others had not wavered. She revealed, "It's simple, you see, for this whole thing is not about me. As long as kids are sick, I'll do what I can. I'll help raise money through my lemonade stand" (Scott 28). Despite her own inevitable condition, she found hope in others and the future of pediatric cancer development. She did not complain about her own setbacks or give up on the cause because other people desperately needed help. Beginning with a mere lemonade stand and a wish for all children to be healthy, she grew her hobby into a global foundation, showing us that her "smaller" actions as an everyday hero had big impacts. She highlighted that if she, an individual facing a myriad of obstacles, could give back to her community in such an enormous way, any person with everyday challenges should be able to do even more.
Scott's ability to overcome obstacles with her heroic traits led her to accomplish numerous feats throughout her lifetime and establish a far-reaching legacy. Only four years after starting her lemonade stand, "...there were 200 lemonade stands held across the country in her honor, raising more than $200,000 for pediatric cancer research" ("How a Little Girl's Lemonade Stand Raised $110 Million"). At only eight years of age, Scott was able to do more than most are able to over a lifetime. Not only was she able to make a name for herself with only a lemonade stand, but she raised enough money to fund significant cancer research, fulfilling her wholehearted goal. Scott found a cause that she was passionate in supporting and followed through with it, inspiring us to do the same for ourselves and find a purpose in life. Although Alexandra Scott has passed away, her foundation continues to raise money under her name. Currently, "Alexandra Scott has raised over $80 million towards cancer research" along with inspiring a ripple of lemonade stands across the country (Lefferts). Beginning with 20 thousand dollars to over 80 million dollars raised is no easy accomplishment. She raised eighty times her first goal of 1 million dollars—one that many claimed would be impossible for a mere child to reach. Her cause has also never changed, as when she raised large amounts of money, her foundation never took a penny for itself. Through her major contributions to helping to look for a cure for cancer, her legacy urges us to think ambitiously and act selflessly. In the end, her accomplishments were not only in numbers, but also in observable individual impacts. Once, Scott's mother recalled hearing about a patient suffering from neuroblastoma. "The drug he was on, Alexandra Scott was part of bringing to clinical trials. He… is a kid now who is enjoying life and has a baseball game this weekend" (Lefferts). The neuroblastoma patient led a similar life to Scott, but was able to lead a happier life due to her contributions. The anecdote emphasizes the importance of giving back and how it can change someone's life. Being able to impact someone's life with your legacy is the defining mark of a hero. Not only was Scott able to change the life of one patient, but many across the country, with her funding towards newly developed technology and medicine. Overall, her accomplishments inspire many to work hard and spark change, whether on a global scale or simply in their own communities.
Scott's story continues to touch the hearts of people nationwide and resound with the same impact that it did when she passed away. Her strength and generosity, despite grueling obstacles and accomplishments, and despite her age, inspires many to follow in her footsteps. Scott is an everyday hero who began with something as seemingly childlike as a lemonade stand and turned it into a cornerstone fundraiser for pediatric cancer. When her only future seemed to be lifelong hospitalization, she defied expectations and grew wings of strength to help her walk. Scott worked for a greater good and created a stand, after the loss of her best friend, that would help kids like her. Personally, I found Scott's story to be incredibly unique, in the sense that it was astounding to see a person so pure in intentions and young in age dedicate her life to a cause. Not only was I astonished by the number of obstacles she had to deal with, but even more by the fact that she rose from them every time. Although she knew that she would not live long, she devoted the time she had to make sure that others could. Instead of living in fear, she lived with compassion and gratitude. I find that her story's significance is in the life lessons it teaches us. No matter what we go through, Scott serves as an emblem of hope that continually inspires us to do good and give more than what we take. At only eight years of age, she teaches us, future leaders and all ordinary people complex moral truths. As an everyday hero, Scott inspires us to use what we have to make a difference, even if all we can make is a lemonade stand. Though she was small in size, Scott amplified her voice to be large in impact. In Freed's words, she "awakens the future to their potential" as the heroine of her own story. With an unparalleled legacy and timeless wisdom, Alexandra Scott proved herself to be an undeniably significant and admirable hero.
Works Cited
Freed, Rachael. "The Importance Of Telling Our Stories." HuffPost, HuffPost, 17 Nov. 2011,
https://www.huffpost.com/entry/legacy-telling-our-story_b_776195.
Glista, Kelly. "When Life Gave Their Daughter Cancer, She Made Lemonade." Courant.com,
Hartford Courant, 12 Dec. 2018, www.courant.com/courant-250/moments-in-history/hc-250-alex-lemonade-stand-20140926-story.html.
"How a Little Girl's Lemonade Stand Raised $110 Million." Oprah.com, Oprah Winfrey Network,
17 Oct. 2015, http://www.oprah.com/own-where-are-they-now/how-a-little-girls-lemonade-stand-raised-110-million-video.
Lefferts, Brooke. "How One Girl's Lemonade Stand Has Raised $80 Million and Changed Lives."
TODAY.com, TODAY News, 6 June 2014, www.today.com/health/how-one-girls-lemonade-stand-has-raised-80-million-changed-2D79767939.
Scott, Liz, and Jay Scott. Alex and the Amazing Lemonade Stand. Paje Pub Co, 2012.
"The Original Alex Scott Documentary" YouTube, uploaded by Larry Mendte, 26 Jan 2014,
https://www.youtube.com/watch?v=6d2QOmQOP4U.