by
Lauren Grissom

from

San Diego, California in United States

Alex Morgan a worldwide soccer player and role model.

Being one of the first players to reach 100 international goals while being on the National team. She got her first international goal in 2008, where her career took off. She is still playing with the national team to this day and has had a fair share of ups and downs. Through it all, she has gone back to soccer and that has given her the ability to reach her goals. As she grew up she got the chance to play with many high-level teams. Growing up in Diamond Bar, California gave Alex many opportunities. She lived with her parents, and two older sisters Jeni and Jeri. She attended Diamond Bar High School and then after graduating, started her college soccer career at UC Berkeley. She completed her Berkeley career during the fall of 2010, where she was then ranked third in the all-time goals scored for her school. She finished her season with 45 goals. A year before graduating from Berkeley she was offered a spot on the United States under 20 team, which was the same year that she competed with the national team to win the under 20 World Cup. During this year she also experienced a very tragic ACL tear that kept her off the field. Alex shows that she is a hero because she is determined and motivated. She is always been determined and shows what it means to be an incredible role model. She is always motivating, and even wrote a children's book called "Breakaway." The book was used as a way to show young girls the mindset it takes to reach high levels.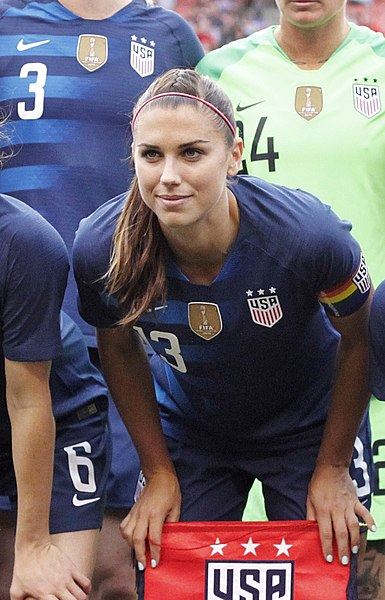 Alex Morganhttps://commons.wikimedia.org/wiki/File:USWNT_group_photo_(42878126761)_(cropped).jpgAlex Morgan is one of the youngest players to ever join the Women's National team and was able to create a reputation for herself at the age of 17. Therefore, she is a hero and shows great signs of determination. Every time Alex Morgan steps onto a soccer field she gives it her all until the final whistle. When she isn't on the field she is still training, to make herself the best soccer player she can possibly be. She went through many ups and down at the beginning of her career and showed major determination, by rebuilding her strength and skills. Alex has been a player to watch for many years and is very respected in the soccer world. Many young girls look up to her and follow what she does. The quote below introduces one of Alex's major low points in her career. "She was selected to the United States under-20 women's national soccer team at age 17, but due to an anterior cruciate ligament (ACL) injury, she could not play with the team until April 2008" (Who is Alex Morgan). After being injured she could have just given up and not came back. But she kept working and came back even stronger than before. She continued to show determination even when the struggles got hard. She knew that she wasn't going to let herself have an injury determine her future so she pushed by it. She was only 17 years old and was determined to rebuild her strength and return to her passion. Alex returned back to soccer in 2008 and that same year she played in the World Cup. Not only did she play but she scored the winning goal and showed how determined she was to make an impact after coming back. In a biography about Alex it was stated that "In 2008, she helped the United States get to the championship of the FIFA U-20 Women's World Cup, scoring the winning goal in the final against North Korea" (Biography.com). Whenever she plays in big games like the World Cup she positively contributes to the team's success and remains focused, even under pressure. She steps up to the challenges and is always giving it her full effort and knows exactly what she needs to accomplish. Being able to step up in such a big game like the World Cup takes determination and a positive attitude. Alex's down moments in her career gave her a sense of determination to achieve what she had always thought was possible. After going through a major injury she beat the odds and stepped back on the field.
Alex doesn't only motivate herself to be an amazing player but she also motivates younger players with the same dreams and goals as her. Growing up Alex worked every day to do whatever it took to become better. Alex has repeatedly shown how much of an impact you can make at such a young age. She marked a huge milestone in her career back in 2008, in the quote stated below, "She marked her international debut at the 2008 CONCACAF Women's U-20 Championship held in Puebla, Mexico, were playing against Cuba she made her first international goal" (Who is Alex Morgan). This quote is very motivating because she shows it's possible to play for the national team and still make an impact so early on in her career when she made her first international goal. Most players dream of achieving the success that Alex experienced. Scoring an international goal is a huge moment to reach and shows me as a player that if I work hard and be confident I can make it there one day. Alex's talent has been inspiring to millions of soccer fanatics around the world, challenging them to raise their own game. According to Alex, "Everybody has a talent, but it's what you do with that talent that makes it great" (Alex Morgan Quotes). Talent will not always get you far in life if you don't put the effort in. Alex has shown over the several years how to handle talent and that you can live a regular life and put in the effort and make it something great. This quote motivates me to get out a soccer ball and even juggle for 5 minutes a day to improve myself. Most people with talent are motivated to improve but Alex took it to another level.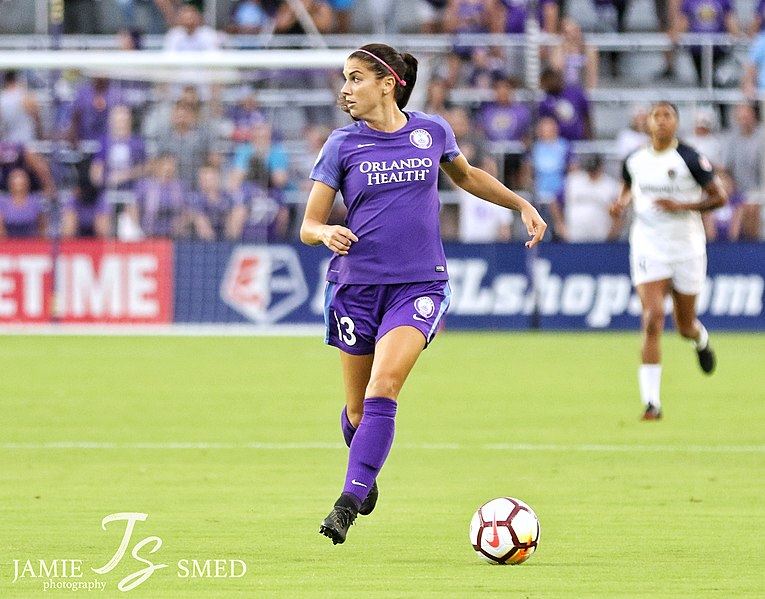 Alex Morganhttps://commons.wikimedia.org/wiki/File:Alex_Morgan_(42015640954).jpgAlex Morgan's determination and motivation has not only inspired me but people all around the world. She has changed a lot of people's outlook on their future because she shows that it is possible to play at the highest level. Being the youngest player to ever play on the national team and being apart of the few players to score 100 goals shows who she is as a player. She started at a young age and has still been able to keep playing and motivate people every single day. Alex inspires others and me because she uses her success as a way to help others that want to end up in her shoes. Some inspiring words that Alex lives by are, "Keep working even when no one is watching" (Alex Morgan Quotes). This quote has inspired me to always work hard. Anything that I do when it comes to sports I do for myself because I know that in the long run, it will all pay off no matter who is watching. If you can work hard when there is no one watching that shows how strong of an athlete you are mentally and motivated to do your best. This quote and motto that she lives by is something I strongly agree with and shows Alex's character and strength.
Works Consulted
"Alex Morgan." Biography.com, A&E Networks Television, 13 Apr. 2019,
www.biography.com/athlete/alex-morgan
"Who Is Alex Morgan? Everything You Need to Know." Facts, Childhood, Family & Achievements
of American Soccer Player, 2018,
www.thefamouspeople.com/profiles/alex-morgan-15276.php.
"Alex Morgan." Team USA, 2019, www.teamusa.org/us-soccer/athletes/Alex-Morgan.
"Alex Morgan Quotes That Will Push You To Achieve Your Goals." Inspirational Quotes
To Fire You Up With Motivation Even When Taking A Single Step Seems Difficult.,
quotes.thefamouspeople.com/alex-morgan-15276.php.
Morgan, Alex. Breakaway: beyond the Goal. Simon & Schuster BFYR, 2017.
Page created on 5/14/2019 5:10:53 AM
Last edited 5/18/2019 5:03:39 PM