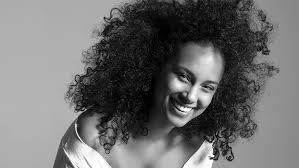 Alicia Keys embraces her natural beautyvariety.com"We see it with our own two eyes, we're talking about it, and we're standing up against it. We want equality and justice. No matter how you'll express it, it's going to come out of you. It cannot be held back anymore" (Bogdan). In society today, people see celebrities as role models, but many put them down by saying they are undeserving and selfish. But little do they know, some artists, one of them being Alicia Keys, worked hard to get where they are today and are making a difference in the world around them. Alicia Keys was born on January 25, 1981 in her hometown New York, New York ("Alicia Keys." Newsmakers). She had rough upbringing, her father was absent from her life and she lived with her mother in a small apartment ("How Alicia Keys Arrives Here"). Growing up, Alicia's mother Terri Augello insisted she learn piano. Even though refusing many times due to financial issues, Alicia took piano lessons, which sparked her love for music. After graduating high school two years early as valedictorian, she continued to go to college at Columbia University. But, she only attended for a few weeks until signing with a record company. She soon was in search for a new company because: "Keys wanted to create music from the soul that touched the hearts of people; the record company wanted either another pop teen sensation like Britney Spears or beautiful balladeer like Mariah Carey" ("Alicia Keys." Newsmakers). Continuing to follow her dreams, she found a company that allowed her to write music that tells a story and has an effect on people. After many successful and motivational albums, Alicia uses her fame to help people and is tirelessly committed to her charities and movements. Alicia Keys is not only an award winning singer, songwriter, and Voice coach, but co-founded the Keep a Child movement and the We are Here Movement to help educate, heal, and give people a voice ("Alicia Keys." Keep a Child Alive ). She motivates people to be themselves and speak up for what they believe in through her music, and dedicates her life to helping people and speaking out on global issues.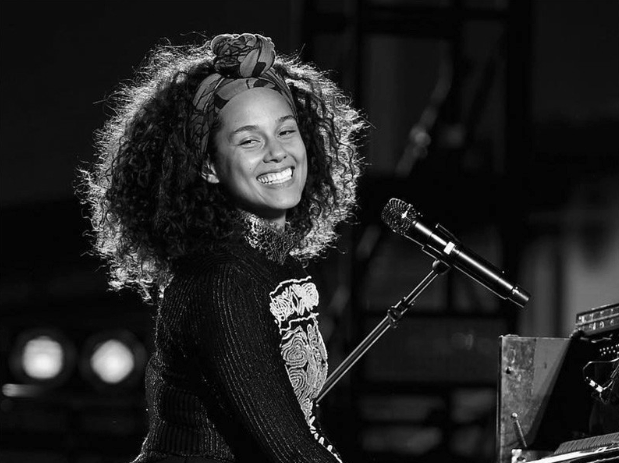 Alicia Keys is determined to motivate people through her musichiphopdx.comAlicia Keys motivates people around the world through her powerful music and activism. She focuses on setting a good image for young adults, to be a positive role model and lead them in the right direction. She inspires women every day through her success, and shows them how to stand up for their beliefs: ¨As Keys reminds us, we are all connected in this Internet/global village era, so it is crucial to love and respect everyone. Not only is she one of New York's most popular ambassadors, but she is also a strong and powerful public voice for women everywhere" ("Alicia Keys."Keep a Child Alive ). Alicia is a role-model for all woman because she is true to herself. She shows people to be themselves, but most importantly spreads the message to accept and treat people equally. By using her popularity and the love from her fans, she motivates people around the world. Unlike most popular artists, Keys uses her music to speak on global problems: "From soulful single 'Hallelujah', about the refugee crisis in Syria, to tracks informed by war, police brutality and the "school-to-prison pipeline" for young black males, it's a record on which Alicia, for the first time, feels ´ready to speak on what's happening´ in a divided election-time America and beyond ("How Alicia Keys Arrived Here."). She uses the platform of music to speak about issues happening now. She informs, but also motivates people around the world from all walks of life. Alicia takes problems that are hard to talk about, and puts them into meaningful, compelling songs. Keys is an inspiring figure for all to look up to, and motivates people to follow in her footsteps.
Through being a role model, a leader, and her drive to make a difference, Alicia Keys dedicates her heart and soul to empowering people. As a co-founder of the Keep a Child Alive movement, she has been involved the fight against HIV and AIDS all over the world. She also co-founded the We Are Here movement, which has a goal of educating people about current global problems ("Alicia Keys." Keep a Child Alive ). By advocating for these two movements, Alicia is committed to healing the ill, and giving them a voice. Describing her as dedicated and committed is an understatement. Alicia is passionate and determined to making a meaningful mark on this world. "The 35-year-old spent her son's sixth birthday in 2014 outside the Nigerian consulate in New York, protesting the Boko Haram kidnappings in Nigeria. Last year, she raised $3.8m for AIDS awareness in one night at her 12th annual Black Ball in Manhattan" ("How Alicia Keys Arrived Here."). Even though many see missing her son's birthday as inexcusable, she decided to protest to help many who were in need. She shows her dedication to helping and inspiring people through everything she does. Alicia devotes her life to changing the world and making it a better place for the future. "We're going after it. We're going after what we believe and what we deserve and we're not taking the back seat anymore. I also see an improvement in the way that we as women are standing together and paving the way for the next generations" (Bogdan ). Not only is she advocating for present issues in the world, she stands up for what will help future generations. Alicia believes that all women should stand together to make a difference now and in the future. She encourages celebrities, but most importantly all of her fans to contribute and unite together as a force of good. Alicia dedicates her whole life to doing good in the world and influencing people to work together to make a powerful change. With her inspiration, dedication, and drive, Alicia Keys is a force having an effect on our present, but most importantly our future.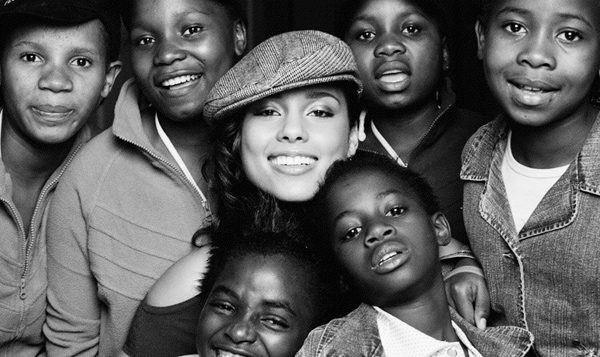 Alicia's involvement with the Keep a Child Alive Movementhttps://faze.ca/alicia-keys-keep-a-child-alive/ "International superstar Alicia Keys is one of the most respected singer/ songwriter/ producers of her generation for her unparalleled ability to create music that is simultaneously timeless and trendsetting. Her message of love, hope and freedom inspires and resonates around the world" ("Alicia Keys." Keep a Child Alive ). Alicia touches people through the powerful messages in her music, but most importantly uses her popularity to inspire and heal people in need. "I want people to find themselves to it, relate to it, identify with it, feel it, get lost to it, cry to it, laugh to it, dance to it, pray to it, grow to it… If you feel it, and if you lived it, and if you believed it, and you gotta say it because you can't hold it back, then that's soul music, you know what I mean?"("How Alicia Keys Arrived Here."). Alicia's music is meant to be felt, she believes people should get lost in her songs and the lyrics should inspire you to stand up for what you believe in. She focuses all her music, movements, and activism on helping people and giving them a voice. Keys inspires many, including me, because she not only focuses on touching people through her music, but she dedicates much of her time to advocating for students, children, women, or anyone she can positively impact. "Once you express yourself, you' re in that vulnerable state, you're growing, you're learning, and you're able to become stronger" (Bogdan). Alicia is my hero because she taught me to be myself and to express my beliefs, and showed me that doing this will make me stronger. She is dedicated to motivating people to do good in the world, while she makes a difference also. A real hero is someone who inspires people to make a change in the world, but also demonstrates how to do so.
Works Cited
"Alicia Keys." Keep a Child Alive, Keep a Child Alive, 2015, keepachildalive.org/about-us/alicia-keys/.
"Alicia Keys." Newsmakers, Gale, 2006. Biography In Context,
https://link.galegroup.com/apps/doc/K1618004225/BIC?u=powa9245&sid=BIC&xid=596a9fb6. Accessed 2 May 2018.
Bogdan, Ana. "Alicia Keys." The Talks, The Talks, 6 Dec. 2017, the-talks.com/interview/alicia-keys.
"How Alicia Keys Arrived Here." FACT Magazine: Music News, New Music., FACT, 1 Nov. 2016,www.factmag.com/2016/11/01/alicia-keys-fact-cover-story/?utm_source=social&utm_medium=twitter&utm_content=v2buttons.
Northeastern, SEI at. "Alicia Keys' 'We Are Here' Movement." Ruggles Media, NU Social Enterprise Institute, 30 Sept. 2015,
www.northeastern.edu/sei/2014/09/alicia-keys-we-are-here-movement/.
Page created on 5/21/2018 4:03:36 PM
Last edited 9/10/2018 11:11:58 PM