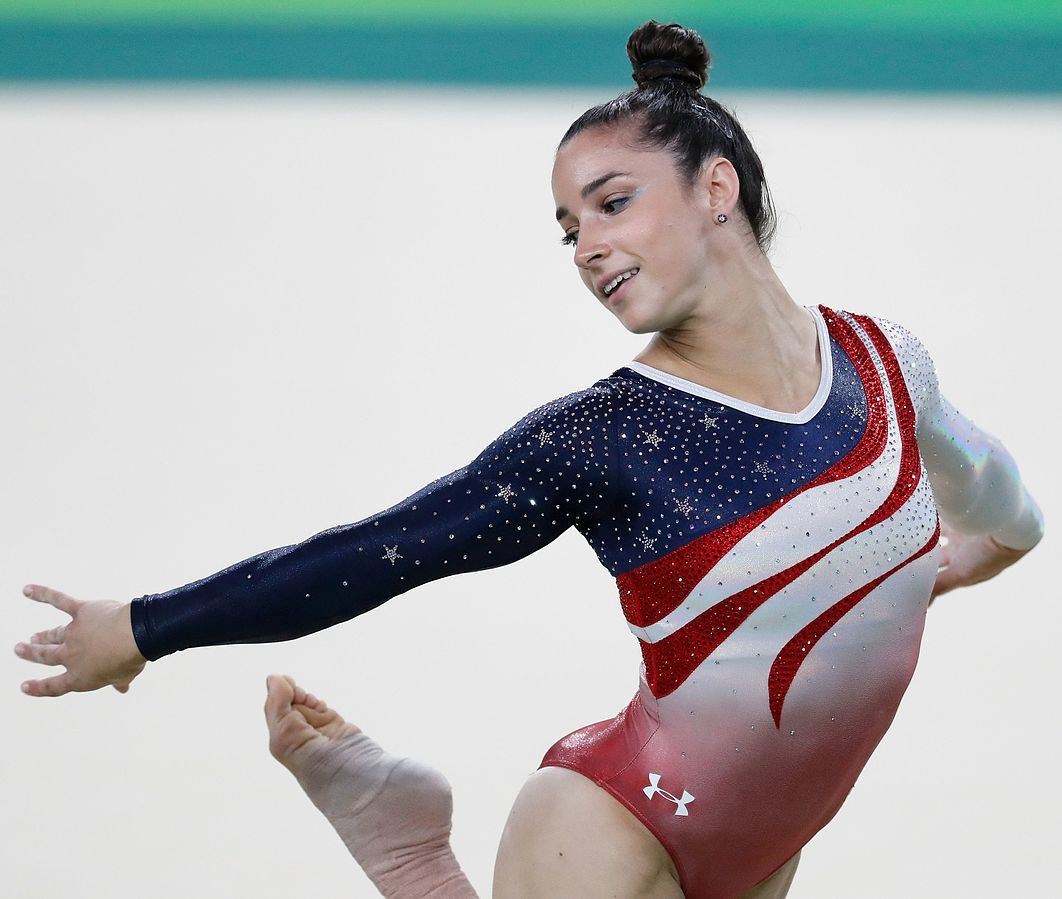 Aly at 2016 OlympicsAgência Brasil Fotografias via Wikimedia CC BY 2.0 [public domain]As Christopher Reeve, the actor for Superman, said, "I think a hero is an ordinary individual who finds strength to persevere and endure in spite of overwhelming obstacles" ("Christopher Reeve Quotes"). One person who is that type of hero is Aly Raisman. Raisman is a two-time Olympic gymnast; however, she was not always successful. Her story consists of many failures and times of feeling insecure. Through it all, she worked hard, improved over time, and persevered through the temporary challenges to reach her goals. Raisman's experiences with gymnastics training, the public opinion, and sexual abuse have given her a platform to share her story with others and empathize with them to inspire them. Aly Raisman has struggled through being a young athlete, but she is still able to accomplish her dreams and act as an inspiration to many; therefore, her story teaches us to be brave and not give up.
Raisman's story begins on May 25, 1994, when she was born as Alexandra Rose Raisman. She grew up in Boston, Massachusetts with her father, mother, and 3 younger siblings. At the age of two, Raisman entered the world of gymnastics and immediately fell in love with the sport. She enjoyed exploring all that a gymnastics gym had to offer and was in no hurry to improve. As she grew older, she developed a deeper passion for gymnastics and learned to master the skills presented to her through many failed attempts. At the age of 18, Raisman made the 2012 USA Women's Olympic Gymnast team, and then again at the age of 22, the 2016 team. All together, she won 6 medals and was named captain for both years. While training to win these medals, she suffered from sexual abuse, but this motivated her to be an active speaker for abuse prevention. Raisman has spoken to many schools about bullying and how to spot and report abuse to a trusted adult ("Olympic Gymnast Aly Raisman Offers Advice to Teens and Parents").
As an athlete, Raisman endured pressure and challenges throughout her life, but she used them to teach us to believe in ourselves and to encourage us to be more determined and persistent in our work. When Raisman first started gymnastics, none of her coaches believed that she would be skilled enough to compete. In fact, her coaches told her mom not to order the competition leotard because they were afraid that Raisman would never be able to use it. Raisman had the tendency to continually do a skill but never improve at it because she did not listen to the advice given to her. However, once she realized that listening to the advice would be to her benefit, she surpassed everyone's expectations by progressing quickly (Raisman 25). Even after she learned to accept her coaches' instruction, very few people believed that Raisman could succeed in gymnastics. She was not a gymnastics prodigy; she was an underdog who failed many times, but she continued to grow in her skills because she was so passionate about the sport. Encouragement from her family also gave her the ability to succeed and believe more in herself. Her perseverance and love for gymnastics ultimately pushed her to ignore others' beliefs about her, which allowed her to succeed as a gymnast. Raisman uses this point in her life to encourage others to believe in themselves to succeed. When she became a public figure later in her career, Raisman faced another challenge. The public was putting an immense amount of pressure on her to perform well all the time. She admits in her book to having encountered many people, whether in person or online, who said mean things about her: "'I know I shouldn't care what's being said on social media, but I do,' I continued, close to tears. 'I actually feel anxious when I open Twitter or Instagram these days because I'm so worried that someone will have said something mean about me'" (Raisman, 217). These thoughts are very common among us and are intensified when others look up to us to make the right decision and to be perfect. While others might take those mean comments and give up because they become doubtful of their abilities to succeed, Raisman worked to prove them wrong. She puts her 110% on the floor every day and perseveres through her practices and competitions. Through it all, Raisman finds the strength within her to work hard and believe in herself through the challenges, which gives her the ability to be an inspiration to others.
Raisman also succeeds in standing up for what she thinks is right, and as a result, she influences both the Jewish community and the Olympic audience. She defends her beliefs strongly in public and accomplishes what she wants done. Raisman does this when she makes a daring decision on the Olympic floor: "Raisman stunned the audience by winning gold and paying her own tribute to 11 Israeli Olympic athletes who died long before she was born" (Greene). In this, she won a gold Olympic medal and fulfilled her desire to honor the Israeli athletes who were killed in the 1972 Munich Games. Throughout the competition, she was shocked at how the Olympic committee decided not to honor the Jewish athletes, so she decided to take matters into her own hands. She was the driving force to make things right in her eyes. She is not afraid of the judgment she might receive from doing this; instead, she carries out what she planned to do confidently. This motivation to action encourages her and others to be brave and take the risk to defend their beliefs. Additionally, she greatly impacted the Jewish community with her choice of background music for her Olympic routine. After the Olympics, Raisman's rabbi received a comment from a Holocaust survivor: "I never thought in my lifetime I'd see a Jew at the Olympics dancing to 'Hava Nagila' in front of Russians, Germans, and people of all nations, and it was no big deal, everyone is okay with it. More than that, everyone says she is doing great" (Raisman 199). By winning gold for a floor routine that was accompanied by a Jewish song, she got the audience to clap to the rhythm of the song and support her by cheering her on as she finished her routine. From the choice of her song to honoring the Jewish athletes, she encouraged the Jewish community and proved that bringing the Jewish religion on stage is possible because people were unified over a Jewish gold medalist. The 2010s had many anti-Semitic incidents, so what happened at the Olympics was uplifting for the Jewish community. At the Olympics there are so many different religions and viewpoints on life, but everyone clapped along with the music and encouraged Raisman while she was competing. Her bravery to choose this song encourages the Jewish community to step out in faith and live as who they are because people do celebrate their differences. Her story matters, not because she is famous and talented, but because she has the courage to stand out to inspire hope in others.
Raisman's story motivates us to work harder and share our stories to become heroes ourselves. After winning medals in both of the Olympics, Raisman became more widely known and had a larger influence on the general public. She uses that social standing to encourage children and adults alike that "if you love something and work hard at it, nothing can stop you from achieving spectacular results" (Raisman 26). She has spoken to many schools on this topic, and it continues to inspire students to work harder at what they love. Raisman admits that she is not the best on the team, and she has been through obstacles, knowing what it is like to fail. This reminds students that they can be heroes too without having to be perfect first. Her story is a reminder to us to believe in ourselves and work hard, but even more importantly, Raisman's publicity and fame allows her to reach survivors of sexual abuse and encourage them with her story. She inspires them because throughout her gymnastics career, Larry Nassar sexually abused her several times. As young children with Olympic goals, she and her teammates were unaware of how Nassar was abusing them. They recall that he was often the one who brought them little gifts and the one who seemed to sympathize with them by agreeing that the coaches were making them work too hard. Additionally, because of their age, none of them had met other doctors before, so it was only when Raisman met an athletic trainer later in her career that she saw the difference between what he did and what Larry Nassar did. Larry made her feel uncomfortable, with her "hands involuntarily balling themselves into fists as [Larry's] hands worked their way under [her] clothing" (Raisman 249-251). After such a realization, the average person might become embarrassed or too scared to talk about their experiences because their offender might hurt or threaten them to keep them silent. However, Raisman approaches this fear by speaking up anyway to help other sexual abuse survivors. She admits that she too was sexually abused, but it does not define her or label her. Although she was reluctant in giving her testimony, afterwards, many people were inspired by what she had said, and they started to open up and share their stories. She is affecting others and maybe even saving lives through her decision, by giving other survivors a shoulder to lean on. Her story demonstrates that she can empathize with them, and it also encourages them to continue to live life to its fullest. Overall, Raisman's diverse characteristics and experiences inspire us to become world-changers ourselves and to share our story.
Ultimately, Raisman is a hero because of her motivation to action and hard work, and her story is an inspiration to many types of people. She has gone through many different struggles throughout her life, ranging from being considered inadequate for advanced gymnastics competitions, to going through sexual abuse unknowingly. However, these challenges strengthen her character and build up her personal philosophy of always working hard no matter what the circumstances are. Her story inspires many to work hard and not give up. I was also inspired by her story and attitude on life because she could have given up so many times in her career, but she never did. I can relate to her through my experiences with playing basketball because I am not the best player on my team, and although I try to work harder to improve, negative thoughts of not being good enough linger in my mind and discourage me from giving my best during every practice and game. Through reading Raisman's life story, I have found someone who understands and has experienced the same things, but has dealt with it differently. Every time she faced overwhelming pressure and harsh comments from the public, she never backed down. She was afraid at times, but fear did not steal her confidence or ability to perform well. Her way of pushing through anything has been successful, so I am encouraged to follow her example by believing that I will improve and to work harder. Thus, Aly Raisman's inspiring and relatable story continues to encourage more people each day to persevere and not shy away from failure or speaking up, but to learn from their mistakes and free themselves from their burdens.
Page created on 1/12/2020 3:33:32 AM
Last edited 5/13/2020 4:33:48 AM
Extra Info
Works Cited
"Aly Raisman." Biography.com, A&E Networks Television, 13 Apr. 2019, www.biography.com/athlete/aly-raisman. Accessed 5 Dec. 2019.
Armour, Nancy. "Raisman is rock of U.S. team." USA Today, 4 Aug. 2016, p. 03C. Gale In Context: Biography, https://link.gale.com/apps/doc/A460022208/BIC?u=powa9245&sid=BIC&xid=ad77fa94. Accessed 5 Dec. 2019.
"Christopher Reeve Quotes." BrainyQuote, Xplore, www.brainyquote.com/quotes/christopher_reeve_167082.
Greene, Leonard. "Jewish Gal Shows up IOC with a Gold Salute to Munich 11." New York Post, New York Post, 8 Aug. 2012, nypost.com/2012/08/08/jewish-gal-shows-up-ioc-with-a-gold-salute-to-munich-11/.
"Olympic Gymnast Aly Raisman Offers Advice to Teens and Parents." Cleveland Magazine, 27 Sept. 2018, clevelandmagazine.com/in-the-cle/news/articles/olympic-gymnast-aly-raisman-advice-to-teens-and-parents.
Raisman, Aly, and Blythe Lawrence. Fierce How Competing for Myself Changed Everything. Little, Brown and Company, 2018.