CONTACT: Wendy Milette FOR IMMEDIATE RELEASE
The MY HERO Project
949-376-5964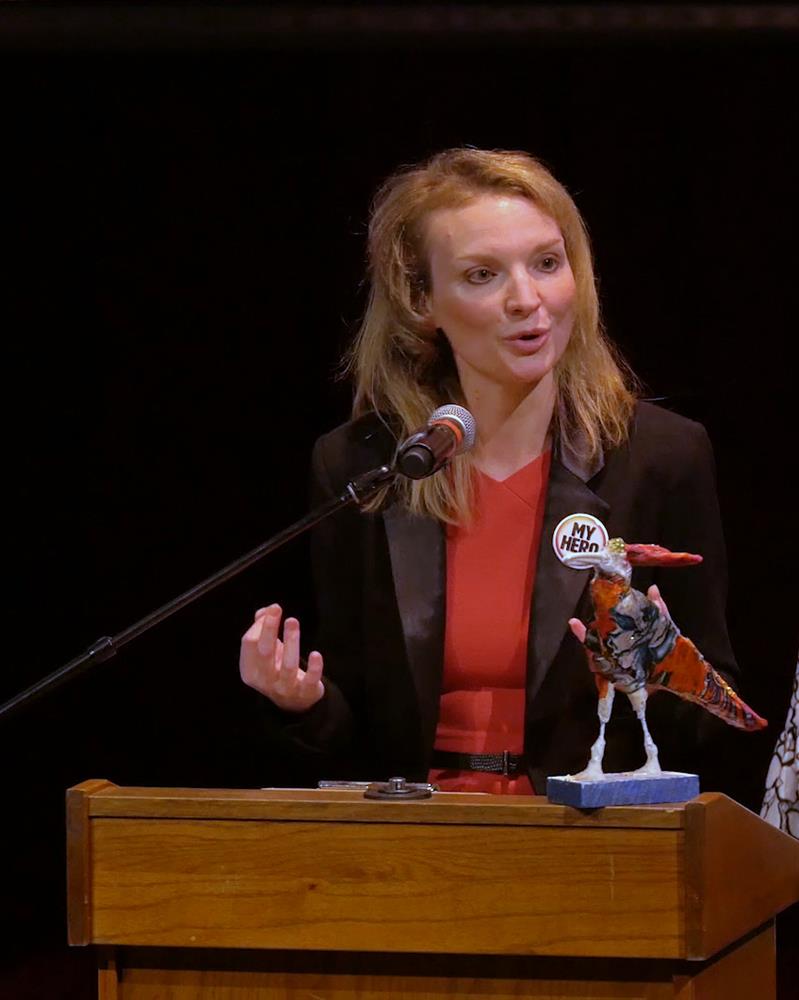 Alyse Nelson, CEO/President Vital Voices Global PartnershipCredit: The MY HERO Project
NOVEMBER 18, 2017 - SANTA MONICA, CA – Alyse Nelson, Vital Voices President/CEO, spoke out about violence against women at the 13th MY HERO International Film Festival
Vital Voices co-founder, President and CEO, Alyse Nelson accepted the 2017 Women Transforming Award on behalf of Vital Voices at the 13th annual MY HERO International Film Festival (MHIFF).
To an audience which included filmmakers, students and teachers, Nelson took the opportunity to send a powerful message about violence against women: "We have seen great advancements, but there is one issue that hasn't changed--that's violence against women. It is one of the greatest challenges facing the human race. There is a wonderful African proverb that says, 'If you want to understand culture, listen to the stories.' If you want to change culture, as we are trying to do, and I know you are trying to do, change the stories. And that is the number one thing we must do."
Eva Haller, Holocaust survivor, philanthropist, and recipient of the Ban Ki Moon Mentoring Award, presented the award to Nelson. As the inaugural recipient of the WTM Award, she nominated Vital Voices for two decades of investing in women's leadership around the world: "I nominated Vital Voices because now, more than ever, when gains made by women must be defended, we must honor the foresight and vision of those women leaders who founded Vital Voices, and sought to uplift women everywhere." Haller has offered a generous donation to Vital Voices, which will accompany the award.
WTM featured Nelson as part of its series of in-depth profiles on transformative women. Jeanne Meyers, director of The MY HERO Project, said Nelson's words touched a chord with the organization: "Alyse's story, which begins with Hillary Clinton's call to action at the 4th UN Conference on Women in Beijing, was quite moving for us, connecting generations of women at an historic moment. We are inspired by how she paid it forward by cultivating women's leadership for 20 years, and are excited to share her story with the teachers who use our hero stories to create lesson plans in their classrooms."
Nelson, a co-founder of Vital Voices, expanded the Vital Voices network to over 15,000 women leaders all over the world. She is the author of the best-selling book "Vital Voices: The Power of Women Leading Change Around the World," host of the Vital Voices podcast and has interviewed over two hundred women leaders.
The MY HERO International Film Fest (November 11-12) brought together community members who believe in the power of everyday heroes to create positive change. The annual celebration of the best of humanity was held at the New Roads School, and included a screening of festival selections, an awards ceremony and a virtual reality showcase.
PHOTOS (Credit: The MY HERO Project):
Select images for download: http://bit.ly/2zSfMVp
2017 MY HERO International Film Festival photo highlights: https://www.facebook.com/pg/MyHeroProject/photos/
VIDEO
Alyse Nelson's acceptance speech for the 2017 WTM Award on Vimeo: https://vimeo.com/myheroproject/wtm-award-alyse-nelson
For more information, please see below. If you have any questions or need any additional information about the event, please do not hesitate to reach out. Thank you in advance for considering coverage of the Women Transforming Media Award!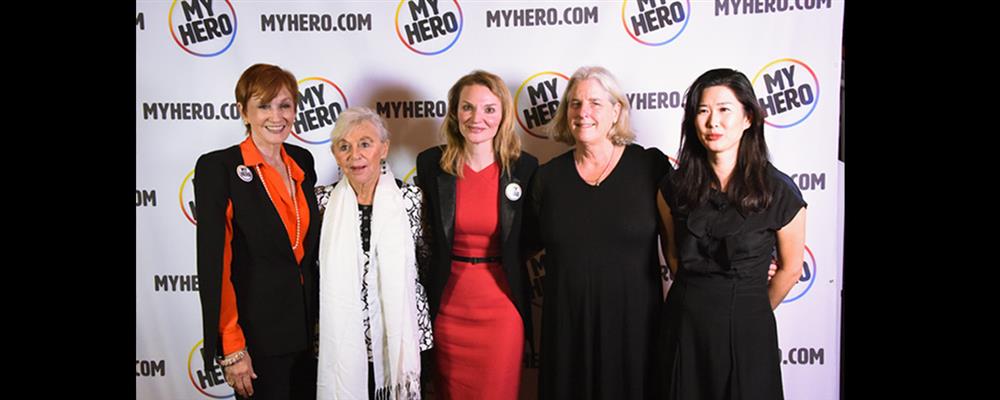 2017 MY HERO International Film Festival (L-R) Kathy Eldon/Creative Visions Foundation, Eva Haller, Alyse Nelson, CEO/President Vital Voices Global Partnership, Jeanne Meyers/The MY HERO Project, Xenia Shin/Women Transforming Media Credit: The MY HERO Project
Women Transforming Media is an initiative of The MY HERO Project that was launched on International Women's Day, May 5, 2015. It is dedicated to creating in-depth video profiles on women transforming the media landscape, and the world. The initiative has featured leaders, activists, mentors and creators, including: Abigail Disney, filmmaker/producer; Melissa Silverstein, founder of Women and Hollywood; Alyse Nelson, president/CEO of Vital Voices Global Partnership; Eva Haller, philanthropist and activist; Cari Beauchamp, film scholar, writer and producer; Jen Senko, documentary filmmaker; Kim Adelman, film programmer and author; and many more. Join Women Transforming Media on Facebook, Twitter and Vimeo.
Vital Voices was established in 1997 by then First Lady Hillary Clinton and Secretary of State Madeleine Albright as the Vital Voices Democracy Initiative. Clinton and Melanne Verveer co-founded the Vital Voices Global Partnership, a non-profit non-governmental organization, in 1999 "to identify, invest in and bring visibility to extraordinary women around the world by unleashing their leadership potential to transform lives and accelerate peace and prosperity in their communities." For more information: www.vitalvoices.org.
The MY HERO Project is a 501(c)(3) non-profit organization founded in 1995. Donations from individuals, foundations, and corporations fund our award-winning, educational programs. The mission of MY HERO is to use media, art and technology to celebrate the best of humanity. Join our growing global learning community at The MY HERO Project, Facebook, Instagram, Twitter and YouTube.


###
Page created on 11/18/2017 1:02:33 AM
Last edited 11/22/2017 12:33:17 AM