Alyssa Carson: A Future in Mars
by
Jennifer Yoshikoshi

from

Goleta, CA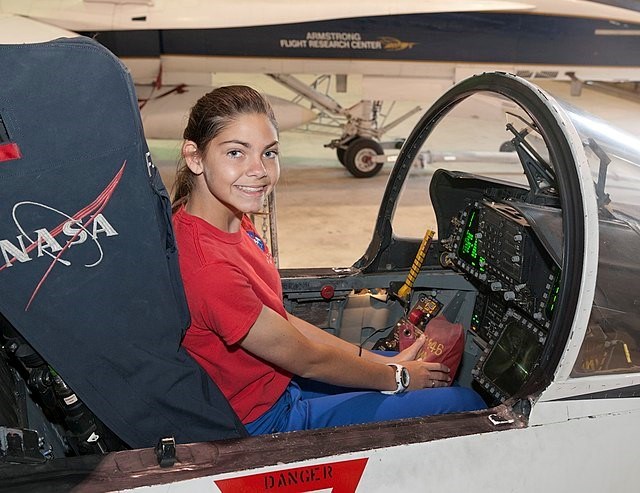 Alyssa Carson in an F/A-18 cockpitNASA/Tom Tschida, https://commons.wikimedia.org/wiki/File:Alyssa_Carson_in_an_FA-18_cockpit.jpgAlyssa Carson has dreamed of being an astronaut since she was 3 years old and she's been working to accomplish this goal her entire life. At 16 years old, she became the youngest person to graduate from the Advanced Possum Space Academy. She kept moving forward in preparing for her astronaut career and by the age of 19 she had obtained her aquanaut, skydiving, and pilot licenses. Carson became known in the media for her dreams of becoming one of the first astronauts to walk on Mars. With so many accomplishments and displays of outright dedication, many have turned their eyes to her as a potential candidate for a future space exploration.

Carson studied astrobiology at the Florida Institute of Technology and will be continuing her education with a PhD in space and planetary science at the University of Arkansas. She was inspired to become an astronaut as a toddler and began training at 5 years old by attending NASA's space camps. Throughout the years her passion for exploring the galaxies never faded. Carson attended 19 of NASA's space camps and is the only person to visit every NASA site, completing their passport program. In 2022, she was named one of five Influencers in the world to work with the North Atlantic Treaty Organization also known as NATO.
To support other children in their dreams and passions within STEM, Carson started the Blueberry Foundation, alluding to the nickname "Blueberry" she was given during space camp. Her foundation is now in collaboration with the Space Camp Foundation and offers scholarships to support and encourage young scientists to explore opportunities to gain experience. As a young woman who found her passion early in life, Carson is out in the world giving hope to other children that with hard work and dedication you can do anything you've ever dreamed of.
Although Carson hasn't been confirmed to set flight towards Mars, she hasn't given up. At her current age of 22 years old, she's spent almost two decades committing to a dream that she's carried since she was a couple of years old. NASA is aiming to send astronauts to Mars in the 2030s, giving Carson plenty of time to prepare. While she waits for NASA to open up applications for astronauts, she's gaining real experiences along with continuing education to be the best candidate for a trip to the red planet. She's also traveled giving speeches, attending international conferences, and modeling for magazines and brands. Carson has built a brand for herself through social media and has become a widely recognized and influential person in the world of STEM.
Page created on 4/24/2023 7:49:46 AM
Last edited 4/28/2023 3:46:37 PM
The beliefs, viewpoints and opinions expressed in this hero submission on the website are those of the author and do not necessarily reflect the beliefs, viewpoints and opinions of The MY HERO Project and its staff.