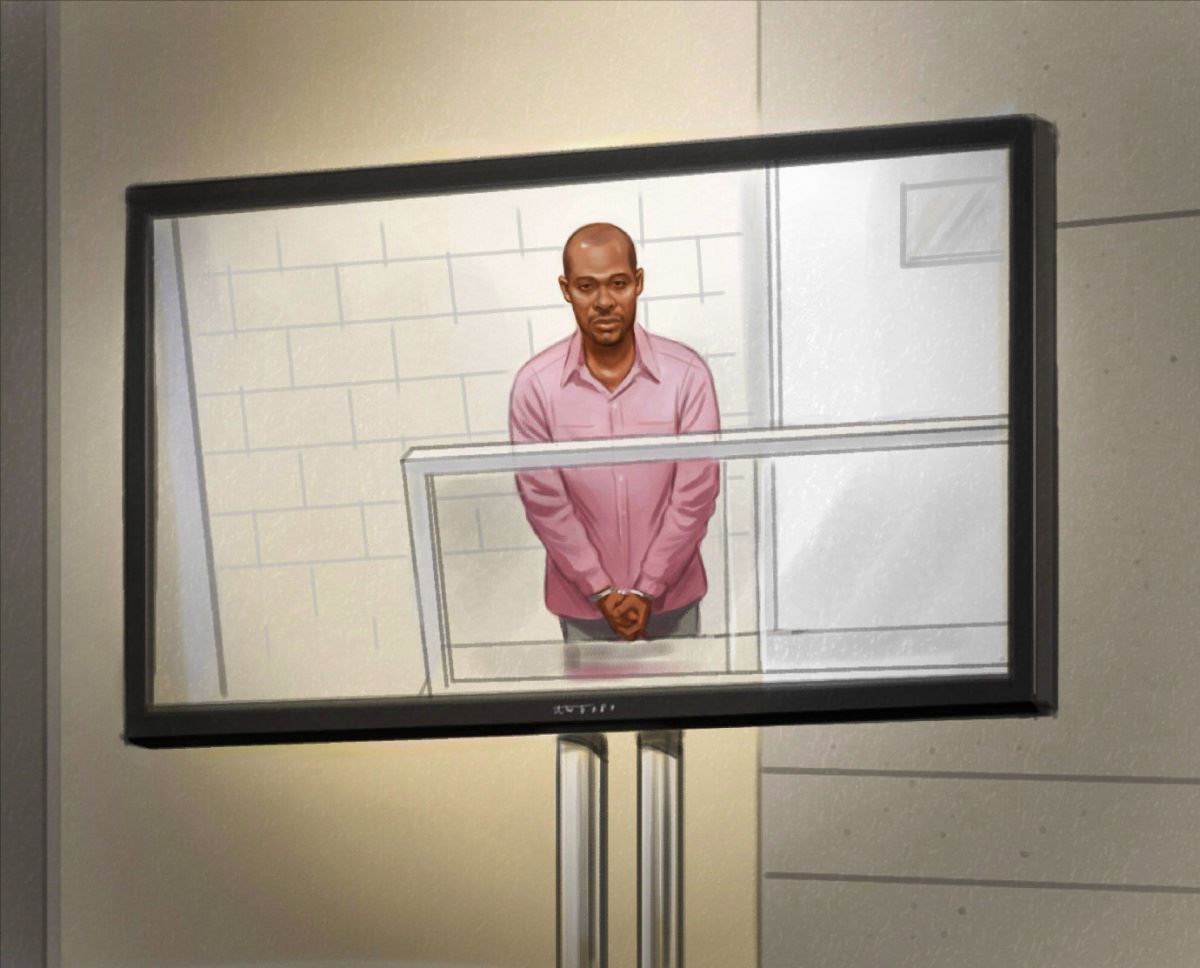 Lindhout's rapist, Ali Omar Ader, is depicted in court.thestar.com"He took a few steps closer, as if to strike me. 'You,' he seethed. 'You think this is a joke? If you are ready to die, then say so. I will kill you now'" (Lindhout 154). These unnerving words were spoken often to Amanda Lindhout, a photojournalist with a passion for working in war zones, when she was kidnapped in Somalia for 15 months. Amanda Lindhout was born to John and Lorinda Lindhout on June 12 of 1981 ("Amanda Lindhout"). She grew up in Alberta, Canada and always wanted to be a journalist. However, her lack of training and money held her back. She would work daily as a waitress to gather enough money to travel (Austen). When she was finally able to save up to go to Somalia in August of 2008, she was unaware that she would end up staying there for over a year. Lindhout was kidnapped for a total of 15 months, and held for ransom (Gettleman). Somalia is still an important place in Amanda's life. "Amanda Lindhout, 31, spent only four months recuperating from malnutrition and emotional fallout from the harrowing captivity in Somalia, before she started working on a plan to help Somalis" (Mohamed). Although Somalia was the area where she nearly died, she has still gone back to the exact place, multiple times, to help people. 2008 was a key time in her life because she was fighting to live, but the years following were crucial as well. In the following years she wrote a book, went back to Somalia to help make a change, and shared her story. A hero doesn't have to save the world, but they should work to save the potential of our generations. A hero takes their trials and turns them into opportunities to grow. Heroism should be subtle, but result in something selfless and powerful. Amanda Lindhout is known as the young warzone photojournalist who was kidnapped for 15 months in Somalia; yet her dedication to live amidst danger for an authentic story, her positive disposition throughout the dismay, and her determination to survive and go back and help Somalia make her a true inspiration and hero.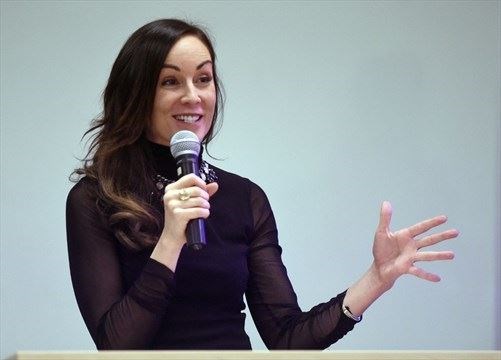 Amanda shares how she hopes her experience will push others to be strong in hard times.therecord.comAmanda Lindhout was remarkably dedicated throughout her career. She was passionate towards the stories that she had the power to share. If she was going to make a story big, she was going to make sure it mattered. To make that happen, she would travel the world and focus on things that moved her. "I'd do stories that mattered, that moved people--stories that would sell to the big networks. Then I'd move on to even bigger things. Somalia, I thought, could be my hurricane" (Lindhout 101). Lindhout always directed her focus on doing her job the best that she could. From the beginning she didn't care about the danger and the warnings regarding the places she went; she only cared about the effect her work would have on others. She is an attentive, ambitious, and dedicated woman. A job is rarely loved, and almost never embraced. However, Lindhout made her job her life. She traveled and spent her time doing her job the best that she could. Her ambitions make her a very dedicated person. Lindhout didn't only show dedication through her actions towards her job; she also illustrates her dedicative character through her decision to go to Somalia. "'In a country like Somalia, where the mainstream media has stopped sending their correspondents, that creates opportunity for freelancers, for better or for worse. And when you're following a certain career path like that, with a lot of passion and gusto as I was doing, you look for opportunities'" (qtd. In "Somali hostage"). When Lindhout is explaining why she chose to go to Somalia, the fact that she really went for the opportunity shows her dedicated character. She focuses on the present, and the effect her actions have on others. Journalists are known for good stories, and they don't generally have to go somewhere crazy to get the big networks. However, Lindhout took this challenge and from the start she always wanted to travel around dangerous areas like Africa ("Amanda Lindhout"). She knew Somalia was dangerous, and that's what drew her to the area. She put herself in danger to make sure that important and authentic war zone stories could be shared. These small but courageous decisions in her life make her the dedicated photojournalist that deserves to be known. Aside from possessing dedication in all aspects, Lindhout is determined.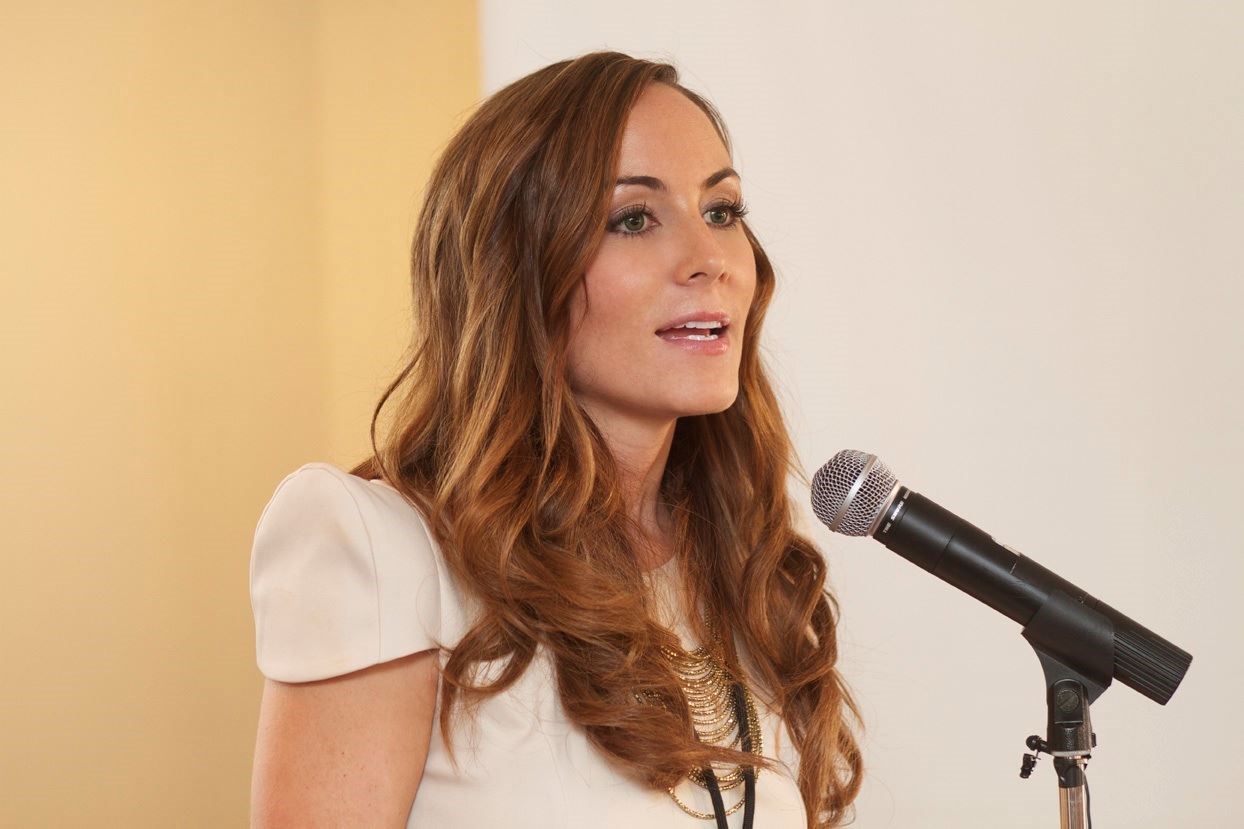 Amanda Lindhout speaks about her experience in Somalia.publicradiotulsa.orgWhile in captivity, Lindhout showed determination through her efforts to escape, but also through her efforts to understand who her captors were in hopes to find compassion for them. In a desperate and determined act to escape, Lindhout came up with an idea to break through bricks in the bathroom and run away. "We'd worried about so many things, and as I stared at the gap in the window, every one of those things felt there, right on the other side, along with our freedom" (Lindhout 253). The jump from the opening to the ground was something most people wouldn't risk. Even more dangerous is the possibility of her captors finding her and bringing her back. Through the risky decision to attempt an escape, Lindhout shows bravery, strength, but above all she shows determination. Lindhout stands out from others because in this situation, it is common knowledge that escaping could cause extreme consequences. However, the hope to escape and the future she still felt she should have, led her to show great will power. During these 15 horrific months, Lindhout was also determined to find compassion and understand the situations of those who were hurting her. "'I spent a long time feeling angry. So way before I was accessing compassion inside myself, I was really angry and confused and in shock at what my life had become...And I felt that by trying to understand logically who my captors were, that these young men were products of war, helped" (qtd. In"Somali hostage"). One finding compassion for those who have hurt them the worst is a hard task. Take that, and imagine the situation with people who have held you hostage for the last year. Finding compassion and understanding in a time like that is impossible. However, solely because of the determination, Lindhout accomplished this task. She learned to understand these men, and remain as the person that she knew she was. Through her perspective and her efforts, Amanda Lindhout's determination is one of great amplitude.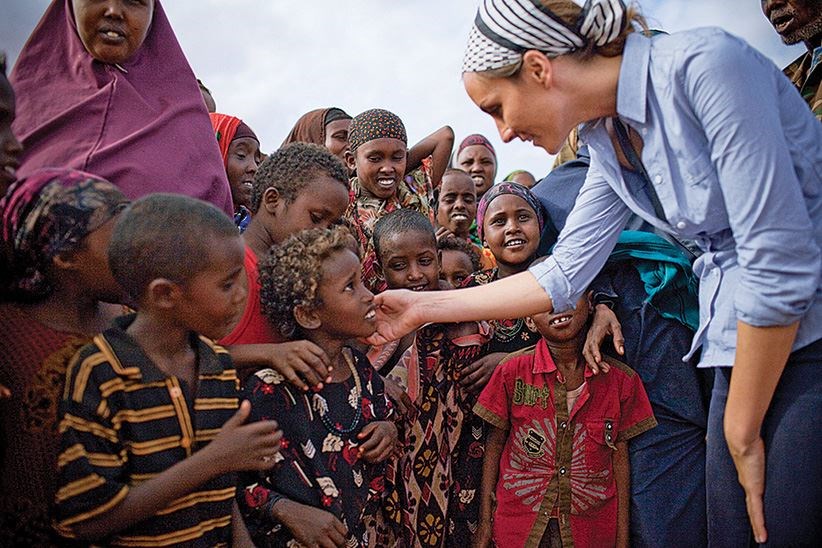 Just months after her release, Amanda is happily helping children in Somalia.macleans.caAmanda Lindhout is known not only for her appalling story, but more so for the positive steps she took during and after her experience. She took such a horrible situation, and made it positive. One can not accomplish this without having ample positivity. "Five weeks after being captured, I worked at being cheery" (Lindhout 186). At the beginning, she understood what she had to do to survive the darkness of the time. She brought out the positivity, and forced herself to smile and see the bright side. With such a dark situation, Lindhout was the light. During horrific trials, many people lose themselves. They get lost in the sadness and despair that they forget who they are. Lindhout did not only remember her purpose of being in Somalia, but she also brought the positivity out of herself. This act proves the positivity that she had, right from the start. Throughout the following months, Lindhout was able to hold on to the happiness left, as well as as her happy self. Her positivity kept her going. "'I mean, I could still laugh at a joke in my mind, and I could still smile at a funny story. Even right to the end'" (qtd. In "Somali hostage"). Through small things that would happen while she was trapped, she found joy. Her positive disposition was all she had, but it was all she needed. For more than 457 days in the worst situations, Amanda Lindhout portrayed her positivity in full view, proving her character and her happy view on life.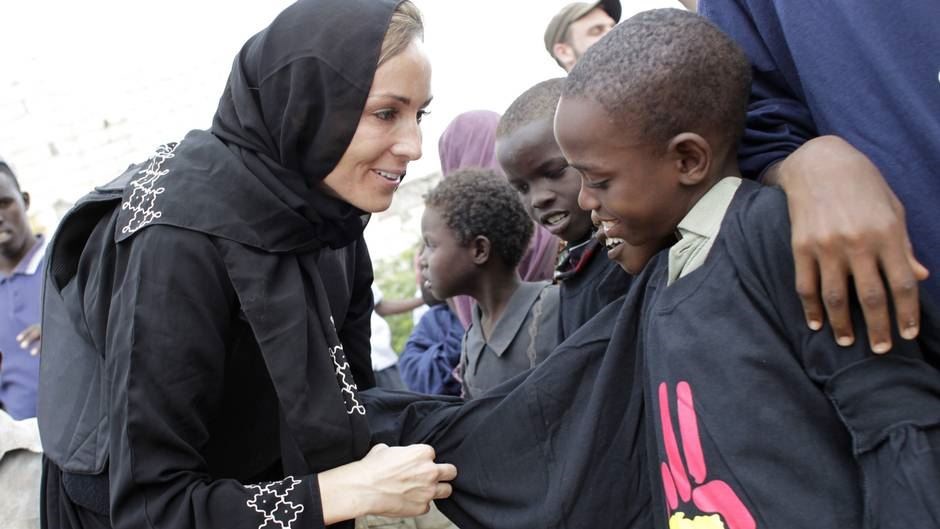 Amanda Lindhout makes a trip to Somalia in 2011, and sees her new organization in full force.theglobeandmail.comWarzone journalist Amanda Lindhout possessed the traits of dedication, determination, and positivity during one of the worst times in her life, when she was held hostage for 15 months; and the steps she took to help others after her experiences truly enforces her heroic character. Amanda Lindhout is not well known today, but she deserves to be. Amanda Lindhout was heavily seen as an inspiration when she first decided to start her own organization focussed on the people of Somalia. "'...six months after my return to Canada, I founded a nonprofit organization called the Global Enrichment Foundation, to help support education in Somalia'" (Lindhout 364). One of the most amazing things about Lindhout is that she helped Somalia after it hurt her. She focussed on helping the children there and making the area stronger. She turned her hate into pure love, and that is beyond inspirational. Amanda Lindhout inspires others through her willingness to forgive. "'But I have the choice -- do I nurture and feed that anger? Or do I step back from it and go back to my place of understanding'" (qtd. In "Somali hostage")? At the end of it all, Lindhout decided to forgive those who had hurt her the most. She is an inspiration to all who are striving to forgive. Her captors never showed any compassion towards her, but she used that as an opportunity to change her mindset. Lindhout is inspirational because she realized she controlled it all. She controlled her hate, her sadness, her loss of hope. With that knowledge, she was able to bring herself back to her normal, loving character. However, her inspiration doesn't just stop there. Her willingness to help the people in Somalia, with the organization she created, made an unexpected impact. There is no one with her gusto, her dedication, her determination, her positivity, and her impact. Amanda Lindhout and her story deserve to be known throughout the world. "Some days it's no more than a distant spot on the horizon" (Lindhout 366). Amanda's recovery has been tough. Through her pain and hurt, she moves ahead one step at a time. Amanda turns her focus on others and on her organization so that she can live a successful life. The things she did to help the city where she was kidnapped for 15 months are astonishing. "Rajo was the name we picked for the school. It's the Somali word for hope. And hope, we all agreed, is the best thing in the world" (Lindhout 367). Lindhout built schools, sent many necessities to aid the people, and did much more. She even came back to Somalia multiple times to make sure she was making a big enough impact. Lindhout's actions are what have inspired me from the moment I discovered her. Since I was young, I have loved photography. I would save up to travel to certain places that I felt were prime photography spots. When I first heard about Amanda Lindhout, I felt a direct connection, even before I heard about the amazing impact she has made today. Amanda Lindhout inspires me to strengthen the traits that she possesses. Just like her, we all have trials in life. However, if we can maintain Lindhout's mindset, we can find a whole new purpose and even a new level of happiness.
"Amanda Lindhout." Contemporary Authors Online, Gale, 2014. Biography In Context, https://link.galegroup.com/apps/doc/H1000307985/BIC?u=powa9245&sid=BIC&xid=6dbf678c. Accessed 9 May 2018.
Austen, Ian. "For Novice Journalists, Rising Risks in Conflict Zones." New York Times, 30 Nov. 2009, p. B7(L). Biography In Context, https://link.galegroup.com/apps/doc/A213145553/BIC?u=powa9245&sid=BIC&xid=ebf5afd9
Gettleman, Jeffrey, and Mohammed Ibrahim. "2 journalists are freed in Somalia after 15 months as captives." New York Times, 26 Nov. 2009, p. A17(L). Biography In Context, https://link.galegroup.com/apps/doc/A212898486/BIC?u=powa9245&sid=BIC&xid=089bd303
Lindhout, Amanda, and Sara Corbett. A House in the Sky: a Memoir. Large Print Press, a Part of Gale, Cengage Learning, 2014
Mohamed, Farah. "Amanda Lindhout Was Held Captive in Somalia - but Went Back to Help Others." The Globe and Mail, The Globe and Mail, 26 Mar. 2017, www.theglobeandmail.com/life/giving/amanda-lindhout-was-held-captive-in-somalia---but-went-back-to-help-others/article4107183/
"Somali hostage: 'I thought I was going to be beheaded. It continues to haunt me'; Canadian journalist Amanda Lindhout is still struggling to recover from 15 months in captivity at the hands of brutal Somali kidnappers. Here, she talks openly about the horrors she faced, and how she found the courage to survive." Telegraph Online, 13 Apr. 2014. Biography In Context, https://link.galegroup.com/apps/doc/A364752974/BIC?u=powa9245&sid=BIC&xid=e6667dfd