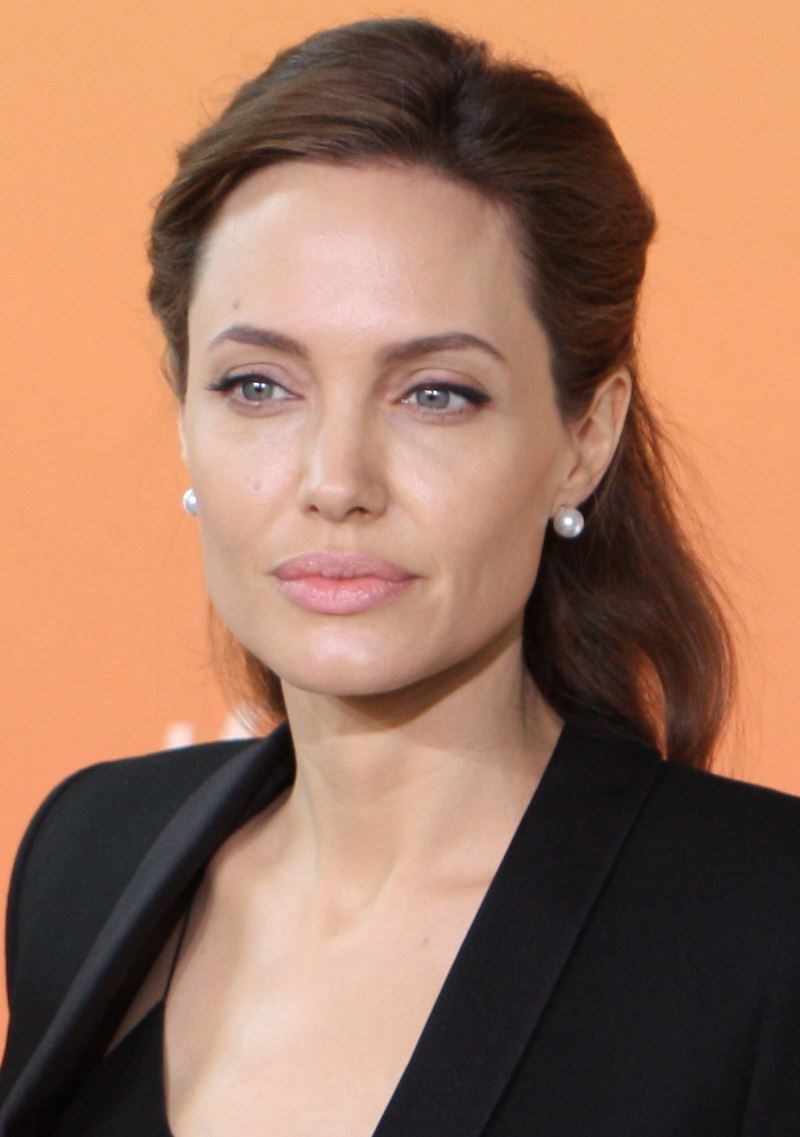 Angelina Joliehttps://upload.wikimedia.org/wikipedia/commons/a/ad/Angelina_Jolie_2_June_2014_%28cropped%29.jpg [State Department photo/Public Domain]"A hero is somebody who is selfless, who is generous in spirit, who just tries to give back as much as possible and helps people" (Mazar). As explained in Debi Mazar's quote, a hero is someone who cares for others and finds ways to improve society, finding good in the world. Ever since the Roman gods, heroes have been commonly present throughout history, appearing in classical literature and epic poems. As the definition of a hero is expanding over time, more heroes are found in our modern world. From celebrities to the Marvel or DC heroes, superheroes can be anyone. However, special powers and physical features do not define a superhero. What matters is what's beneath the uniform. Beneath the uniform is someone who is kind hearted to others and always has faith in themselves. Beneath the uniform is someone who sacrifices personal gain, to improve the lives of others. Beneath the uniform, is someone who cares. Someone who cares for others, and brings peace, union, and positivity to the world. Despite having unique powers, what makes a superhero so special? A superhero has the ability to bring happiness and joy to others through the acts of kindness they perform. They are role models many people look up to and show the ideal person everyone wants to be. Instead of analyzing their heroism off of their physical attributes, they stand out beyond others by exhibiting both passions for helping others, and selflessness by willing to do anything to help those in need.
Demonstrating the key characteristics of a hero, Angelina Jolie creates an impact on others from her passion and selflessness. She was born on June 4, 1975, in Los Angeles California. From a young age, she displayed a strong interest in acting, thus moving to Beverly Hills to attend the Lee Strasberg Institute of Performance. Her talent in acting landed her first major role in the play Room Service. Jolie received much recognition from her first play and landing her major roles and job opportunities. This lead to Jolie receiving her first Golden Globe award in 1997, as the nominee of having the best performance by a supporting role actress. Later in 1997, Jolie's life took an unfortunate turn, as she suffered from major depression. This time of her life was tough, as she was trying to understand who she really was. Not having any help from others made it rough for her to stay mentally stable, resulting in the tendency of self-harm and many attempts of suicide. As Jolie slowly recovered, she was informed about the refugees around the world that are in desperate need of help. She began her research on the problems that were occurring around the world, to find out that there are over 20 million refugees that do not have homes and do not receive the proper education. From the hard work she put in, The United Nations High Commissioner for Refugees, also known as the UNHCR, noticed her interests and qualified her as their special envoy. Motivated by her own compassion towards the refugees, Jolie and the UNHCR team traveled to countries in need and selflessly helps those in need, willing to do whatever it takes to benefit the world. Furthermore, her passion for selflessly doing what she loves helped cure her depression and resulted in helping people who were also going through similar things. Through her selfless drive of helping others, Angelina Jolie embodies what a true hero is.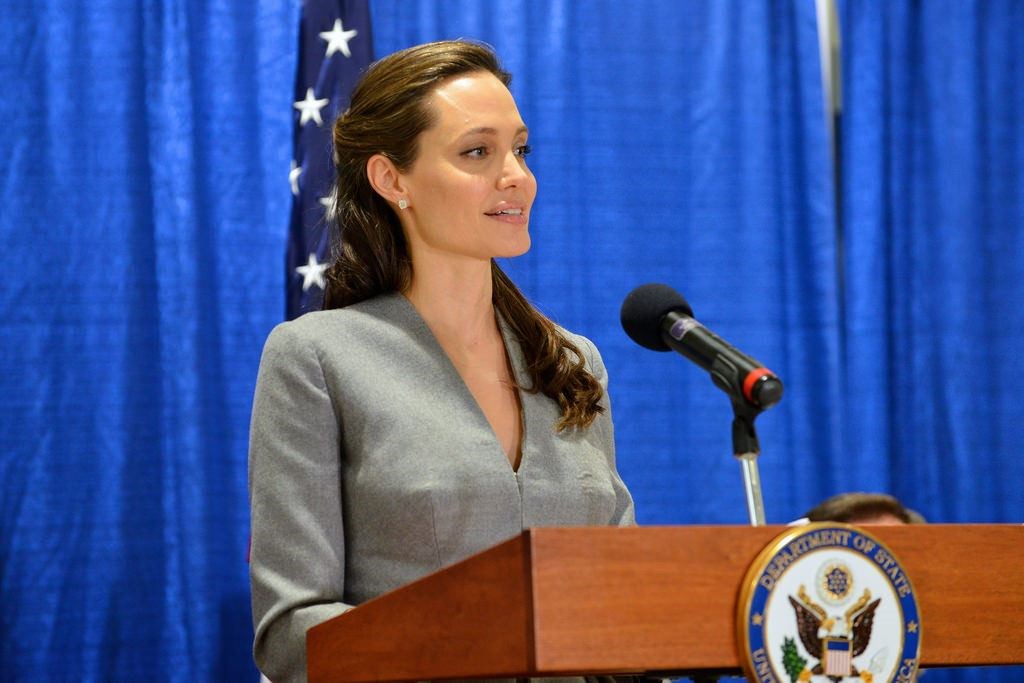 Angelina Jolie speaking at World Refugee Dayhttps://c1.staticflickr.com/8/7333/27205501364_51b2166cde_b.jpg [State Department photo/Public Domain]Angelina Jolie's passion for change and her will to help others is repeatedly shown through her philanthropic actions. Throughout most of her life, Angelina Jolie was always involved in helping others. Speaking out on her thoughts at World Refugee day shows her passion for solving issues that our world is facing: "Over time, Jolie has become more involved in promoting humanitarian causes on a political level. She has regularly attended World Refugee Day in Washington, D.C., dedicated to raising awareness of the situation of refugees throughout the world, and she was an invited speaker at the World Economic Forum...to discuss the most pressing issues facing the world including health and the environment in 2005 and 2006" (Walton). Angelina Jolie often attends World Refugee Day, to advocate with leaders all over the world about creating change. She has a voice in her own opinions, speaking out for what she believes in. This takes away large amounts of time from her personal life, to focus on the issues of the situation of refugees throughout the world, and she was an invited speaker at the World Economic Forum...to discuss the most pressing issues facing the world including health and the environment in 2005 and 2006" (Walton). Angelina Jolie often attends World Refugee Day, to advocate with leaders all over the world about creating change. She has a voice in her own opinions, speaking out for what she believes in. This takes away large amounts of time from her personal life, to focus on the issues in our society, showing how passionate she is for world change. Her strong ideas for not only refugees but everyone to be being accepted with respect and integrity proves how much effort and commitment she puts towards her goals, making her a worthy hero. Jolie's investment towards the improvement of children's education illustrates her passion for the advancement of society: "Jolie has become an advocate for children's education...She has also worked with the Education Partnership for Children of Conflict and has helped to establish education policies"(Pettinger 1). Jolie strives for the improvement of society, supporting education for all. Valuing the importance of education, she donated her money to the UNHCR so schools can be built to improve their education system. Although education cannot change the world, it can change the lives of many people, and those people can help change the world. Children are our future, and without a decent education, there would not be any progress in the next generations. Jolie's passion for the advancement of society shows her consistent actions of staying true to her values. Not only did she advocate for education and protection towards children, but Jolie also settled some education rules with the Government of Education. The policies that Jolie established are focused on the vulnerable children; to help them receive the proper education that everyone deserves. As a hero, she strives for the success of others and herself by putting in her investment and time for the better of others. Jolie always makes sure every voice is heard, so she can stand by them and help create their future. Jolie's passion for her work for the benefit of others through self-determination characterizes her as an admirable hero.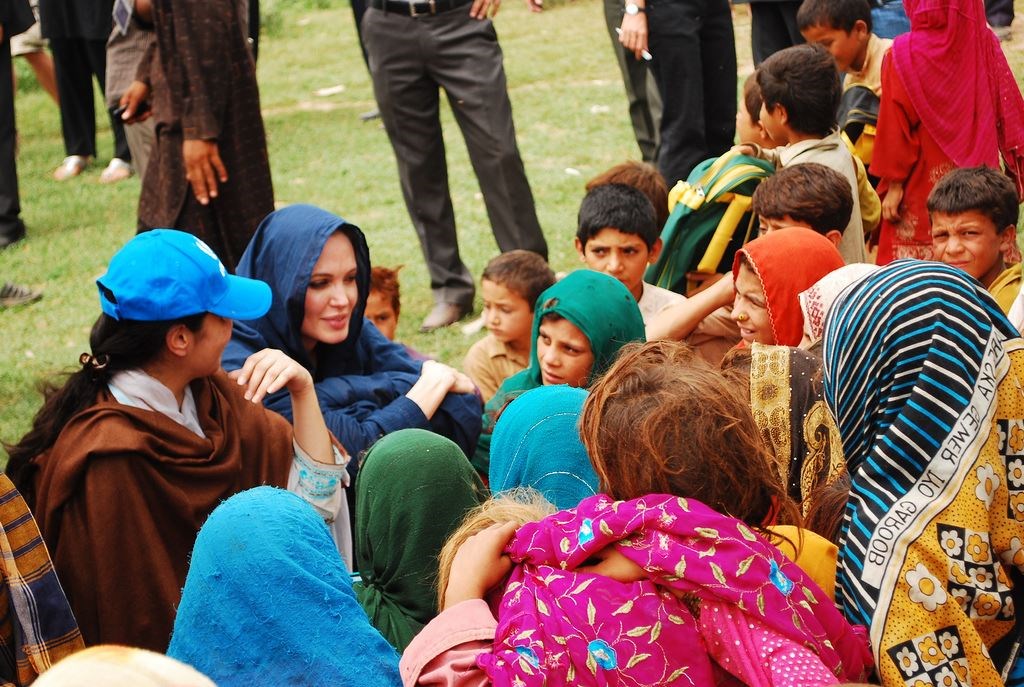 Angelina Jolie Talking with Refugee Children - Hashdoo Foundation, Afghan Refugees Settlement 1-12https://c1.staticflickr.com/2/1398/5183609448_fe93512219_b.jpg (CC BY-SA 2.0)Instead of using her fame and fortune for the benefit of herself, Angelina Jolie selflessly sacrificed her personal gain for others. Jolie's selflessness is present in all aspects of her life, such as when she offers her drink to the boys: "After visiting for a while, we are offered shade and a soda-- Pepsi in glass bottles from a dusty crate, It was very generous of them [the UNHCR] to give us these Pepsis. It was so hot. We drink, but I give mine to the young boys next to me" (Jolie 163). Jolie always puts in consideration of the people in need before herself, regardless of wanting to fulfill her needs. She could have taken the drink for herself but chose to give it to the boys, knowing that they needed it more than she did. As an actress, Jolie receives many opportunities to make money, as she is fortunate enough to be able to afford anything she wants. Although this may show that she could be rapacious about her money, she uses a large portion of her money to improve the quality of refugee lives. Her selflessness drive to helping others is one of the important attributes that makes her a true hero. Moreover, Jolie's thoughtful and caring actions when helping refugees with daily jobs highlight her selflessness: "Jolie takes a hands-on approach at the refugee camps she visits. She helps feed sick children, transport thousands of refugees to safer camps, build huts of mud and distribute much-needed food and water," (Bella 6). Jolie's efforts in putting her own health at risk in order to help these people at the camps show her altruistic personality. Even when going to the camp is a risk of catching a disease, Jolie's selfless actions prove her desire of wanting to help. In addition to caring for sick refugees, she helps refugees build homes and delivers food and water. Refugees do not have the daily necessities that are necessary to everyone. Living in a beautiful private estate home, Jolie left the comfort of her home to help refugees build houses for shelter, showing that she is sympathetic. Jolie's selfless drive towards helping others makes her a worthy hero, as she is selfless and puts others needs before hers.
On top of doing great things, heroes inspire other people to work hard and find ways to help others. Heroes selflessly help others to make the world a better place for all. They persevere through hard times and follow their passion to fulfill their goals. Heroes are people who are determined to achieve their goals and consider putting others before themselves. They are passionate in their works and never fail in the face of adversity. Jolie's passion for helping others allowed her to convey meaningful messages in her actions, and with that passion, she selflessly traveled to different countries to understand the refugees and what they are going through. Angelina Jolie's drive of wanting to help inspires me to be kind to others. Throughout her whole life, she has always found ways to help others and put smiles and faces of everyone. On my first day of sixth grade, I remember being new to everything; new school, new classes, and new friends. One girl in particular just moved from Europe to the school. She sat alone and could barely speak English. I went over to her and we connected instantly. I created ways to make her smile and laugh without having to speak a different language. Daily actions and decisions like these define a heroes' character. Heroes create everlasting imprints in our society, finding ways to assist people. Every hero is distinctive from others, achieving ordinary goals. They accept people for who they are and genuinely have a good heart. Just like Jolie, a hero is empathetic; they understand the feelings of others. Indeed, Jolie's passion for enhancing our society and her selfless drive to benefit the lives of others. What really made a difference was her hospitality and generosity she gave to others. Angelina Jolie is a deserving hero because of her hospitality and generosity towards others, improving society and future generations.
Work Cited
Amanpour, Christiane. "Angelina Jolie Gives a Voice to Refugees in Syria." Angelina Jolie Giving a Voice to Refugees in Syria, CNN, New York City, New York, 21 June 2013.
"Angelina Jolie." Newsmakers, Gale, 2000. Student Resources In Context, https://link.galegroup.com/apps/doc/K1618002932/SUIC?u=powa9245&sid=SUIC&xid=4991410b Accessed 19 Dec. 2018.
"Angelina Jolie Biography | ." Biography Online, Tejvan Pettinger, 11 Feb. 2017, www.biographyonline.net/actors/angelina-jolie-biography.html.
"Angelina Jolie hints at move into politics and possible run for US president." Telegraph Online, 28 Dec. 2018. Student Resources In Context, https://link.galegroup.com/apps/doc/A567574285/SUIC?u=powa9245&sid=SUIC&xid=5c8e6790. Accessed 7 Jan. 2019.
"Angelina Jolie Exclusive Interview about Humanitarian Efforts." Paraview TV, Research and Enlightenment , 11 Jan. 2010.
Bella, Laura La. Angelina Jolie: Goodwill Ambassador for the United Nations. Readhowyouwant.com Ltd, 2012.
Jolie, Angelina. Notes from My Travels: Visits with Refugees in Africa, Cambodia, Pakistan, and Ecuador. Pocket Books, 2003.