by
Charlie Rey Harmon

from

San Diego, California in United States

"Let us lead by example in creating a world in which women and men are not economically punished for wanting to be parents."

-Anne Hathaway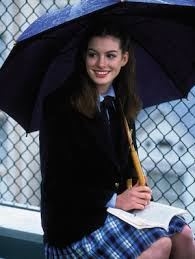 Anne Hathaway as Mia Thermopolis in The Princess Diariesclevver.comIn the auditory perception of the buzz of the subway, where is north? North: the direction in which a compass needle eternally points, or to say, the future. Anne Hathaway navigates through the hatred and injustice of our world to find peace for parents so the next generations can enter with equality. With the guidance of her father, Gerald Hathaway, Anne's sense of direction was brought to his attention. Driven by her desire to act from a young age, Hathaway had her breakthrough with a lead role in The Princess Diaries in 2001. As Hathaway got older, she came to realize the abhorrence and resentment of the film industry and society. Hathaway has joined United Nations Entity for Gender Equality and Empowerment for Women as an ambassador. To ameliorate, since then, she has used her platform as a pinnacle actress to endeavor equality. With her passion for supporting women's rights, Anne Hathaway is confident about changing our world by striving for universal thinking on equality for all.
As a UN Ambassador, Hathaway ventures for equality with omnipresent thinking. Once she started a family, she came to the realization of how dependent she was on her husband "because paid parental leave does more than give more time for parents to spend with their children. It changes the story of what children observe, and will from themselves imagine possible…." (Hathaway). Hathaway also argues: "One in four American women go back to work two weeks after giving birth because they can't afford to take any more time off than that. 25 percent. Equally disturbing, women who can afford to take the full 12 weeks often don't because it will mean incurring a "motherhood penalty"— meaning they will be perceived as less dedicated to their job and will be passed over for promotions and other career advancement" (Hathaway). In most countries, non-paying parental leave is not up for discussion, so both men and women are challenged with giving their children attention due to economic situations. Hathaway's ambitions drive her to attempt reaching her goal: that all families can be able to be a part of the newborn-journey and give their child its necessities. She brings light to this subject in order to reach other's thoughts so they will also be persistent on changing parental leave for the best interests of society. There are many people who haven't yet voiced their concerns on this topic, which is hurting our world; without paid parental leave, parents aren't able to sustain a home and continue to follow their north which can, additionally, hurt their work reputation. Along with supporting paid parental leave, "….Ms. Hathaway will put the spotlight on the issue of the unequal burden of care work in the home as one of the key barriers to gender equality, working internationally to advance the adoption and implementation of policies that will bring measurable change" ("Anne Hathaway Goodwill Ambassador"). Hathaway continues to enforce change within a family community; she brings the parents together to evolve and adapt to the standards of society. Along with all of the multitudinous types of parents, some feel "weaker" in the sense of not being able to support their families as much as their significant other. Hathaway listens to and interprets the thoughts of others to accommodate the necessities of our world. She persists on the change she desires while remaining considerate to others, even if some individuals are opposed to her beliefs or don't wish to work to her extent. By striving for universal thinking, Anne proceeds to lend her support and willingness on parent equality.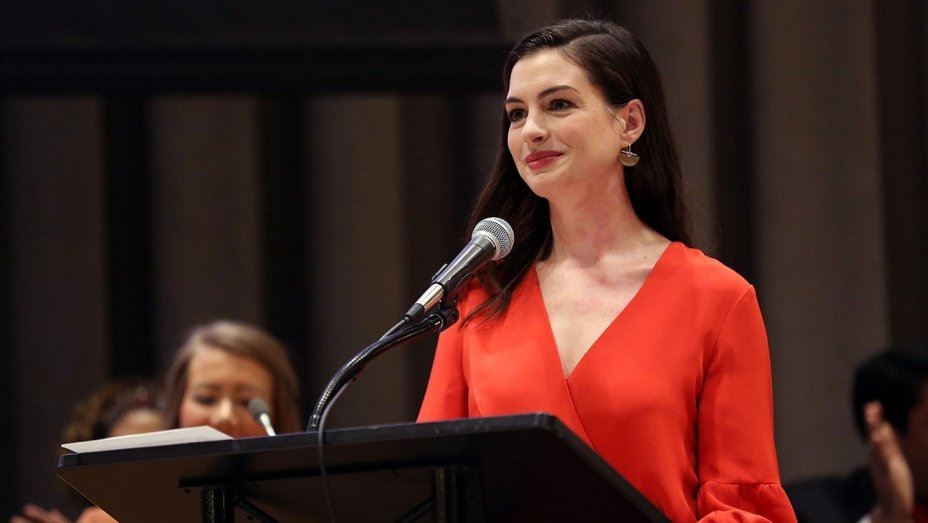 Anne Hathaway speaking for the UN on International Women's Dayhollywoodreporter.comHathaway remains as an actress and a UN ambassador while apprising rights for anyone who has been or is suppressed. Hathaway does this all whilst approaching "….the connection between persisting barriers to women's full equality and empowerment, and the need to redefine and in some cases, destigmatize men's role as caregivers. In other words, to liberate women, we need to liberate men" (Hathaway). Hathaway aims to change the views of our world when it comes to women but to achieve that, everyone has to compromise on the liquidations. She is brave for stating this claim due to all of the sexist, non-feminist beings of our earth and their willingness to quickly affront others. Hathaway will fight for what she believes in and will not stop until the subject matter is justified. Through being humane in these situations, Hathaway will make these equality demands her top priority. As women's rights are one of her main focuses, she advocates for well-grounded parental pay, "and while mothers contribute $1 trillion to the U.S. economy, they earn less than non-parents in the workplace. Mothers earn an average of 3 percent less than women without children. Fathers earn 15 percent more than men without children, according to a report released last month by the U.S. Congress Joint Economic Committee" (Goldberg). With all of the changes that have occurred for her and her family, Hathaway wants the best for her child and all of the other children around the planet. Kids will be able to be kids without having to worry about playing alone or missing their parents thanks to their parent's stability so their youth is not taken away from them. Hathaway cultivates the support of others to upturn our economy. Not many individuals know about these situations occurring with the salaries the country receives. By including more data relating to this subject, others are able to be educated on why Hathaway is contending with women's rights. As well as being in her own work of the industry, being an actress, Hathaway remarks that "it just kind of makes you aware of the ways you sort of unconsciously change yourself to fit certain scenarios" (Maple). In any industry, one molds to fit his/her role; Hathaway states: "Hollywood is not a place [of] equality" (Maple). Though occupying lead roles in films and starring in an all women-led movie, Oceans 8, Hathaway can statistically prove Hollywood is not equal in terms of treatment and pay. Anne is among those who are in the upbringing that men are and should be paid more than women who perform equal labor. However, this belief is wrong and the sources of inequality should immediately be abolished. Hathaway wants equity for women's equality in all of society and will do so courageously.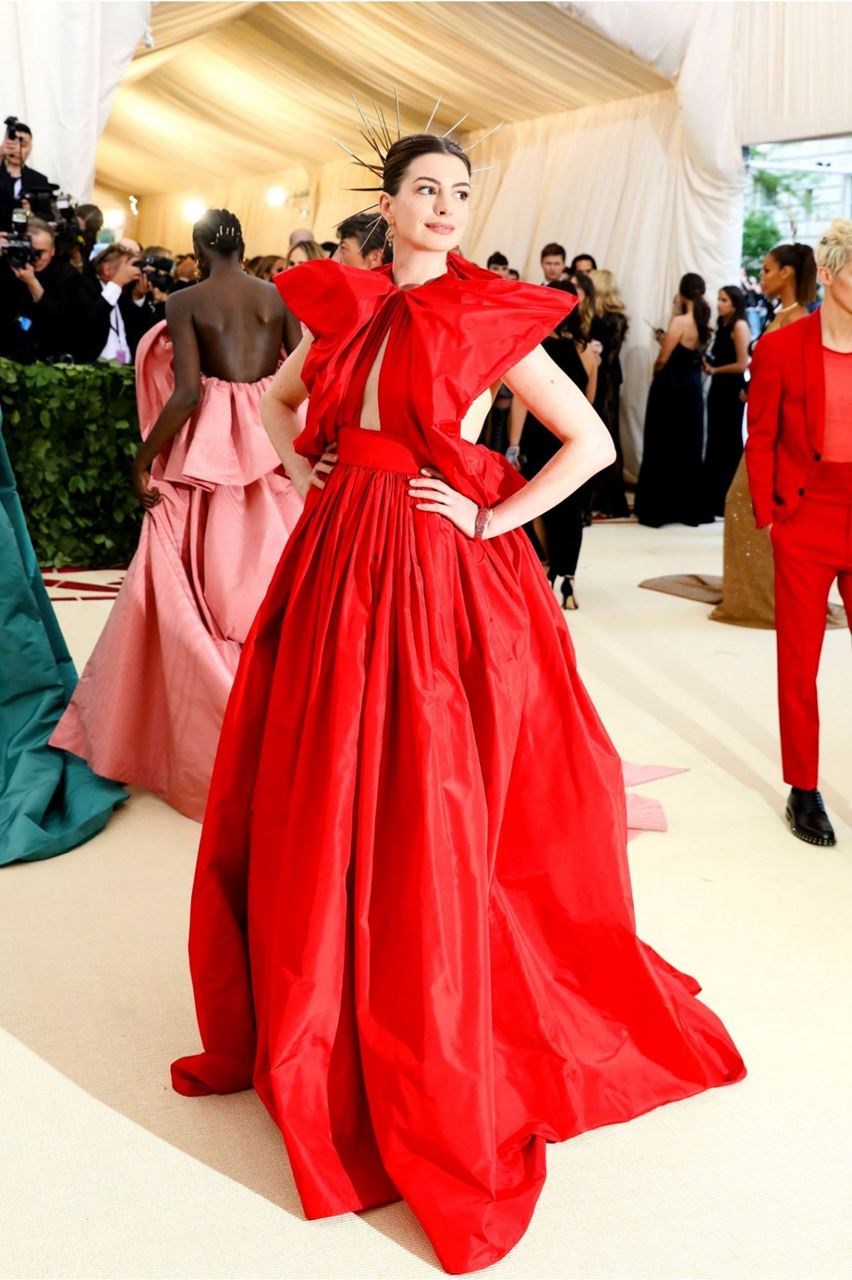 Anne Hathaway among others at 2018 Met Galaworldcelebritydress.comInspired by others actions, Anne Hathaway fancies pursuing equality as a feminist. Hathaway's humanitarian personality acts out in her movements. Anne Hathaway inspires others to keep moving towards their north. The influence she has on society inspires the movements of equality throughout the globe. All over our world, women identify together, and men identify together as separate parties, we understand things others don't. With the support of others who want to succeed in happiness, we can achieve equality; its starts with love and the guidance of love. Hathaway's views on individuals for the future influence those who strive for the role and title they want. Hathaway backs up any opportunity to platform equality: "The room at the UN was filled with women dressed in red for the observance of IWD and the Day Without a Woman protests. Hathaway, also donning red, announced that the French food company Danone had pledged to give equal parental leave to men and women and to increase the amount of paid leave to 18 weeks by 2020 as part of the #HeForShe campaign" (Curry). Hathaway drives toward other campaigns led by other ambassadors of the United Nations to continue her work for our world. With love and support, we can bind together to get to our north with the guidance of the idiosyncratic's and examples in our society like Anne Hathaway.
Works Cited
"Anne Hathaway New Goodwill Ambassador." UN Women, UN Women, 15 June 2016, www.unwomen.org/en/news/stories/2016/6/anne-hathaway-new-goodwill-ambassador.
Anne Hathaway. "Speech: 'Paid Parental Leave Is about Creating Freedom to Define Roles'- UN Women Goodwill Ambassador Anne Hathaway." UN Women, UN Women, 8 Mar. 2018, www.unwomen.org/en/news/stories/2017/3/speech-anne-hathaway-iwd-2017.
Colleen Curry. "Here's How Women Can Have It All, According to Anne Hathaway's UN Speech." Global Citizen, 8 Mar. 2017, www.globalcitizen.org/en/content/heres-how-women-can-have-it-all-according-to-anne/.
Goldberg, Eleanor. "Anne Hathaway Named UN Goodwill Ambassador." The Huffington Post, TheHuffingtonPost.com, 16 June 2016, www.huffingtonpost.com/entry/anne-hathaway-named-un-goodwill-ambassador_us_5761a049e4b0df4d586ef4d8.
Maple, Taylor. "Anne Hathaway Talks Paid Parental Leave, Says Husband's Love Has 'Changed' Her." ABC News, ABC News Network, 14 Mar. 2017, abcnews.go.com/Entertainment/anne-hathaway-talks-paid-parental-leave-husbands-love/story?id=46121529.
Page created on 5/24/2018 6:29:46 PM
Last edited 5/27/2018 3:40:38 PM