Children require guidance and sympathy far more than instruction. -- Anne Sullivan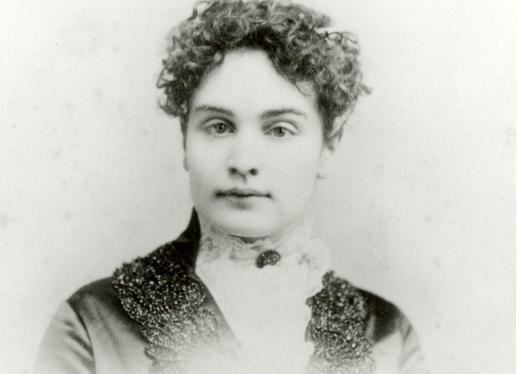 Anne SullivanPerkins School of Blind"When you study great teachers… you will learn much more from their caring and hard work from their style"(William Glasser). Great teachers, just as William Glasser had said, are caring and hardworking. Great teachers that changed their students' lives are great heroes. Anne Sullivan was one of the greatest teachers in U.S. history since she was not only caring for her only student but also hard working for the benefits of her student. Anne Sullivan's parents, Thomas Sullivan and Alice Sullivan, moved from Ireland to the United States as a result of Ireland's Great Famine ("Anne Mansfield Sullivan"). On April 14, 1866, Anne Sullivan was born in Feeding Hills, Massachusetts. Sullivan was affected by trachoma, an eye disease, which caused her to be half-blind ("Anne Sullivan"). In 1874, Anne's mother died from tuberculosis. Shortly after the incident, Anne and her brother, Jimmie, were sent to the Massachusetts State Infirmary in Tewksbury (Bailey, Ellen). Jimmie Sullivan shortly died after they arrived. When the head of the State Board of Charities arrived to inspect the Infirmary, Anne begged for permission to receive an education. Her plea was granted and Anne was sent to the Boston's Perkins Institution for the Blind ("Anne Mansfield Sullivan."). After Anne graduated, Arthur Keller asked her to be the teacher of his blind and deaf daughter -- Helen Keller. Sullivan's dedication in helping Keller made her a great hero. For a person to be considered a hero, he or she must be hardworking and selfless. A person who works hard always looks toward his or her goals and never gives up despite all the different types of challenges he or she may encounter. A selfless person always sacrifices his or herself for the greater benefits of the community.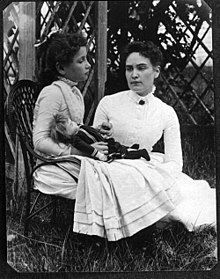 Anne Sullivan with her student, Helen Keller.WikipediaWhen she was granted to attend school, Sullivan was full of ecstasy; however, her life at school wasn't as pleasing as she had dreamed at the beginning. Sullivan's lack of experience in interacting with her peers put her in an uncomfortable position amongst the students. Sullivan had a quick temper and constantly challenged the rules at school, which made her unpopular among teachers. However, she soon advanced academically("Anne Sullivan"). Sullivan's graduation from the school despite her struggle with poor eyesight, proved that she was hard working. She was not quickly accepted by her peers and was isolated at the school. Despite all these difficulties, Sullivan graduated with honor from the school. Sullivan paid lots of efforts and got what she deserved. Anne Sullivan's personality of hardworking despite the difficulties she faced, made her one of the greatest heroes in U.S. history. Her story gave people hope. When Anne Sullivan was assisting Helen Keller, Sullivan realized that Keller did not understand the meaning behind the words used:
Using a system of hand signs to convey letters and, thus, words, Sullivan managed to help Keller make this connection several weeks after her arrival by spelling out the word "water" while holding Keller's hand under running water. This breakthrough--the oft-mentioned "miracle"--allowed Keller to experience the world as never before and strengthened the growing bond between teacher and pupil. ("Anne Mansfield Sullivan")
Anne Sullivan's desire in helping her student, Helen Keller, forced her to work tirelessly to find ways to allow Keller to link the word and the meaning of the word together. The solution Sullivan found was a major breakthrough in the education for students with disabilities. Sullivan's method had not only brightened Keller's isolated world but also introduced a new solution for teachers to educate students who need extra help. Anne Sullivan, despite her constant failures, reached great success through her hard works and her spirit of not giving in.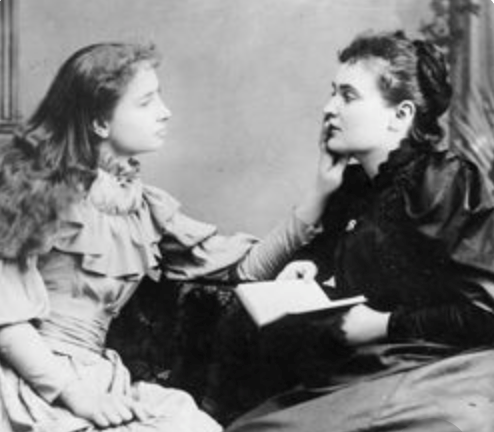 Anne Sullivan trying to teach Helen KellerpinterestDespite the hardships, such as being abandoned by her father, seeing her mother's death from diseases, and being almost blind, Anne Sullivan devoted her life selflessly to Helen Keller. After the story of Helen Keller's success was spread through social media, Keller became one of the most popular celebrities. At the same time, "...Sullivan often found herself ignored. Sullivan's biography in Contemporary Heroes and Heroines, Book II noted that many people outside of the academic community were unaware of her role in Helen's success and regarded her as little more than a servant. It was an image she was never able to shake completely, perhaps because she so willingly took a back seat to her pupil and downplayed her own accomplishments'"("Anne Mansfield Sullivan."). Despite being discouraged and omitted by the general population, Sullivan stood back in her student's success and supported her without asking for anything in return. When Keller finally attended college, Sullivan was always by her side and aided her in her academics. "...Sullivan's assistance was integral to Keller's academic success; she attended lectures alongside her student, translating the information using sign language, and helped Keller complete her reading and writing assignments. As a result of this, and much to Keller's dismay, Sullivan experienced great eye strain and was ordered to rest her vision" ("Anne Mansfield Sullivan."). Anne Sullivan risked of being blind for the rest of her life to teach Keller and help her achieve her dreams. Her action proved her to be selfless in supporting her pupil. Anne Sullivan is selfless and did everything she could to help her student achieve greater success in her life.
Anne Sullivan's diligence and her selfless concerns made her one of the greatest heroes. Just like Nelson Mandela once said, "Education is the most powerful weapon which you can use to change the world." Anne Sullivan used this weapon to open up the world of a blind and deaf girl's life. She is a role model for all of the teachers in the world, who taught the teachers to never give up on the students. Her action of supporting and believing in her student inspired teachers around the world, who can inspire more people around the world. Anne Sullivan is a great teacher. When we spend some time to understand her story, it is observable that her caring and hardworking allowed her to be an inspirational teacher to Keller, who was widely accepted as an encouraging hero.
Works Cited
"Anne Mansfield Sullivan." Encyclopedia of World Biography, vol. 29, Gale, 2009. Biography In Context, https://link.galegroup.com/apps/doc/K1631009315/BIC?u=powa9245&sid=BIC&xid=3aabda9c. Accessed 7 Dec. 2018.
"Anne Sullivan." Biography.com, A&E Networks Television, 23 Sept. 2016,www.biography.com/people/anne-sullivan-9498826.
Bailey, Ellen. "Anne Sullivan." Anne Sullivan, Aug. 2017, p. 1. EBSCOhost,search.ebscohost.com/login.aspx?direct=true&db=b6h&AN=27455268&site=brc-live.
Nielsen, Kim E. Beyond the Miracle Worker: the Remarkable Life of Anne Sullivan Macy and Her Extraordinary Friendship with Helen Keller. Beacon, 2010.
Page created on 1/9/2019 10:16:26 PM
Last edited 1/13/2019 8:10:05 PM