"Let us lead (children) during the first years to find their greatest pleasure in nature. Let them run in the fields, learn about animals, and observe real things."
Annie Mansfield Sullivan Macy was a woman who accomplished a great deal, especially as the outstanding teacher of Helen Keller. She is sometimes overlooked, however, as people only remember the student and think nothing of the amazing teacher who opened the door to Keller's life. In my opinion, though, Annie Sullivan's part was just as difficult, if not more difficult, than Helen Keller's job as a learner. If not for Sullivan, Keller's life would have never truly started.
Sullivan was born on April 14, 1866, to a poor family. Her father had a bad temper and her mother was dying from tuberculosis. She had two siblings--Mary, a healthy baby, and Jimmie, who had a tubercular hip. Sadly, when her mother died, her two siblings were sent away to relatives and Annie stayed home to care for her father. After awhile, those relatives could not handle Jimmie, and Annie could no longer take care of her father. The two children were sent to the county poorhouse in Tewksbury, Massachusetts. There, her brother Jimmie died. This loss would linger with Sullivan until she met Helen Keller.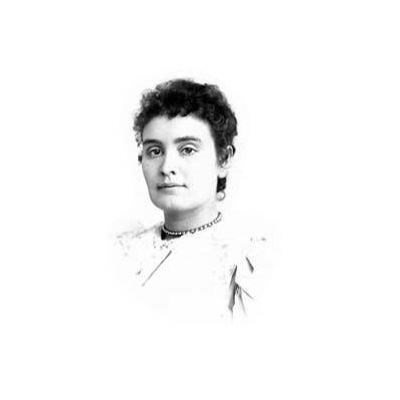 Anne Sullivan unknown; User Hans Dunkelberg der Jüngere on de.wikipedia [Public domain]
Sullivan had contracted a disease called trachoma, which impaired her eyesight. She traveled to Perkins School for the Blind in Boston where she received many operations to treat her disease. Her sight improved and she became a model student, eventually graduating as valedictorian.
In order to help other blind children, Annie learned the manual alphabet and worked closely with a blind and deaf girl named Laura Bridgman. This experience would serve her well in the future.
Sullivan took a train to Tuscumbia, Alabama, where she met her new employers, the Kellers, and her new pupil, Helen. She went straight to work teaching Helen how to read, write, speak, and most importantly, how to understand the world around her. For a short time, teacher and student moved to a cottage on the family property so that Helen could be separated from her overly protective parents. Sullivan would let Helen touch things and then she would spell what the object was into Helen's hand. Touching raised letters was Helen's way of reading. In order to learn how to write, Sullivan got her student a specially-designed board, grooved so that a pencil could form letters on the paper placed over it.
Learning to speak was the next step. To teach diction, Sullivan would place Helen's hand on her throat so that she could feel the vibrations created while speaking. Then Annie would have Helen try to form these same vibrations. This procedure was used to teach Helen to speak as a teenager. Her speech, however, was still unclear. It wasn't until years later that, with the aide of a voice teacher's technique and Annie's support, Helen was finally able to speak clearly.
Eventually, Annie Sullivan's pupil, Helen Keller, went to Radcliffe College and graduated cum laude, fulfilling a dream shared by herself and Sullivan. Helen Keller published her first book in 1902 entitled, The Story of My Life, which was edited by John Macy.
Macy later married Annie Sullivan. Unfortunately, the marriage did not last. Money was a concern, so both Sullivan and Keller traveled to Hollywood to film a movie loosely based on their lives. The movie, called Deliverance, was a flop. This did not discourage them from trying to make a living in the entertainment field. They found that they were natural "hams" and even performed in vaudeville shows! Through their work, they raised two million dollars for the blind through the Helen Keller Endowment Fund. Sullivan did start to receive recognition for her amazing instructional skills and, at long last (in 1993), a writer named Nella Braddy published a biography about her entitled, Anne Sullivan Macy: The Story Behind Helen Keller.
On October 20, 1936, at the age of seventy, Sullivan died in Forest Hills, New York, with Helen at her side. Arrangements were made for another woman to assist and accompany Helen, who lived many more years and continued to meet many famous and influential people. For Helen, however, no one could ever begin to take the place of "Teacher."
Page created on 8/17/2014 1:04:15 PM
Last edited 6/26/2020 8:52:51 PM