To me, a hero is someone who is respected and does not care what others think. A hero is someone who has done things which have made a difference, thinks for themselves, and of course, has a sense of style. The one person who matches every one of these traits was a duchess of the Aquitaine, wife of two kings, mother of two others, and (though not at the same time) queen of both France and England. However, this is not what she was remembered for. Eleanor of Aquitaine is remembered for being herself.
As a child, Eleanor was raised with her younger sister by her father, since her mother had died, along with her younger brother William, the heir to Aquitaine. Throughout her childhood, she received above-average education, even for the standards of wealthy males. Her father wanted her to gain worldly knowledge, in addition to things like embroidery. This later helped her to make educated decisions when she became a queen at age fifteen in the year 1137 when her father died and she married Prince Louis of France, who became king less than a month after their marriage.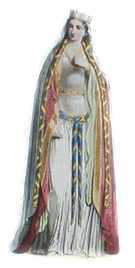 This marriage, though considered perfect in state because of the joining of the two estates, was extremely ill-matched in personality. Eleanor was out-spoken, loved color, and did things on the spur-of-the-moment. Louis, who had been brought up to become an officer in the church, was "a weak, dull, grave, and pious man…," (Sam Behling) who only inherited the throne when his older brother died. Even though they did have two children together (both girls), they were so poorly matched that they divorced when Eleanor was twenty-nine after a major falling out on the Second Crusade, on which both traveled. Although it was extremely unconventional for women to go on crusade, Eleanor did, along with three hundred of her ladies.
Along the way, Eleanor met with her very rich and very handsome uncle, Raymond, with whom she became very friendly with. Louis, apparently jealous of the attention she was paying to her Raymond, forced her to continue with the crusade, although she wanted to stay with her uncle. Even though she kept going along with the crusade, everyone could see it was the end of their relationship, especially obvious when they returned from the crusade in separate ships. Only eight months after returning from the Second Crusade, Eleanor remarried --this time to Prince Henry of France who was eleven years her junior, who made her queen about two years after their marriage in 1154. Throughout this marriage, Eleanor was constantly pregnant, and produced eight children (five sons and three daughters), three of which were eventually kings, themselves.
Although this marriage seemed so much more successful than her first and the two gave the appearance of a united front, in truth, Eleanor and Henry had several disagreements, some of which included Henry's many mistresses. These many disagreements caused Eleanor, who was never one to forget injuries done unto her, to lead her three eldest sons, Henry, Richard, and Geoffrey, into a rebellion against their father which resulted in war in the year 1173. Although they put up a good fight, the war was eventually ended with Henry as the final victor in the year 1189. After the war, he put Eleanor under house arrest for treason, where she was forced to stay until his death sixteen years later, which was the result of a second, this time, successful rebellion by her sons.

After this second rebellion, Eleanor's favorite son, Richard, became heir as the first three sons had died, where upon he ordered for her immediate release. Upon her release, Eleanor traveled throughout England, getting the people to support Richard as the new king. When Richard died in 1199, her least favorite son (and Henry's favorite), John, became king, and although she disliked him, she did the same for him as she had for Richard. When she was comfortable with the new situation of John as king, she returned to her Aquitaine and lived there peacefully in her favorite place -- the Abbey of Fontevraud -- until her death in the year 1204 at the age of eighty-two. On her grave, she is laid next to the body of her second husband, Henry, and is shown with a book in her hands, representing her strong-mindedness and her wise decision-making ability.
All these reasons encompass why Eleanor is my hero. She had no problem doing what she thought was right, no matter how unpopular the decision was. She was also educated, unlike many other women of her time, so she could make a decision and back it up. Eleanor is the very definition of the kind of person I want to be, and for this, she is my hero.
Page created on 12/7/2013 1:29:06 PM
Last edited 1/9/2017 5:35:39 PM