"From what we get we make a living; what we give, however, makes a life." ~Arthur Ashe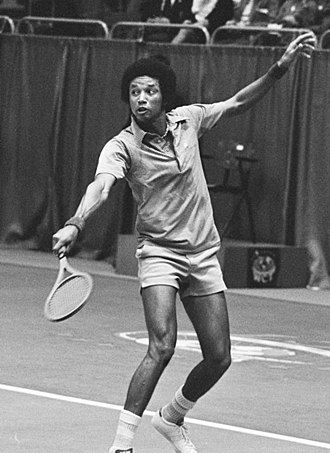 Arthur Ashe, winning the 1975 ABN World Tennis Tournament in RotterdamRob Bogaerts (Wikipedia)
These prudent words spoken by Arthur Ashe prove his impact on the world and how much of a hero he was. He overcame prejudice and hurdles that will never go unseen in history and broke the racial barrier in tennis; which was considered to be a white man's sport. Arthur Ashe, at a very young age, become a tennis star and faced struggles along the way.
Ashe's talents in tennis are just a part of who he was, but off-court, he was kind, well-respected, and understanding of the world around him. These are true characteristics of a hero in today's society, but are there are so many other words to describe him. Ashe was also an author and a very eloquent spokesperson for AIDS and activism, and stood against Apartheid in South Africa. This being said, it shows that Arthur was an empathetic person, and he was able to influence people and have an impact on the world through his actions. Arthur never looked to be the loudest person in the room, or receive credit or thanks for the impact and influence he had on others; Ashe was a silent hero. The world thought that Arthur was a decent man. Arthur is a hero in many ways, by breaking the racial barrier, fighting in the US Army, and being an advocate for AIDS, anti-Apartheid, and civil rights.
He is a very humble tennis player and was taught with court manners during his childhood. Also, his perseverance is unlike no other tennis player. Ashe pushed to pass the struggle of his harsh and unfortunate health issue of AIDS. One of Ashe's outstanding heroic characteristics is the ability to give and not expect something back. With these heroic characteristics following Arthur, he would soon be the first African American Tennis player to win three Grand Slam titles, in which Arthur's tenacity and resilience got him to be the number one ranked tennis player in the world at the time.
Arthur silently displayed heroic attributes during a time when tennis was stereotypically considered to be a "white man's sport," and Arthur started to prove that stereotype wrong. He was not allowed to play in regional championships, but fear not, Arthur persisted and pushed forward. As a young tennis star in the country, Ashe was swiftly rising through the ranks of tennis, and in 1963, he was ranked 18th in the world. Johnnie Ashe, Arthur's brother, said, "Arthur said to me that I want to be the Jackie Robinson of tennis. Jackie Robinson played college baseball at UCLA, and was the first Africa America Receive scholarship money. I want to break the color barrier in tennis. One day I hope to be able to win our national tournament, Wimbledon, as the first black American Negro he would say… This is how far he had taken the dreams of his life" (Small). This is so inspirational because it shows how far Arthur is willing to push his limits to reach his goal. He was a man of determination and willingness to sacrifice to reach his goals, and be selfless. This clearly further proves Ashe's heroism.
In 1969, Arthur Ashe went to South Africa to compete in the South African Open. At this time, South Africa's government imputed Apartheid, which was a policy of racial segregation. They denied his request, but Arthur kept on applying and was still denied. He then started to protest as an example of discrimination. This was when Arthur would start his days of being an activist against Apartheid, which would soon become a central conflict for him for the next twenty years or so (Boyd). Eric Allen Hall notes that "Ashe was determined to confront South Africa on his own terms, which meant not attacking South African athletes" (E.Hall 485). His heroic ability to lead others to protests in South Africa led others to follow him and protest with him. With this impact, he never let the color of his skin, or someone else's, affect the way he performed on-court. When Nelson Mandela was finally released from prison, one of the first people he asked to meet was Arthur Ashe because he was inspired by him. Ashe had a major impact on the world, especially on Martin Luther King Jr., who was an activist. Martin Luther King Jr. wrote a letter to Arthur thanking him, as he wrote: "for your expression of support and solidarity in the fight for justice, freedom, and dignity for all people in this country" (Corner). This letter written with deep sincerity by King was a thank you note for all of the hard and great services that Arthur had put into being an activist. King thanked Ashe for fighting for the cause and the freedom, as well as being a great leader and to him and his followers, a hero.
Ashe never viewed anyone as different; rather he treated everyone with the utmost respect. He had a good heart, was very kind, which people recognized as one of Ashe's greatest character traits. Arthur wanted to make sure that kids and the next generations would be able to play tennis, no matter their skin of color, or background for that matter. So Arthur co-founded the National Junior Tennis League (NJTL) to encourage kids to play tennis (P.Hall). In The New American Sport History: Recent Approaches and Perspective collection, David Wiggins mentions the extremity in which Arthur Ashe's ambivalent attitude towards sports was unique. This section in particular in the book proves Arthur's aggression in a pacifist way towards discrimination and lack of self-support from the black community (Pope). These quality traits are those you would expect of a hero, and Arthur never lacked doing something he thought was right.
As the only black man ever to win the singles title at Wimbledon, US Open, and the Australian Open, this was a big feat back during Ashe's time because people didn't view African Americans as playing tennis, a white man's sport (Small). After, Arthur led by his action on-court and off-court. He pushed to be the best person he could be at any given moment possible that was given to him. Like the quote he said above, you can't force or expect someone else to be better or understand, but you can give them something to brighten their day. It's not an exchange, Arthur merely showed the presence of kindness and benevolence towards others. Not hoping for thanks or for something in return, but hoping that day in and day out, people would understand that they are lucky to have what they have and be thankful.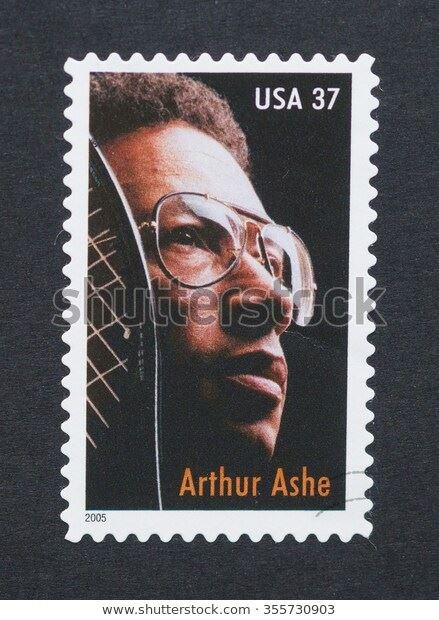 A 37-cent Arthur Ashe Commemorative Stamp by the US Postal ServicePublic Domain Pictures.netAshe's heroic attribute extended beyond the mere actions of what he did, but silently, Ashe rose to the occasion and influenced people by his actions, and his impact left a mark on the world. His legacy still continues today with the "Arthur Ashe Courage Award" for his courage to persist and push past the struggles and fear of rejection, which was most reflected as one of Ashe's most notable characteristics. Ashe was a hero and will never go unnoticed. On and off-court, Ashe represented the US with pride, and respected everyone equally, and never saw that anyone was unequal. With everything that Ashe has done in the short amount of time he lived, his heroic traits definitely had an impact on the world, on and off-court.
Resources:
Arthur Ashe: More than a Champion (2015). Narrated by Paterson Joseph and Peter
Small, directed by Peter Small and Simon Livingstone, produced by Claire
Healey, Liana Morris, Samantha Maynard-Jeffries, Debbie Dubois, Carl Doran,
Josephine McCusker, and Tariq Ali, screenplay by Edward Butler, adapted by
Sion Roberts and Duncan Bragg, British Broadcasting Company (BBC), 2015.
Corner, Curator. "A Letter to Arthur Ashe." A Letter to Arthur Ashe,
International Tennis Hall of Fame, 7 Jan. 2016, www.tennisfame.com/blog/
2016/1/a-letter-to-arthur-ashe. Accessed 10 Nov. 2019.
Hall, Phillip. Arthur Ashe Kids' Day Kicks off. July 2012. Arthur Ashe Kids Day,
UNITED STATES TENNIS ASSOCIATION, July 2012, www.arthurashekidsday.com/
photos/2012-arthur-ashe-kids-day-kicks-off/21/court_action/. Accessed 7
Dec. 2019.
Childress, Boyd, editor. "Arthur Ashe (1943–1993)." Encyclopedia Virginia:
Virginia Humanities, revision July 10, 2019, Virginia Humanities, 6 Nov.
2008, www.encyclopediavirginia.org/Ashe_Arthur_1943-1993. Accessed 24 July
2019.
Hall, Eric Allen. Arthur Ashe: Tennis and Justice in the Civil Rights Era.
Edited by John Hopkins University, 4th ed., vol. 16, Baltimore, MD, Eric
Allen Hall, 2014. Journal Safundi The Journal of South African and American
Studies. Taylor and Francis Online, Eric J. Morgan, doi:10.1080/
17533171.2015.1090723. Accessed 13 Nov. 2019.
Kneebone, John T., editor. "Dictionary of Virginia Biography: Arthur Robert Ashe
(1943–1993)." Library of Virginia, edited by Sandra Gioia Treadway,
revision 2019, 1998, www.lva.virginia.gov/public/dvb/
bio.asp?b=Ashe_Arthur_Robert. Accessed 30 Aug. 2019.
Pope, S. W., and Pamela L. Cooper. "The Debate over Black Athletic
Supperiority." The New American Sport History: Recent Approaches and
Perspectives, edited by David K. Wiggins, compiled by Melvin L. Adelman
et al., Urbana, U of Illinois P, 1997, pp. 326-31.